A Cold Summer Sky (Asher Radman (.05) , John Charles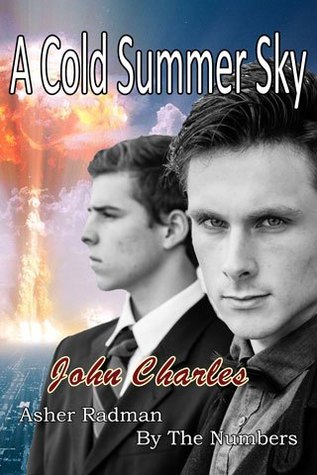 Rating: 3.5 Stars
Publisher: Self Published 
Tags: Mystery, Tech, FBI, Gay MC
Length: IDK  
Reviewer: Jay 
Purchase At:  amazon
Synopsis:
The first book in the Asher Radman By The Numbers series.
My Review:
Shout out to John Charles for giving me an arc of A Cold Blue Sky!
I was pissed when an old chevy totalled a Mustang at the beginning of this book. I've always loved a Mustang. Special order colour too. Maroon. Just because he worked for FIRG as a project manager on the NuHygen team, Todd the Mustang owner, was smacked into, run off the road and some kids nearly got mown down. I wasn't having any of that. Way to set a theme of justice. It made me wanna find out whoever would disrespectfully total a car that nice and not care about kiddos as well. My car enthusiast and educator sides weren't happy!
Asher Radman doesn't leave the best impression either when you first meet him because he's aloof to the guy he's with. Kyle seems like a good guy and he's a barista. Nice coffee making guy who thinks Asher's the best? Yoink! but Asher doesn't seem to wanna be tied down to him. *Shrugs. Commitment issues? He thinks about Kyle like he means something to him when he's in Thompsonville trying to crack the case.
In this ebook people's cars get rammed and blown up and grafitted. The CEO of FIRG won't be straight with the investigation even when an employee gets his car totalled and he and some kiddos nearly die. Even when his own family is threatened. Asher and his FBI offsider and the local sheriff can't get him to share info about his revolutionary tech invention that's supposed to be blowing the roof off the power companies bottom lines. Locals maybe nice but some are more mysterious or angry. Asher's a bit hot under his collar when he slaps tables at receptionists. Agent Radburn doesn't know if it's a local family the CEO, utility cos or a terrorist that ought a be on his FBI radar.
My reviews are more about the sexy and the smutty than the suspense and seeking justice. 😉 I might not be the exact target for this book but I liked it and if you're the kinda reader that likes some tech details or FBI investigations I think you'll be plenty happy.
I got closure on the Mustang wreckers and justice was served. I can see there's research gone into the story and Asher improves as the story keeps going. I'd rate A Cold Summer Sky as good reading if you're in the market for crime & case solving with a gay MC.