Daddies' Little Helpers (Daddies #1), Rebecca J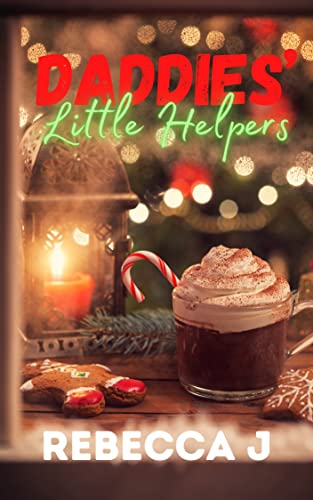 Rating: 4.5 Stars
Publisher: Rebecca J
Genre: Gay Quad Erotic Romance
Tags: Contemporary, Age Gap, Bi Characters, Christmas, Cliffhanger, Daddy Kink, Friends to Lovers (x2), Multiple Partners (MMMM), Step Family Members
Length: 143 Pages
Reviewer: Cindi
Purchase At: Amazon
Blurb –
Tommy and Harley head home to their stepdads for their usual Christmas break. Chester and Roman anxiously await the return of the stepsons. But this Christmas will be unlike any one they've had before.
All four men are hiding a secret. One they cannot share with the other people in their family unit.
Chester and Roman are the only family Tommy and Harley have left since Tommy's mom died and Harley's mom abandoned him. They rely on their stepdads a lot, but over the years their love for them has altered, and they would do anything to have their feelings reciprocated.
The two older men have always cared for the boys and loved them. But now they're twenty one, and becoming handsome young men, they can't stop the way they see them changing.
Will it be a Merry Christmas? Or will everything fall apart when the secrets are revealed?
Daddies' Little Helpers is book one in the Daddies' duet and is a spicy, polyamorous, MMMM adult romance that delves into BDSM and Daddy kink. Readers must be 18+. Trigger warnings: grief from losing a parent to cancer and abandonment issues.
Review –
More often than not, unless I'm looking for pure erotica, I avoid books with characters who have multiple partners. I've only read a few with romance in them that didn't have me wanting to throw my Kindle at some point. If it's just about sex, no problem. Throw in love and other emotions and there's usually at least one character who gets jealous and doesn't handle it very well. That's not the case with Daddie's Little Helpers. The relationship, when it comes together, consists of four people who are all in. No silly jealousy or real drama. Just lots of sex and love.
Tommy and Harley, both twenty-one, have been best friends for years. They grew up living next door to each other, then went off to college and shared a place. They started hooking up privately after they both came out to their stepfathers Roman and Chester when they were eighteen. They love each other, but they're both into Daddy kink and they're both boys, so they need more.
Sex was always on the table between the two of us, and I knew that made it sound like I used him for his looks and for sex, but I didn't. I loved my best friend, but that was all he'd ever be to me. Even if, secretly, I wished we could be something more. The thrill of hooking up with him turned my limbs to mush and the blood in my veins to liquid lava.
When Tommy was fourteen (I think?) his mother passed away, leaving him devastated. Harley's mother bolted around the same time. There was never any question of whether or not the stepfathers would continue taking care of their stepsons. They loved the boys and would always be there for them.
Roman and Chester are also longtime best friends. Well, they're more than friends, but the boys don't know that. They were a couple for a while but ended up breaking up a year or so before. They didn't break up because they didn't love each other – they love each other deeply – they broke up because they're both Daddies and neither man was getting exactly what they wanted, what they needed, sexually.
Now the boys are coming home for Christmas.
Tommy's been lusting after his stepdad for years, but nobody knows.
Harley's been lusting after his stepdad for years, but nobody knows.
What were the odds that two boys that grew up as best friends, were both gay, and had massive crushes on the guys that cared for us?
Roman and Chester both started secretly lusting after their stepsons when they were home from college for the summer a few months before. Nobody knows. Both men feel weird about their feelings for the much younger men, though I don't think Roman and Chester's ages were given. Roman feels like a sick bastard because he loved Tommy's mother dearly. How warped is it to now be lusting after her son? There's a little guilt that comes into play there a few times, but thankfully it's worked out quickly.
Well, three months apart hadn't changed my sick, twisted thoughts.
He wasn't the young boy I'd cared for like a father did for his son. He was a handsome young man who I wanted to care for as his daddy.
It fucking took me by surprise and confused me.
Not only because he was my stepson, my dead wife's son, but because this time last year, I was in a secret relationship with my best friend and neighbour Chester. And it wasn't just a physical relationship either, we were in love.
Chester feels weird lusting after Harley too. He may not have lost his wife like Roman lost his, but he was married to Harley's mother at some point.
Everything comes to a head (*snort*) when Harley catches Chester giving Roman a blowjob in the garage not long after they get back home from college. Roman sees Harley at the door but he doesn't stop what he's doing. If anything, he gets more into it. Of course, that makes for a few awkward sexy moments the next day for both men.
Roman and Chester are both bisexual, but the boys don't know that until the garage incident.
What the fuck was happening?
I stood at the garage door watching my stepdad on his knees sucking Roman's dick.
And it was the hottest thing I'd ever seen in my life.
With Harley and Tommy being best friends, of course Harley tells Tommy. With Roman and Chester being best friends, of course Roman tells Chester. Sharing their truths opens the door for everything to get going.
Everything happens super fast after that, once Roman gets over his guilt with Tommy anyway.
It takes literally no time at all before they all fall into a Daddies/boys sexual relationship. There's no silly jealousy. They all love each other the same. Of course, the love thing isn't revealed until later, but it's not surprising when it happens. Roman and Chester, who've been in love with each other for years, are finally together the way know they should be. Tommy and Harley, who have secretly been love with each other forever, are finally together the way they know they should be. All four together? Perfect.
The sex in this book is off the charts. The 'boys' fall into their roles beautifully with their Daddies and each other. A lot of what happens is seriously unrealistic, but it doesn't matter. It worked for these guys. I think the best part of the book for me was watching Roman and Chester finally find exactly what they needed to ensure they could be together forever. It was really sweet. You could see how much they loved each other early on.
For the first time since Chester and I broke up, my chest didn't feel tight, my heart didn't hurt and my mind was peaceful.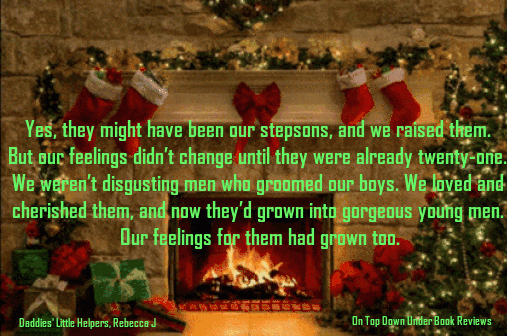 The only real niggle I had is the way it ended, and I really shouldn't be bothered with that because it's a duology and that will be resolved later. The second one will be published in November of 2023. Hopefully when the second book is on Goodreads I'll see it and remember to add it as a reminder for next year.
Overall, this is a really good book. From what I understand, it's the author's first, so congrats to her. It's an entertaining read.