Snow Way Out (Snowed In – Valentine's Inc. #7), Nora Phoenix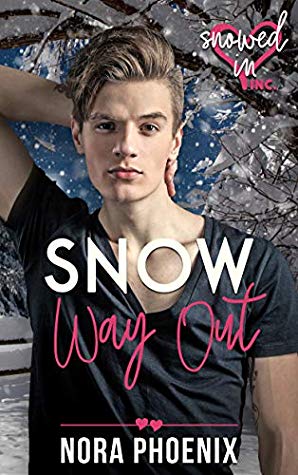 Rating: 5 'I Cried Like A Baby' Stars
Publisher: Nora Phoenix
Genre: Gay Romance
Tags: Contemporary, Age Gap, Bi Character, BDSM, Disability, First Time, Kink, Romance, Series, Small Town
Reviewer: Cindi
Purchase At: Amazon.com
Blurb –
He's twice his size and a lot older, but will Mac let Quentin come out on top?
Quentin is searching for…something.
Respect.
Answers.
His identity.
Most of all, he's searching for a man who will let him be in charge, despite the fact that he looks like an elf.
But all that will have to wait because right now, he's searching for shelter after getting stranded in the middle of nowhere, New York with a massive snow storm about to hit. He finds an unexpected host in Mac, a man the whole town seems to hate. Mac has secrets…but so does Quentin.
Sparks fly between them, but can it lead to more when Mac is twice his size, a lot older, and practically a virgin… and when Mac can't leave and there's no way Quentin will stay?
Snow Way Out is a steamy contemporary gay romance with an age gap, a dash of kink, a ton of snow, a gentle giant of a man, and a bossy twink. It's a standalone book in the Snowed In – Valentine's Inc. series, which are only connected by the same writing prompt.
Review –
Wow, this book. Not at all what I was expecting. There's no way I'll be able to do it justice in this review.
Snow Way Out is the 7th book in the Snowed In – Valentines Inc. series. It's by far the most emotional.
Quentin, 23, is on his way to a small town in upstate New York for a research study, financed with a grant from his university in California. He's about a half-hour away from his destination when his car dies. A tow truck arrives and the driver tells him there's no hope for the car. After a quick call, the man takes Quentin and the car to a junkyard nearby to a guy who'll buy it for parts. That guy is Mac. When the tow truck driver unloads the car and basically leaves Quentin stranded, he doesn't know what to do. He's in a town where he knows nobody, he has very little money, and no way to even get to a hotel. It doesn't help that Mac looks like a big bear of a man with his piercings and tats. He's huge and could probably break somebody as small as Quentin in half without breaking a sweat. He also doesn't speak much.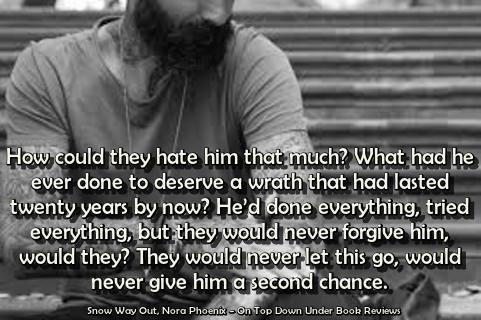 Mac has a bad stutter that's more prominent when he's stressed. He offers to take Quentin to a nearby hotel, having a hard time articulating what he wants to say. At the hotel the woman behind the counter doesn't even attempt to be friendly to Mac, even telling Quentin rather loudly that Mac is slow and stupid. She makes sure she does it where Mac can hear her.
This was everybody who came in contact with Mac. Every single horrible person in the town he grew up in treated him horribly.
God, how I hated the townspeople. Seriously hated them. That hate only got worse the more I read of the book.
There's nothing at all slow about Mac. Having a stutter doesn't make him slow or stupid. He's smarter than probably all the jerks in the town combined.
Mac is shocked when Quentin is not only friendly but actually seems genuinely interested in what he has to say, patiently allowing him as much time as he needs. When the heater goes out at the hotel where Quentin booked a room, Mac's called in to fix it. Like Quentin's car, it's dead. When the woman behind the counter gets snippy with Quentin for demanding a refund – he can't stay in a hotel with no heat when there's a snowstorm heading their way – Mac offers to allow Quentin to stay with him. When they get back to Mac's place, it's nothing at all like Quentin is expecting – and neither is Mac. The big and scary man is anything but. It's obvious to Quentin that Mac's not used to people being kind to him. Quentin's not only kind to the man, he wants him in a big way. By the looks he's been getting from Mac, he knows he wants him too.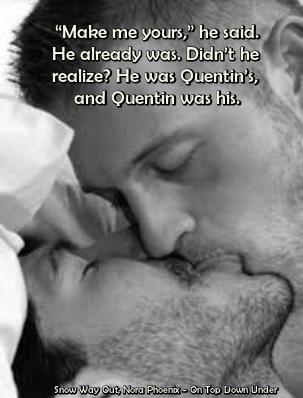 Mac has never been with a man before. At 38, he's only been with a few women and those experiences weren't all that great for him. He enjoyed the sex well enough, but he's never really thought much about his sexuality. He's attracted to who he's attracted to. And it's not like there have been many prospects in the town he's stuck in. When they do have sex the first time, Quentin discovers something about the big man – he wants to give up control, be dominated. Quentin is more than willing to do it. He's small and looks young for his age, like a typical twink (his words, not mine). The guys he's dated in the past didn't take him seriously when he wanted to try new things, one of which hurt him pretty badly.
What he wants is to be in a D/s relationship. He doesn't really know what he's doing but he's hoping to learn with Mac. Mac is all too eager to learn with him.
Mac and Quentin's love story is absolutely beautiful. They both have secrets that come out little by little. Mac is forced to pay debts he doesn't owe. He does it because he's a good man and wants to do the right thing in hopes of righting past wrongs. Not Mac's past wrongs, but wrongs brought on by someone in his family two decades before. The town that he's trying to do the right thing for? Mean and hateful. Secrets about Quentin also come out, one of which was a big surprise for me. I can't say what it was because it's a major spoiler, but I probably should've seen it coming early on.
The sex scenes are seriously hot. Mac, who's literally twice the size of Quentin, loves being dominated by the much smaller man. But it's not just about the sex. It's these two men, both broken in their own way, who come together.
"I love you," he said, the words rolling off his tongue as smooth as they had sounded in his head. Tears welled up in his eyes because for once, his brain and his mouth had gotten the connection right. The one time that it really mattered, he'd been perfect.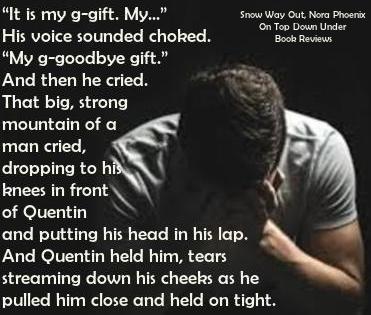 When something happens with Quentin's research project that forces it to end early, my heart broke into a million pieces. He knows he has to go back home to California to continue with his education or risk losing everything he's worked his whole life for. Mac, being the honorable man he is, can't leave until he's finished paying off the debts to the people of the town.
This couldn't be the end of their story. Their connection was too strong, too special to end like this.
I'm not going to lie. I cried like a baby. Mac has finally found the one person in the world other than his late mother who sees him for who he is, not some guy who has a hard time  speaking, and not the person some have created in their minds of him to be.
Quentin has finally found his everything in Mac but he has to leave.
I could've easily made this review a NSFW review. There's bondage, nipple rings, and even a Prince Albert piercing. There was so much for me to work with as far as visuals and pulling sexy quotes from the book. I couldn't do it because even as hot as the sex was, this book was more about Mac and Quentin finding their way to each other.
Absolutely outstanding book. Definitely one of my new favorites. I don't think I've ever read this author before. With all the emotions she brought out in me with Snow Way Out, I'll definitely be reading a lot more.