A Rival for Rivingdon, Lisa Henry and J A Rock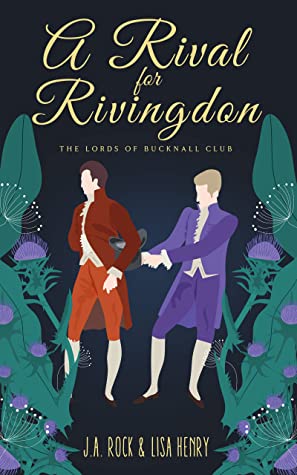 Rating: 5 Stars
Publisher: Self Published
Genre:  Gay Romance
Tags: Regency Romance, Enemies to Lovers, Humorous, Sweet with Feelings
Length: 255 Pages
Reviewer: Kazza
Purchase At: amazon
Blurb:
He must marry well, to secure his fortune.
The Honourable Loftus Rivingdon is poised to make his debut into Society. He's beautiful, charming, and quite the catch of the Season. If only he could find the right hat. With the zealous assistance of his doting mother, Loftus has one ambition only: to meet and marry a wealthy peer. And Loftus knows just the peer—the dauntingly handsome, infinitely fashionable Viscount Soulden. Good thing there's nothing standing in his way.
He must also marry well, to secure his fortune.
The Honourable Morgan Notley is poised to make his debut into Society. He's beautiful, charming, and quite the catch of the Season. And he has just found the perfect hat. With the zealous assistance of his doting mother, Morgan has one ambition only: to meet and marry a wealthy peer. And Morgan knows just the peer—the dauntingly handsome, infinitely fashionable Viscount Soulden. Good thing there's nothing standing in his w—
Damn it all to hell.
Their ambitions collide.
When Loftus and Morgan both set their sights on Soulden, the rivalry of the Season begins. Their mutual hatred escalates into spite, sabotage, and scandal, as all of Society eagerly waits to see which diamond of the first water will prevail. Except the course of true loathing, just like true love, never did run smooth. The harder they try to destroy each other, the closer they come to uncovering each other's deepest vulnerabilities—and the more difficult it becomes to deny the burning attraction between them.
A Rival for Rivingdon is the third book in the Lords of Bucknall Club series, where the Regency meets m/m romance. The Lords of Bucknall Club can be read in any order.
Review: 
I was so not looking for this book. Not at all. I was asking people for dark recs on Twitter when I saw the blurb for the next book in this series, A Sanctuary for Soulden, and I didn't want to wait until December 28th so I thought, why not start here? There is a connection between the books too. So it kind of made sense. What I gather from reading "Rivingdon" is these stories are standalones but they run along a parallel timeline and the characters cross over. The Chronicles of Ylandre is written like that and it's a fantastic series. And let me tell you that this book is not dark. It's a sweet and gorgeous romp with some definite feels.
Morgan Notley is eighteen, a viscount's son – not the heir – and told repeatedly by his mother that he is gorgeous and quite the catch. He and mother dearest go shopping for all the latest fashion that will help snag him a wealthy husband.
Loftus Rivington is also eighteen, his mother tells him he is quite the catch as well, and he also needs to find a wealthy, titled husband because he is the youngest son of a baron.
When I was growing up, the private school system here was designed to turn out proper young men and young ladies to meet their correct station in life. The education was secondary then. It was about learning deportment and napkin folding and how to enter your father's company, along with some English and maths skills. It was also about the old boys and girls network. Not that the latter isn't still well and truly alive, it is, but educationally speaking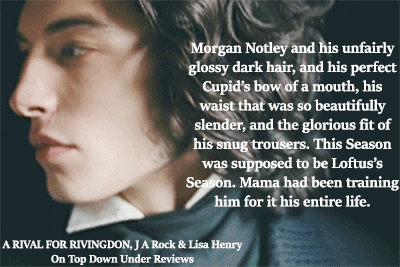 private schools have been so much more for quite a while. My point is that this is Regency London. So both Morgan and Loftus have parents who have given them the basics to be what they are supposed to be. To be the epitome of good manners, to Beau Brummel the hell out of their attire, and to catch that perfect, societally-upward husband. These have been their absolute prerequisites in life. To that end, both Morgan and Loftus are quite shallow and vapid and somewhat undereducated. They compare everything to the latest colour or hairstyle or attire. They must keep up with the Ton's Joneses. The Notley's are a social rung above the Rivingdon's and they have more money because of Lord Rivingdon's penchant for gambling. Other than that, you would think it's mission accomplished for these two with their initial behaviour. And of course they both have their eyes well and truly on the prize – Lord Soulden. The catch of the season. The talk of the Ton. The handsome. Dashing. Wealthy. Seemingly worldly. Swoon-worthy Soulden.
But. There's a fly in the ointment. After some backstabbing and cattiness, especially egged on by Lady Rivingdon, and not at all dissuaded by Lady Notley, all seems for nought as Lord Souden isn't taking the cutely flirtatious bait of either one. But the competition between Morgan and Loftus is still ongoing, albeit, in time, with less and less vigour. As Morgan learns that the ivory in his buttons comes from killing elephants, their tusks don't just, well, drop off. And Morgan doesn't know how he feels about that until he becomes more aware and actually feels quite sad about that. Then he learns that Loftus Rivingdon's family, his mother and father, are quite dreadful. Loftus's mother forces the tightest stays on him when he doesn't need them at all, and they hurt him. And when Loftus  listens too carefully he overhears conversations between his mother and father that are not flattering in regards to him. He is confused.
Basically, Morgan catches an acute case of empathy. Loftus catches it too because Morgan can be quite the sweetie and things aren't as sparkly as they seem on the shallow surface. Their mothers have been their primary best friends for a long time and now they're learning that they have a lot more in common than just 'hunting' Lord Souden. Uhm, maybe a lot less in common with Lord Souden after what he confesses to them, that he's not the "gentle ride" they're looking for. It piques their curiosity in boyish ways but also scares the bejeebers out of them because they have no idea what he means. Which also means they know nothing about pleasing a man.
Very soon they were comparing chapter notes in an attempt to discern what was credible about The Maiden Diaries, and what was entirely fantastical. Morgan was bothered by not knowing the difference, and he suspected Loftus was as well.
Where these boys start off as enemies and are forced into close proximity by chasing the one Lord, they become friends, they become confidantes, they become much more by sharing bits of information about the adventures of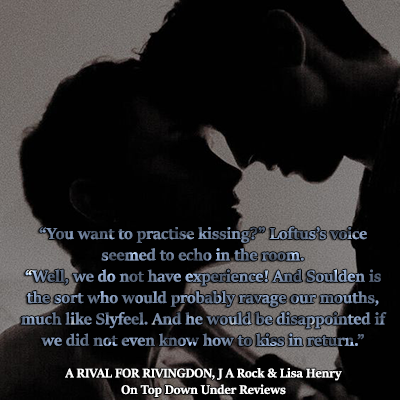 Lord Slyfeel in The Maiden Diaries, a saucy, titillating serial where the rake Slyfeel ravages his way through the London population, male or female. It reminded me of how I learned about sex. My parents didn't talk about it at all, sex was unseemly, so I got hold of scandalous magazines. Not the best way to learn about sex. The Maiden Diaries is innocent compared to now, but it's all relative to the era. For this book's period, early 1800s, it was salacious. It was also cheeky and funny how all the young men knew about it. Cute the way the boys had their awakening together around it.
I have to say that two eighteen-year-olds in a contemporary romance might be a no-go for me nowadays but the way Rock and Henry wrote these characters was like they cared for and were protective of them. It was intimate and innocent and sweet rolled into one. It was all rather perfectly done. I'll admit that this gem of a book caught me unawares. How I loved that.
"I just…right now…I do not much like myself." He cut his gaze toward Morgan. "Do you ever feel that way? No, what a stupid question. Of course you don't."
"I do, sometimes. More than you think."
Lisa Henry, you Queenslander. I blame you for throwing shade at NSW. Oh, I know it was cloaked by the period but really it's just your state rivalry showing, lol. I loved it. Morgan would be glad to know that the elephant sightings here lately have been spectacular!!
I can't especially write a whole lot of substance about A Rival for Rivingdon. There is so much more to it than I can do justice to in any way, shape, or form in a review. The humour is subtle and witty. It's fun. As I've already mentioned a time or two, A Rival for Rivingdon is adorable. It's also sweet but not sickly. It has far more depth than you initially might imagine possible. These two MCs are adorable. Utterly adorable. I wanted to gently hug them. The writing is clever and thoughtful and endearing. The ebb and flow is perfect. Rock and Henry write seamlessly together. It's no fluke either as I've previously read other excellent cowrites by them.
I know I'll remember Morgan and Loftus long after I've finished this review. I felt for them. I cheered for them. I loved the ending Rock and Henry gave them, it's a little different to many Regency Romance endings. I for one can see Morgan's painted metal buttons being a winner. Oh, and thank goodness no more of our NSW elephants must die for dreaded ivory. A Rival for Rivingdon gets a delightful 5 Stars!