A Sanctuary for Soulden, J A Rock & Lisa Henry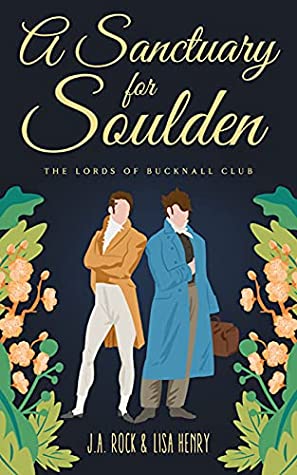 Rating: 5 Stars
Publisher: Self Published
Genre:  Gay Regency Romance
Tags: Historical, Humour, Sweet with Teeth, Hurt/Comfort
Length: 292 Pages
Reviewer: Kazza
Purchase At: amazon
Blurb:
He wasn't meant for a quiet life.
Philip Winthrop, Viscount Soulden, is a fop. An idle popinjay with nothing more on his mind than how to best knot his cravat. He definitely doesn't spy against the French. Or arrange hasty weddings. Or occasionally commandeer the navy. And he certainly doesn't seek out mortal danger in order to combat his pervasive ennui. It's all just a big misunderstanding when he's shot by a French intelligence officer during a merry riverside chase. And what a wonderful bit of quick thinking to pretend to be a corpse in order to get himself taken to the local surgeon's autopsy cellar. The French will never find him there. If the French are even looking for him. Which they're not. Now he just needs to locate a way out before this surgeon fellow attempts to dissect him.
He'd rather deal with the dead than the living.
Surgeon Edmund Fernside does his best to heal the living, but in truth, he'd much rather look into the gaping chest cavity of a corpse than into the startling blue eyes of a…corpse that just climbed off his autopsy table. Well then. Lord Soulden is clearly a man with some complicated secrets. But with the French in hot pursuit and a rather brutal gunshot wound, Soulden's not going anywhere anytime soon, and Fernside discovers that he enjoys the pleasure of his company. In more ways than one.
Now, trusting each other could mean the difference between life and death.
As Soulden learns to be still for the first time in his life, Fernside wonders if perhaps it's time to spread his wings a little. They can only hide from the outside world—and from their pasts—for so long before the secrets they've uncovered about each other strain the growing attraction between them. Each man must decide whether a life of comfortable lies is preferable to one full of difficult truths. And whether the sanctuary they've created together is something worth fighting for.
A Sanctuary for Soulden is the fourth book in the Lords of Bucknall Club series, where the Regency meets m/m romance. The Lords of Bucknall Club can be read in any order.
Review:
A Rival for Rivingdon was a bit of a revelation last year when I read it. In the middle of dark books, it was such a mood shifter and incredibly well written. While I already know that Rock and Henry are a great writing duo, "Rivingdon" absolutely exceeded my expectations. Morgan and Loftus burrowed well and truly under my skin and it was one of my 2021 Books of the Year. It was really nice seeing glimpses of them in this book. Soulden is tied to them through society and also through having survived being in Morgan and Loftus' sights in A Rival for Rivingdon.
Philip Soulden is very much a part of the Bucknall Club, the elite hangout, but he keeps himself somewhat apart. He feigns indifference and a foppish air but underneath it all you know there is something else going on.

It takes Rock and Henry a little while to unravel his past and where he's really at emotionally. The flow of the writing keeps you on your toes. The connection between Edmund and Philip is good. It felt realistic, as realistic as a fictional gay Regency romance can be. There are names of events and real historical figures in places they should have been. I appreciated that. I love a good sense of time and place.
Soulden is shot by someone after the last ton party he attended. He gets into a cart that is taking corpses to Rotherhithe and ends up in Dr. Edmund Fernside's cadaver room. This causes all sorts of dilemmas when Fernside finds one of his cadavers is very much alive. Soulden has to be operated on, then hidden in his attic as he claims a Frenchman named Aumont is after him. Poor Fitz, Fernside's assistant, thinks there's a ghost since one of the cadavers up and disappears, and there are noises from above as Fernside has to keep mum while Philip heals. It's a source of ongoing humour and some later pathos as well. But surgery and recovery is not so easy in the times prior to antibiotics and IV fluids. This helps the character connection. Fernside also doesn't know who Philip is let alone that he's a titled lord, a viscount. He just knows he's a well dressed man, a very attractive well dressed man, with a bullet in his shoulder, apparently with a French assassin on his tail.
Edmund Fernside is usually a surgeon and general doctor. But he's very much inspired to research. He's seen people die who he's sure medicine could help if there were more money and effort put into it. He's a homebody who, while not self-unsure, doesn't think highly of himself in any relationship stakes. He likes the place he's carved out for himself in Rotherhithe amongst the poor and lower working class. He's passionate about his research work but it is dangerous, collecting cadavers is illegal. He also likes doctoring the people who pay him in some small coin, but mostly via toothbrushes and whatever they can cobble together. And Fitz, who the local ladies all seem to want a piece of, perplexingly to Edmund, lives a relatively simple life alongside the doctor.
Both of the MCs are incredibly likeable. Philip has skeletons in his past, and Edmund, well, Edmund has cadavers in his present. Philip is titled and the next in line, Edmund is not even close to being upper class. Both men are passionate about different things, but their individual passions collide in an opposites attract kind of way. Edmund also has a sure, controlled voice, which Philip needs and finds comforting. In the bedroom, Philip knows his way around, Edmund doesn't, but likes what he learns. There is a degree of hurt/comfort between the MCs.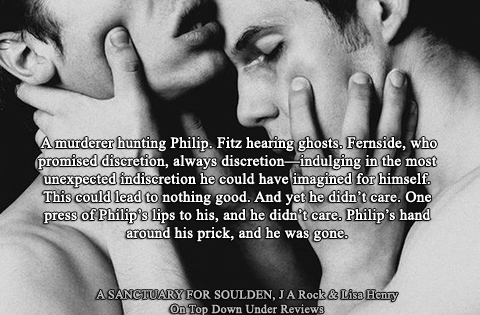 A mystery is going on in the background and Lord Christmas Gale is on it, as usual. He's the veritable Columbo of the ton. There is also a lovely arc about friendship, that family can be complicated but patient if given the chance. Nothing is flash-bang in the well named A Sanctuary for Soulden, but it is lovely and charming and humorous and sensual, all of which seem to be the overriding author intentions behind this series.
If you want to have a gorgeous big hug of a read then definitely read this series for a tonic in strange times. The wonderful A Sanctuary for Soulden gets 5 Stars!