His First Christmas (His First, #1) by Victoria Sue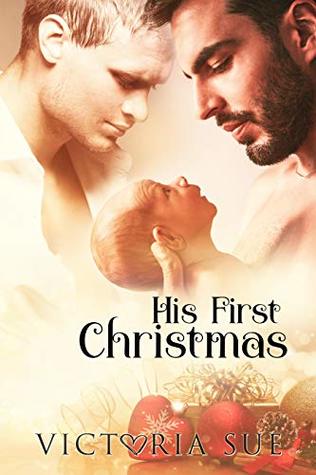 Rating: 4 'Aww!' Stars
Publisher: Victoria Sue
Genre: Paranormal Gay Romance
Tags: Domestic Abuse, Insta-Love, Mpreg, Omegaverse, Romance, Series
Reviewer: Cindi
Purchase At: Amazon.com
Blurb –
Running from an abusive alpha, terrified, and abandoned in the middle of a snowstorm, Bo Rawlings goes into premature labor. Desperate to try and save the life of his unborn child, he makes one last attempt to get to the omega clinic, but his old car has other ideas.
Gabe Johnson, exhausted from being on call as a veterinarian and depressed at the thought of another lonely Christmas, nearly gets run off the road by a driver who loses control of his car.
When he finds that the driver is actually a young omega about to give birth all his protective instincts rush in and as he battles frantically to save their lives, he realizes all he wants is to take the little family home and claim them for his own.
Bo has never had the Christmas he's always wanted. Gabe gave up on the holidays a long time ago. But just as they both think that it's their turn to experience the season of miracles, Bo's old alpha finds them, and unless Gabe can manage the impossible, all their Christmas dreams will melt like snow.
Review –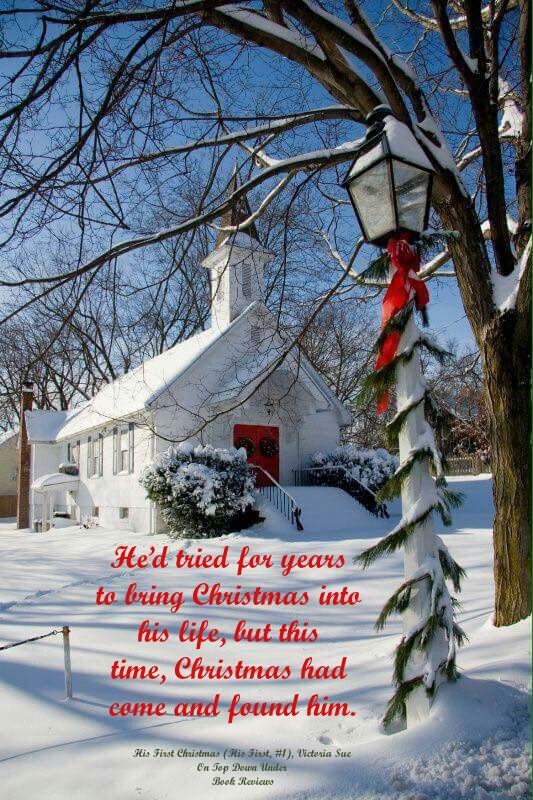 A few years ago I picked up my first Victoria Sue book. I fell into a love relationship with her writing and her stories. But then real life threw me some serious curves when I lost my sister, and later, my mother. Most of our followers know that I had to take a huge step back from pretty much everything. I attempted to keep up with my reading and reviewing but my head and heart just weren't in it. When I walked away, I kind of had to walk away from pretty much everything. Thankfully Kazza, who is a dear friend away from On Top Down Under, understood the reasons behind it and patiently waited for me to return.
Life has slowed down a lot and I'm again wanting to read. At the moment, I'm reading a lot of sweet love stories because that's the reading mood I'm in. His First Christmas is my first of Victoria's in a very long time and it was perfect. It also reminded me how much I've missed her stories.
The blurb describes the story pretty well. Bo, a pregnant omega, goes into labor early. Unfortunately, it's in the middle of a major snowstorm. He can't risk having the baby alone so he sets out to the nearby clinic, hoping he can make it before it's too late. When an especially bad contraction hits while he's driving, he loses control of his vehicle and almost hits Gabriel, a local veterinarian who's on his way home from a call.
I loved Gabe from the moment he was introduced. He jumps right in to save Bo and his unborn baby, taking them back to Bo's tiny cabin because it's closer than the omega clinic. Gabe isn't a people doctor, but he knows there's no time to try to seek help from anybody else.
In Bo's world, omegas are looked at as property. Bo ran away from an abusive alpha and has been hiding out ever since. Often when an omega gives birth the baby is given to the alpha and his wife to raise and the omega is put up somewhere away from the child. Before they get pregnant, they're often used as slave labor and treated horribly. This was definitely the case with Bo. He'd somehow managed to get away but lived in fear daily of his unborn child. By the time he's found by Gabe he's malnourished and suffering from injuries that aren't made clear until later. After a bit of an emergency a few hours after the little one is born, Gabe somehow manages to rush Bo to the hospital, only to learn things about the poor omega that had been hidden to that point.
It seemed no matter how hard he tried, something always went wrong. He'd tried to be a good omega. His mom and dad had been disappointed when he started showing omega traits. They'd hoped for another beta like his older brother Andrew who helped his dad run their construction business, or another alpha daughter like Marissa who had just qualified as an attorney and had at least two alphas offering for her. He'd thought his mom was going to explode with pride when that happened.
I don't want to give the story away beyond that but I will say that there's an incident when Bo's alpha finds him. Before things can escalate, Gabe finds a way to ensure that Bo and the baby can stay with him.
Bo broke my heart in a lot of ways. He's not used to anyone (including his HORRIBLE family) giving a damn about him. When Gabe (and others) try to give him a better life he's convinced there must be an agenda. He'd never been treated well, so why by these people? Gabe never gives him reason to doubt with the exception of legal speak that had to be used to ensure he and the baby could go home with him.
Gabe needs Bo as much as he needs him but for different reasons. Gabe was lonely and had pretty much given up on celebrating Christmas in his big, old house. His only living family are out of the country. He has a lot of good friends, but it's not the same, you know?
His friends. There are no words for how much I loved every single one of them, including one who'd gotten into the sherry a little early. 🙂
When Gabe finds Bo, he finds the one thing he's been missing – a mate, someone to love. For Bo to have a child, who Gabe already loves as his own, is a huge bonus.
This story is tied up neatly. I'll admit that I got a little misty-eyed when Gabe was able to finally prove to Bo that he's much more than his family and his former alpha said he was.
A very entertaining read. I look forward to reading the next one in the series.