Christmas Riches, H L Day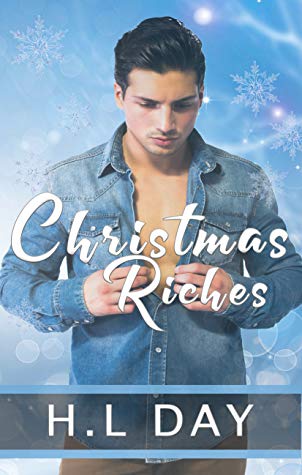 Rating: 4.5 Stars 
Publisher: Self Published 
Genre:  Gay Romance
Tags: Christmas, Clear Age Gap, Sexy Contemporary Romance, Tug on the Heartstrings
Length: DK
Reviewer: Kazza 
Purchase At: amazon 
Blurb: 
Christmas comes early for Aiden Malone in the form of a seductive blue-eyed stranger down on his knees. But a shock revelation about his new 'friend' has him running for the hills and cursing his stupidity before the night is out.
Tom's not prepared to give up that easily. He may be rich, where Aiden's poor. Innocent in a way that Aiden isn't. And on the wrong side of twenty. But he's old enough to know what he wants. And that's Aiden. He just needs to persuade the older man to look past his hang-ups about age and wealth.
Lust and prejudice pull Aiden in opposite directions, severely testing his willpower. As Tom's layers begin to peel away, Aiden discovers the younger man's life of privilege may not be all it seems. If Aiden gives in, they could have the sweetest Christmas that either of them has ever tasted.
But Tom's about to shatter their joy with a surprise announcement. Decisions need to be made on both sides. It's down to Aiden, though, to stay strong and decide whose happiness is more important. His? Or Tom's? Because they can't have it both ways.
It's possible their relationship won't even last as long as it takes for the snow to melt.
.
**NSFW REVIEW**
Review:
.
Just a quick note first, at the beginning I make an error in the podcast saying Tom thinks that he's out of his league I meant to say Aiden thinks this. I also say reindeer are at Richmond Park when I meant deer – obviously I was caught up in the Christmas spirit ?
.
Virginal, dirty-talking, eighteen-year-old Tom and job-fit and muscular thirty-one-year old Aiden would make for interesting reading at the best of times, but during the Christmas season they are fun and sexy and have an intense chemistry borne out of the reason some people struggle with this time of the year. Borne out of the most personal gift you can ever give.
When the two MCs hook up at Aiden's local pub, sparks fly but there is more to Tom than Aiden realises and Tom gets more than he dreamed he might.
This is a sexy novella, I'm not sure of the page count, and I've concentrated on the sexy aspects in my pictorial version of this review, but it is seasonal and Christmas forms the backbone of the story.
The reason I gave Christmas Riches 4.5 stars instead of 5 is because I missed having Tom's POV. I think this would be an amazing story with dual POV and in a longer version. My imagination ran wild for a while. Not a bad thing at all, but I'd love to have some dots filled in and I'd love more on Tom. It's not particularly a complaint, just my gut feel, the story is so good I wanted more. This was a delight from start to end and a definite re-reader over the years to come.