Soul Fire (Darkling Mage #8), Nazri Noor – Podcast Review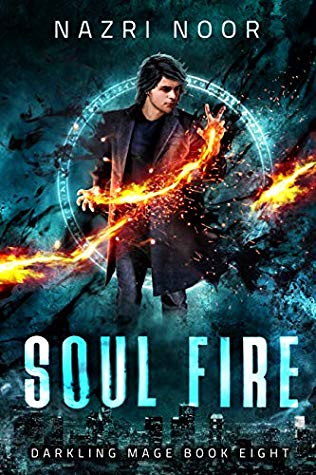 Rating: 5 Stars
Publisher: Self Published
Genre: Urban Fantasy
Tags: Arcane, Mythology, Paranormal, Diverse Characters, Series 
Length: 278 Pages   
Reviewer: Kazza
Purchase At:  amazon, Nazri Noor
Blurb:
Everything burns.
Dustin Graves is in danger. The most powerful witch of the century has awakened, roused by the Eldest from her decades of tortured slumber. Odin, the All-Father, has promised his wrath. And the door to the Dark Room is open once more, stirring an inferno of rage in the darkling mage's heart.The Great Beasts, apocalyptic monsters of ancient myth, may hold the key to taming Dustin's wild magic, and to ending Agatha Black's reign. Failure means annihilation, whether he's consumed by fire, or shadows… or the hungering madness that dwells in the corners of the Dark.If you like snarky heroes, snappy dialogue, and a bit of grit and gore, you'll love the eighth book in Nazri Noor's series of urban fantasy novels. Explore the Darkling Mage universe and discover Soul Fire today..
.
Review:
.
The Darkling Mage series is one of my favourite series. I pre-order each book. Most of the reviews are here. It's a mainstream Urban Fantasy series, it isn't MM although the MC, Dustin Graves, is gay and he now has a boyfriend, Herald. I enjoy UF. I enjoy paranormal. This series straddles both elements, as well as mythology. Different cultural gods get a guernsey in these books – and they're always interesting. Some have recurring roles.
This series has a great sense of family and loyalty. Bravery and apprehension… and humour. The first chapter in Soul Fire cracked me up.
I forgot to mention Banjo in the podcast review, the borking, head and dimension exploding corgi, aka daddy's little murderer, is great fun and scary all in one. That Carver has taken him to his heart is endearing, and endearing is not necessarily a word I'd associate with Carver.
This series is humorous, it can be bloodthirsty and action-packed. The world building is wonderful, the research, the knowledge around and about the gods is impressive. All of the plot pieces are coming together so well. First and foremost, the characters are important to me. I want to read about them. I have to know what's happening to them. I feel like we are family now. I care about them, that's the highest compliment I can give to any book and character within. If you like UF, grab the prequel, Penumbra, and start your Darkling Mage fix from there.
Author post behind the series here. 
.