Blog Anniversary Giveaway: Lisa Henry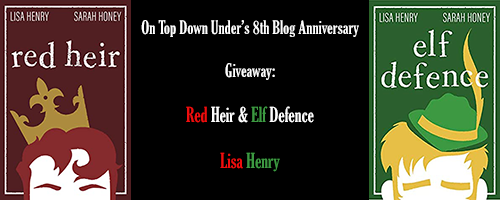 Today we have Lisa Henry joining our 8th blog anniversary, generously giving away 2 of her latest books – 1 x copy of Red Heir (Adventures in Aguillon #1) and 1 x copy of Elf Defence (Adventures in Aguillon #2), release date is October 22nd. Another fellow Aussie representing during our Blog-Versary. If you're thinking about reading some "MM" or gay romance, or if you've never read Lisa Henry before, check out their extensive and diverse backlist at Amazon and Goodreads. (Listed below.)
Imprisoned pickpocket Loth isn't sure why a bunch of idiots just broke into his cell claiming they're here to rescue the lost prince of Aguillon, and he doesn't really care. They're looking for a redheaded prince, and he's more than happy to play along if it means freedom. Then his cranky cellmate Grub complicates things by claiming to be the prince as well.
Now they're fleeing across the country and Loth's stuck sharing a horse and a bedroll with Grub while imitating royalty, eating eel porridge, and dodging swamp monsters and bandits. 
Along the way, Loth discovers that there's more to Grub than meets the eye. Under the dirt and bad attitude, Grub's not completely awful. He might even be attractive. In fact, Loth has a terrible suspicion that he's developing feelings, and he's not sure what to do about that. He'd probably have more luck figuring it out if people would just stop trying to kill them. 
Still, at least they've got a dragon, right? 
####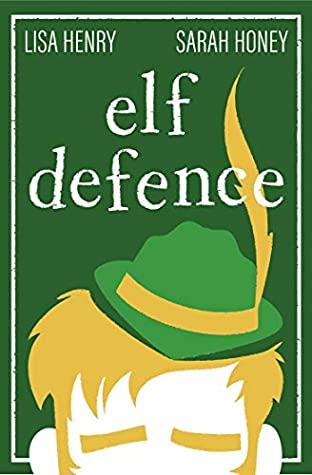 Royal envoys Calarian and Benji embark on a quest in the alpine duchy of Tournel. Things go rapidly downhill when the duke plummets to his death from the tower wall. Whoops—that's going to be hard to explain. And it's not as though they can just grab the nearest human and make him the new duke.
Or can they?
Enter one Lars Melker, a slightly gullible cowherd built entirely of muscles and sunshine, who happily accepts their word when they tell him he's the duke now.
Soon Calarian and Benji are knee deep in teaching Lars how to fake it until he makes it. They're also dealing with mountain trolls, a monster, a missing cow, and, most shocking of all, a growing realisation that their elves-with-benefits arrangement might be turning into something with feelings.
Add in their mutual attraction to Lars, and suddenly the hills are alive with the sound of emotionally compromised collectivist anarchist elves.
Also, what's the deal with those leather shorts?
Say hi to Lisa Henry:

**GIVEAWAY**
This giveaway is now over. Congratulations to Trix.
All you have to do to be in the running to win a copy of these fantastic e-books is enter via the Rafflecopter on this post, or you can leave a comment below. This giveaway runs for 10 days from Oct 12th.  Good luck!