Disciplinary Action, Onley James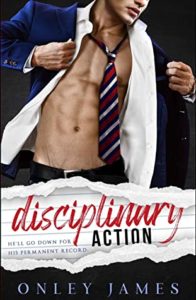 Rating: 4 Stars
Publisher: Scorpius Rising LLC
Genre:  Gay Romance 
Tags: Daddy Dom, DD, BDSM Light, Age Gap, Erotic, Dirty Talk, Moral Ambiguity 
Length: 278 Pages
Reviewer: Kazza
Purchase At: amazon
Blurb: 
LEOPOLD GIDEON spent his childhood as the poor kid in a rich school until he met an older man who took him under his wing and into his bed, teaching him to not only survive but thrive among the elite and to never submit to anybody except him. For fifteen years, Gideon had everything, but then tragedy strikes, leaving him alone once again.
CALLUM WHYTE was raised with every conceivable luxury but one: loving parents. When his father is indicted for federal crimes and his assets frozen, Cal has to learn to survive with nothing. When a friend offers him money to spend the night with a hot older man, Cal has no choice but to say yes or literally risk going without medication he needs to stay alive.
One night with Daddy Gideon leaves Cal's head spinning and his body longing for something he never thought he'd want: discipline. Too bad Gideon never plays with the same boy twice, not even ones who beg as sweetly as Cal.
Just when Cal thinks all hope is lost, he discovers Gideon is the new headmaster for his school, leading him to devise a plan to get what he wants by blackmailing the older man into spending the next six weeks with him. But Cal is about to learn it doesn't pay to blackmail someone who doles out his punishments.
Will this battle of wills end in a ceasefire or heartbreak?
This book contains BDSM, Daddy Dom, Age-Gap, Teacher/Student and Domestic Discipline and is complete at 70,000 words with no cliffhanger and a HEA
Review:
I mention in my audio review that the author certainly gives any potential reader a lot to go on with their blurbs. If this books appeals, I can tell you it is what it says it is.
I liked the story. I liked the MCs. I was happy to cruise along and wait for their happy ending. I got Daddy. I got his boy. I got an age gap. Plenty of dirty talking. The moral ambiguity is there. I was a contented reader for the most part. Onley James is definitely someone I'll pick up and read when the blurb speaks to me like it did with Disciplinary Action. 4 Stars!
.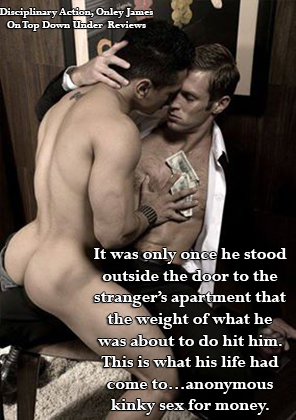 …