Working Stiffs Anthology, Various Authors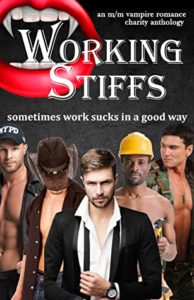 Rating: No Rating
Publisher: Self Published 
Genre:  Gay Romance
Tags: Anthology, Vampires
Length: 487 Pages 
Reviewer: Kazza
Purchase At:  amazon
Blurb:
An M/M vampire romance charity anthology.
Not all vampires are idly rich. Some of them have day jobs. Er, night jobs.
In a world struggling to come to grips with the existence of vampires, where reactions range from excitement to fear to determined disbelief, these vampires are just trying to make ends meet. Some of them do mundane work – like waiting tables or driving a cab. Others have more prestigious careers in medicine and crime prevention. But what all their jobs have in common is people. Unpredictable, interesting, frustrating, hostile, helpless, tasty people.
Whether they're pouring drinks, answering phones, hacking into a computer system, or serving up the perfect food/wine pairing, these working stiffs are too busy to fall in love. Or are they?
This International Workers Day, celebrate by sinking your teeth into thirteen awesome stories about vampires at work. Because even the undead have to earn a living. Proceeds benefit the World Health Organization's COVID-19 Solidarity Response Fund.
Review:
.
Kudos to all involved in this charity anthology. I appreciated the theme of working-class vampires, which made me appreciate the common theme of the same paranormal job agency – V.A.M.P – having a recurring role throughout the individual stories. Most of the vampires in these tales have a strong sense of ennui until their someone comes along, in whatever form that takes – mate, lover, an experience. There were other themes intertwined as well.
I'm very time-strapped right now so I've written short reviews about the stories I had stronger feelings about. Some others I'll attempt to come back to later.
How to Keep an Author (Alive) by A.J Sherwood
This was going well. Vampire of colour – sadly, as rare as hen's teeth – takes a live-in job with a writer who's a hoarder and who takes research very seriously – as in smothering his assistant seriously – to get maximum realness to his storytelling. Great build then, poof, we go to talking about a first date to talking about how great sex was to I need you to bite me more… and I kept turning back because I felt like I missed something. I did… a whole chunk of story. This was like the beginning and then the end with the middle ripped out. I can tell from this short that the author can write, and well, but this didn't feel complete to me, and short stories can feel complete.
Long Haul by Tanya Chris
Vlad drives an eighteen-wheeler in America, and he helps save a cute guy from a "shitbag" who wants to get a blowjob and take the young guy's money at a truckstop. Silver has a distinct smell and when that becomes known, Vlad means a whole lot more – his serum, his blood, his care. I know they're not real but, as an aside, I found myself feeling sad that vampires added another group to those who didn't care enough when they should have during another pandemic.
Anyway, the chatty Silver adds meaning to the life of ennui for a centuries-old vampire and I enjoyed their serendipitous connection.
This was a sweetly erotic story with a bit of a message. It also came complete with characters I could embrace. I liked this a whole lot.
Overexposed by K. Evan Coles
Noah is a crime scene photographer for the CSU of the NYPD, the first vampire working for them. Danny owns Nice Buns, a local bakery. Danny gets mugged by someone who's escaping after murdering a guy in the local park. This brings Noah and Danny closer than just customer and baker as a vampire looks after a witness. Overexposed was a longer story than the two preceding it. A pretty well put together tale but probably lacking enough intensity for me. However, it seems this was a taste test for a longer story.
Dial-a-Vamp by Roberta Blablanski
Quick and erotic. Wyatt is "Roberto" when on the phone with callers to a sex line he works for. He's bored with life and hasn't felt desire for 40 years – that's a lot of wasted sexual activity – until shy Caleb rings up and asks for vampire roleplay. This morphs into more than phone sex, and with more than one guy. I enjoyed this bite-sized story.
Off the Menu, R.J. Sorrento
The characters didn't speak to me but, to be fair, I'm not into cooking themed stories.
Fangs for the Memories by Sadie Jay
Call My Number by Megs Pritchard
Bad Blood by Lyra Evans
The author has a CW for medical situations, especially for miscarriage, which needs to be heeded. This was interesting. It has a somewhat sombre and resigned tone. Alek is a vampire ER doctor who's had to cope with being turned at the end of his qualifications then to battle the urge to feed when dealing with any bleeding patients, all while taking his Hippocratic oath seriously. James is another doctor in the ER, one who is predominantly rude and clashes with Alek. Overall, the characters are somewhat iffy, but the world was intriguing. There's a touch of psychology around Alek and his experience, which I needed more of. James definitely needed more fleshing out because, without the extra wordcount, he mostly came off as unreasonably hostile. With extra development this could be a very good novella/novel.

Graveyard Cops by Crystel Greene
.
Jesse is a vampire cop who works the graveyard shift. He doesn't like himself because vampires are monsters, and he doesn't drink blood, ever, this includes readily available synthetic blood, something borne out of his self-loathing. His (police) partner, Lico, doesn't know Jesse is a vampire. Lico doesn't really believe in them, although the theme throughout this anthology is vampires are out of the coffin, but he likes to tell Jesse stories about a co-worker thinking Jesse is one. There's a little overnight policing activity, some questions about why Jesse checks out Lico in the locker room, and an event that allows the truth to be set free. There is an overuse of the word god. And baby, once it makes an appearance, is also overused. Overall this was a fun little story. Another where it seems the MCs will be getting more later on.
Quality Assured by Edie Montreux 
Fire and Ice-Cold Skin by Mel Gough
I couldn't get into the characters. Maybe another go on another day.
Life Hacks by Eliott Griffen  
Bad Decision by H.L. Day
My favourite short story of them all. The well named Bad Decision packed plenty in: It was interesting. It had a little edginess, some fight and spirit. Alessandro has good intentions when he picks up an attractive but soaked-to-the-skin Liam in his cab on Liam's way to a vampire club. I'm good with instalove, which this does incorporate, but I'm  heavily into the whole mine concept in paranormal stories, so take that as you will. Alessandro's a good character, someone you could cheer for. Liam, a vampire groupie who might not have deserved my boy Alessandro. However, Alessandro got to atone for something, and Liam got his… life lesson.
Overall, the writing was strong. There was some sexy. There were no leaps in time that ruined the story, so it flowed well. I was interested and entertained from beginning to end, everything I expect from H.L. Day. This is how you write a good short story with depth. A strong finish to the anthology.
***