Burly Tales Anthology, Various Authors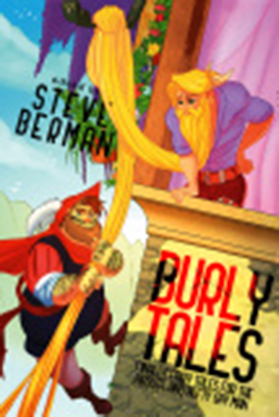 Rating: 4 Stars
Publisher: Lethe Press
Tags: Gay/Queer Fiction, Fairy Tale Reimagining, Bears, Burly Men, Hairy Men, Acceptance, Anthology
Length: 218 (Paperback pages)
Reviewer: Kazza
Purchase At: amazon, Lethe Press (**Paperback links only at this stage) (**August 1st Release) 
Blurb:
What has been missing from the daring tales of fairy tale heroes is quite simply some heft. In Burly Tales, Lambda Literary Award-winning editor Steve Berman has gathered a dozen stories of whimsy and romance that feature gay men with plenty of curves and fur. Run away with us to enchanted woods, where the cubs and bears are not going to eat you (not without informed, enthusiastic consent), where no one will judge if you take up residence in a house with seven bearded men and only one bed, and where if you fall in love with a large, hairy man with a forbidding castle and a well-stocked library, he'll still be that way after you kiss him. Featuring an introduction by Matthew Bright and an afterword by award-winning ursine author Jeff Mann.
Introduction by Matthew Bright
Afterword by Jeff Mann
Review:
**This is a review of an early ARC so any quotes I use may be changed prior to final copy and release.
1- Three, to the Swizz'! by James K. Moran
After the pandemic, yes, COVID-19 is vanquished – three cheers!  – three best friends are in Ottawa, celebrating, when a boat cruises under the bridge they're on. Some fun, some cheeky banter quickly goes back and forth between the guys on the bridge and the dancing boat guys who are off to Swizzlers, bridge guys should bring themselves along too. Then a curmudgeonly troll appears from under the bridge. He's also going to Swizzlers but the troll is… well, can you say Three Billy Goats Gruff? This is a story about camaraderie, also concerns gay men have about being harassed. More length was needed to make me fully invested, but stylistically nice writing.
2- The Red Bear of Norroway " by John Linwood Grant
This is the tale of a prosperous and peaceful land headed up by a good queen. Her husband has passed on but she has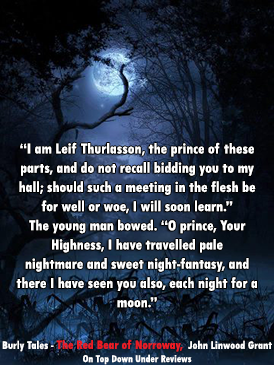 three strong and noble sons – Erys, Andrys, Justinian. Justinian dreams of a prince in the Northland, tells his mother he's the one for him, she's cool with it – good on your queen mum – and voila! a dream portal takes Justinian to Norroway. Unlike Justinian's happy homeland, the people of Norroway live in fear when their ensorcelled ruler, Leif of the Broadspear, turns into a hulking, angry (actual) bear during the day and a sad (human) bear of a night. Justinian thinks he may have cracked the spell to get Leif back into human 'bear' form alone, but there's the best laid plans and all that jazz to contend with. This was good. Good writing with a real ye olde fairy tale flavour. Nice world building in a little package. Characters I had investment in. Some magical elements. Some love amongst the pelts. Inventive and engaging writing, I liked this. A lot.
3- Something Old, Something, New, Something Borrowed, Something Blue by Jonathan Harper
The unnamed narrator and his sister, Amelia, have lost their parents and are struggling to maintain their family farm. Even though Amelia is a workhorse of a woman and gives her all, the narrator isn't quite as dedicated to the farm. He's more unsure where or how he fits in. The narrator fancies a Duke who comes to their town for the fair. The Duke is married but he seems to eye both Amelia and our narrator. Could that be right? Although a year later the Duke comes back to the town and to the fair, sans wife, and marries Amelia. This little noir and slightly salacious tale started well but it ended up being somewhat expedient because of  the wordcount. With shades of Rebecca hanging over it, this was interesting but missing the length it sorely needed.
4-  Snow Melt and Rose Bloom by John T. Fuller
Mama Anna lives in a cute cottage in a forest with her twins sons, Walt and Whit, also known as Snow and Red for their colouring, and the roses she grows. Mama Anna talks to the forest creatures and lives a happy, gentle  life… she even rocks it out at venues with her favourite bands, I could so hang out with Anna. Snow and Red are different people but they're close. However, Snow likes the ladies and Red likes the men – especially a hot bear. But where would he find one of those in the surrounding forest that isn't, you know, an actual bear? Well, as it so happens….  I liked this old style fairy tale world with a contemporary bent. It's also funny and I especially enjoyed the goblin who had the best insult names this side of the Black Stump. Fun. Engaging. Vibrant, this short story made me feel genuinely happy throughout. Utterly charming.
5- The Three Little Prigs by M. Yuan-Innes
All guys like him are alike. They think they are this big daddy. They talk the talk. Hey baby, I'm so hot, I'm gonna blow your house down.
Good urban and contemporary retelling of The Three Little Pigs where the third little pig, Kevin, asks the big bad Wolff to come to him – and this little piggy wields a bullwhip. His brothers, Ham(let) and Smoke(y) let the wolf take control of them. Not Kevin. He has Wolff where he wants him. Excellent pared back writing that conveys so much in so few words.
6- A Giant Problem by Charles Payseur
And nope. Nope nope nope nope. He walked to the edge of his cloud, held a hand to either side of his mouth, and called for an exterminator.
 Ben the giant lives in a castle in the clouds above human realms… but a human has entered his domain. Humans are vermin, to giants they're like people who freak out about spiders or cockroaches – eek! Burn the house down! So it's time to call in the pest exterminator. The exterminator, Drake, is the very jeans, tool belt and flannelette shirt wearing Daddy type that Ben finds droolworthy. Drake sees Ben's no human-bones-grinding-for-bread, vegetarian, live capture ways all rather adorable, as did I. Nice homage to Jack and the Beanstalk with adult content and the author's unique spin, including plenty of humour, love of animals, and Ben learning to add some boundaries to his repertoire. Cute.
7- The Most Luxuriant Beard of All by B.J. Fry
"Mirror Mirror, in which I peered, tell me who has the most luxuriant beard?"
 The king loves his beard, plenty of beard oil for his majesty to preen over in the mirror-mirror on the wall, which? who? is an ex lover. However, his unwanted stepchild, Forrest Snow, is still the most devilishly handsome and beardly of them all. Forrest Snow lives in the woods. No surprise, he ends up living with the 7 cottage inhabitants – their names FTW – Otter, Cuddle, Glutton, Chubb, Girth, Carnal, and Whiskers. It's so very Snow White but with it's own, unique slant. A lot was packed into what is a short story – the huntsman, a prince, old crone, the mirror, etc, so it got a tad frenetic toward the end. Ah, but for more length… but still largely enjoyable.
8- The Man Who Drew Cats by Alysha MacDonald
"Love is the deepest cut and the darkest stroke. My heart cares for yours. It beats faster than your wings ever did. Can you not say the same for me?"
Shiro is loved by his family but he isn't keen on working the family paddy fields. His father believes Shiro is idle of body but over productive of mind so he sends him to the monks. At first he is resentful but over the years he learns to write kanji, draw flowers, create calligraphy prints.  Then he discovers cats. Becomes obsessed with cats – having them, drawing them – until the monastery is overrun. The monks wonder if they're not bakeneko – a Japanese supernatural creature – and Shiro is asked to leave. From here this short story is full of Japanese lore over Shiro's  life. There are yokoi and Tengu, the Goblin Rat and her rat army scaring the forest and the villagers below as well as the local monastery. And it's also an enduring love story. This is a longer short within the anthology and the author used that opportunity to showcase what is clearly a love of Japanese culture/lore. Very different. Very interesting.
9-  Heft by Mark Ward –  a very, very short more adult take on The Emperor's New Clothes. Really just here to add some bulk to the overall Burly Tales wordcount.
10- El Muerto's Godson by Evey Brett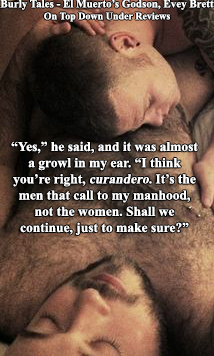 A father wants to find a suitable godparent, a padrino, for his 13th child, a son. He has three choices that appear, and the one the father chooses is El Muerto, a man who states that all are equal. When he gets older, El Muerto declares his godson to be a healer and teaches him how to compound the hierba vida to help those who are to recover. El Muerto will always be the one to give the nod as to whether the medication will be able to be administered or not. It's a life or death decision and his godson cannot go against his padrino's say or there will be consequences. 'For every life that goes, another takes its place' is his padrino's motto. But the narrator can't make sense of why some live and why some die, why his padrino seems so uncaring about things that shake him. There is a romance and a familial love in this story, both of which are bittersweet and rather beautiful. I thought this a moving short story.
11-  Learned Lesson by Rob Rosen
Prince Theodore is imprisoned in a tower by his father, King Henry, for having carnal hook-ups with palace (male)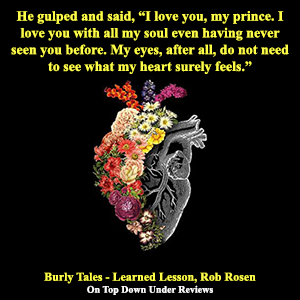 staff, non-palace (male) staff.. and himself. King Henry says it's so his son can learn a lesson, although Prince Theodore isn't really sure what that "lesson" is. Is it him being with men in general? Too many men? Poor choice in men? He felt himself quite good at "buggery" so being locked up for something he's good at is perplexing. Along comes William the woodsman who is clearing trees for the King and who wonders if Theodore is indeed good at "buggery." Shame for the Prince to be locked up. They spend months, seasons, talking – yelling? – from above and below the tower to one anther and they Rapunzel a meeting via beard hair. I'm already a huge Rob Rosen fan. He always writes a funny story, and this was no exception. How I wanted more, but it was fun, fun, fun all the way.
12- Bears Moved In by Ann Zeddies
Auren Capelli and his roommates are moving out of their rental for the summer. Drew and Ashley are going away but Auren isn't. Maybe it's an American thing but why Auren had to move out of his room for summer because his roommates were subletting confused me. Anyway, there are new people who have moved in next door into a house he's always admired. It's an old-world looking house, and he gets a chance to meet them after his cat, Bear, is in a fracas and a key is found that could belong to the new neighbours. This is an interesting kind of Goldilocks and the Three Bears reimagining. A bit of a cohesiveness issue that, I think, length would have helped. Nevertheless, an interesting concept.
Overall: 
My overall rating of this anthology is by personally rating each story and averaging them out. Burly Tales is like 99% of anthologies out there, some stories are gold, some not quite at that level. There is an art to short story telling and more than a few of these authors really nailed it. However, the main point of this book is one of people not being lambasted or shamed because of their sexual orientation, their girth, their hirsuteness, rather being admired because of these things – which is such a positive. If you like the sound of that, then there's a little something-something here for you.  The brief of bears, big bellies, luxuriant hair, of both the facial and chest variety, within a fairy tale anthology framework has certainly been met. There is an insightful forward by Matthew Bright and an illuminating afterward by Jeff Mann, both of whom I've had the pleasure of reading before. If you're looking for a short story anthology that is easy reading and is more upbeat in nature, and you like the theme, then I certainly can recommend Burly Tales. Enjoy!