The Root of Everything & Lightning (Two Novellas), Scott Alexander Hess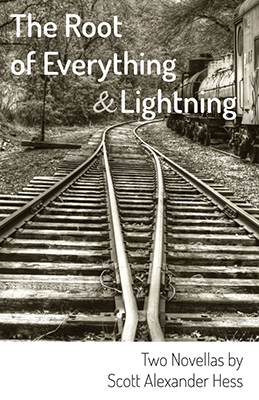 Rating: 5 Stars
Publisher: Rebel Satori Press
Tags: Queer Literary Fiction, Historical, Retro, First Love, Family, Loss  
Length:  DK
Reviewer: Kazza 
Purchase At:  amazon
Blurb:
In this pair of novellas, award-winning author Scott Alexander Hess provides a richly textured portrait of the shifting landscape of the 20th century American Dream.
"The Root of Everything" is a multi-generational saga tracking fathers and sons from Germany's Black Forest to Missouri as they experience tragedy, triumph, forbidden love, and hard-earned reckonings.
In "Lightning", a young man in Fayetteville, Arkansas in 1918 is driven by his deep love for horses and his emerging feelings for another man. Offered a chance to move to New York City, he finds his true destiny.
Shot through with layers of grief, passion, dangerous landscapes, and old-world mysticism, these are journeys into love, loss, and twists of fate that define us. Hess tells stories as deep as the Missouri River and as wide-ranging as the Wild American West.
Review:
"Sosa I cad Ta Tu is the Celtic. Rest in what you are," Emma said. "That's what my granny said year after year. That is what she stitched into her quilts and into our lives. That is the root of everything."
1) The Root of Everything-
This first novella spans the time period of 1904 to 1994. It's told in a non-linear timeline, not always my favourite but it works here, and through the multi-generational and alternating POV of three men – Richard, Richard's son, Cal, and Cal's son, Stanford.
Richard came to the USA from Germany because his younger brother Rolf dreamed of being there, of visiting the 1904 St. Louis World's Fair. They get a job at Brownsville, Missouri, in a logging camp where Richard is the more reserved brother and Rolf is much loved by his fellow workers. America was, after all, Rolf's dream. Unfortunately, Rolf meets an untimely and tragic death, and Richard is devastated. He leaves the camp immediately upon burying his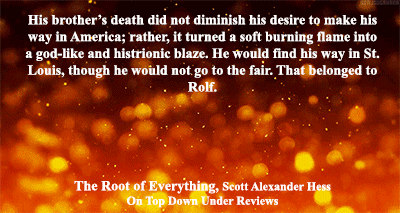 beloved younger brother but won't leave America. It's what Rolf wanted. He'll stay forever. He'll honour Rolf in this way. Richard takes on menial work, like gravedigging, to survive. He pays particular loving attention to the poorer graves at St. Bridgit's cemetery, it's like a form of penance for his (unfair) guilt about Rolf's early death. Then someone starts leaving plum cakes on graves at St. Bridgit's and he wonders what's going on. After eventually waiting and watching, enter Emma, the woman he marries and will forever consider saved him from his sorrow. Emma is Irish, a soothsayer with plenty of superstitions, and for me she was the most intuitive, kind person in the novella The Root of Everything. She did indeed save Richard with her genuine compassion and understanding, and she had a knack with her uncanny predictions.  She was also a positive and important voice, a presence, for all the men in her life – her husband, her son, her grandson.
His father, silent and stern, would smile and say "Danke, Emma." Cal hoped he was as nice to his wife when he had one.
Cal is Richard's (and Emma's) son, an only child. As a twelve year old, during Prohibition, his father, Richard, asks Cal to run a moonshine related errand that sees him proud his father has confidence in him. It also lands him in the middle of a bloody bootlegger shootout. Egan's Rats is an Irish gang and they take Cal under their wing, and he runs with them from the day of the shooting until he gets older and meets the woman he's going to marry, Josie Beddenfield. Josie is from a wealthy family who own a lumberyard, and while her father doesn't want her to marry a man from Allemania Street, an Egan's Rat, Josie's mother likes the boy and Josie's father has mustard gas damaged lungs. He agrees to the marriage so long as Cal learns the ropes of the family business to eventually run it one day.
Cal and Josie marry in 1950 and it just seems… off-kilter from the beginning. The love making doesn't appear to inspire Josie. She's restless. The house that Cal builds isn't in as upmarket an area as she's used to. She wants things Cal isn't ready or fully able to provide. They have their only child in 1951. Josie doesn't like nature so close to where they live. She doesn't like Cal's friends and their wives. She's elegant and flighty and unhappy, and Cal increasingly buries his head in the business to help him deal with not understanding his wife's unhappiness. He becomes an absentee husband and often an absentee father as well, which only exacerbates things.
Stanford, Richard and Emma's grandson, Cal and Josie's son, is a swimmer, an athlete, and he's gay. His best friend,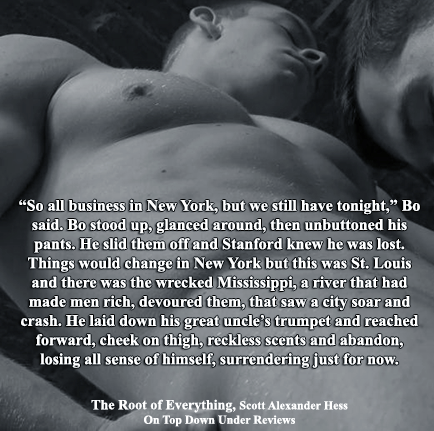 Bo, is also a talented athlete in multi-sports, and he's also gay. They first met when Emma had another vision and sent Stanford out to swim in the lake where he rescued Bo who was injured and disoriented in the water. They were twelve at the time – twelve is a novel nexus point – and remain friends after that. Later they become lovers for a long period of their lives. They're from financially  connected families, and they're sure young men who happen to make some astute investments in property while in their last year of study, remaining business partners. Bo wants more but Stanford is seemingly his mother's son – non-committal and elusive. However, he does find his own version of Granny Emma eventually, someone who assuages his (Richard-like) guilt and makes him feel more connected.
Nothing is ever laboured, but there is so much covered in this novella about the lives, loves, some (mis)fortunes of an intertwined family. Prohibition, WWII make brief on-page stints, as does being gay at a time it was absolutely not accepted readily, but there is no particular drama around it, it's actually progressive and forms a backdrop to the emotion and connection of the primary characters, all of which I very much liked. Overall, though, it's a brooding story, one with superstition, the usual family ups and downs, losses and loves, and sweet moments in amongst the bittersweet. It's a beautifully crafted 20th century family love letter.
2) Lightning-
The second novella in this book is set over the period of a year of a twelve (turning thirteen) year old boy, Bud. Bud is mostly called Boy by his family but his much loved Gran said he should have been called Lightning because of the way he zipped out of his mother's womb when he was born. It's 1918 in Fayetteville, Arkansas. The family is poor, two generations lived in the house together until his grandparents eventually passed away, his beloved Gran just recently. However, Bud's Aunt Gert is wealthy. She paid for the cabin they built and live in. She also helps support her sister and family because Bud's dad doesn't do much of anything… except drink. He lost his brother, the original Bud, years ago and doesn't talk about it. When Gran dies it hurts young Bud a great deal, but he often hears her talking to him when he faces difficulties or he's unsure if he can handle something new.
I sat at the table, small like a boy in size but feeling grown now, sitting next to her trying so hard to look ready to take charge of whatever came my way. I tried to think what Pa would do. Get drunk likely. I wanted to hear Gran something awful, but there was only the hard wind.
Bud's mother is supportive and insists on Bud attending school so he can at least read and write. His dad doesn't care about much unless it's moonshine, or playing poker, which is how he happened to win a horse. He doesn't actually want it, regrets having the thing, but Bud has always wanted a horse and he calls him Lightning in memory of his inspirational and wild Gran. Lightning takes a shine to Bud and forms a significant part of Bud's dreams and desired future.
One tragedy follows another and Aunt Gert comes to visit, driving her Model T Ford, wearing her "man" clothing. She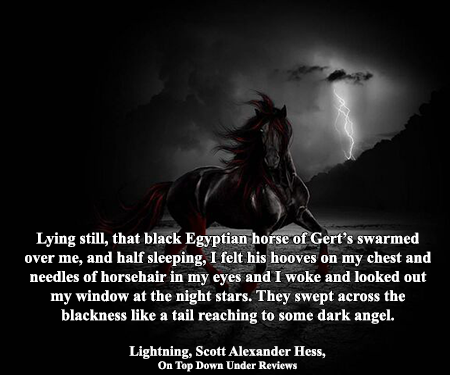 sees promise in the fact that Bud is small which is good for anyone riding horses for speed. Bud and his best friend and crush, Jerky, have different ideas, they've both dreamed about moving out west and becoming cowboys together. Now Bud has Lightning, maybe he can do that one day, or maybe there are other things that are in his future closer to home.
This is a pragmatic, endearing novella. Bud is lovable and a salt of the earth young lad.
There are a few things that tie the two stories together, not through blood but through little subtle moments or objects here and there – twelve, a blue good luck feather, death too young,  etc.
I would have loved to have read more about Bud and Jerky. Bud and Lightning. I was left with a need to see into their future but that doesn't detract from the quality of the storytelling, it just made me appreciate what I had when I was reading it and greedily want more once I'd finished.
These two novellas are about family, about love, and about the human spirit that propels us forward through different situations in different ways. I mentioned twelve as a nexus point earlier, and it is for quite a few people who start to feel more certainty about what their sexuality or identity might be. It's that transitional stage of moving between preadolescence and adolescence. To that end, both novellas feature boys who are aware of what attracts them at that period in their lives, so there is first – and powerful – love and hope, also trepidation. There is also generational traits combining with learned experiences, development and growth.
We mostly read and review gay romance or queer romance on this blog but I read queer fiction, genre fiction, literary fiction when I know it's written by certain authors. Authors such as Scott Alexander Hess, David Pratt, and Barry Brennessel. All of these authors lend strong own-voices to their storytelling and that adds incredible authenticity. Scott Alexander Hess always, always crafts a genuine and memorable tale. I have read and reviewed most, if not all of his books. I felt for the all the characters throughout these two combined novellas. The Root of Everything & Lightning is a wonderful piece of fiction. The two novellas give a complete sense of time and place, and layered, interesting characters I know will live on within me for quite some time. 5 Stars!