Naughty Hand (Perfect Hands #3), Nora Phoenix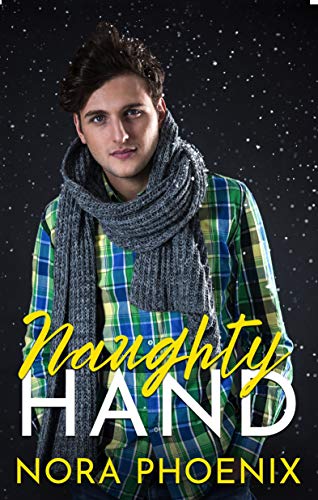 Rating: 5 'Aww!' Stars
Publisher: Nora Phoenix
Genre: Gay Erotic Romance
Tags: Contemporary, Age Gap, Age Play/ABDL, Christmas, Daddy Kink, Erotica, Romance, Series, Short Story
Reviewer: Cindi
Purchase At: Amazon.com
Blurb –
Join Rhys & Cornell from Firm Hand and Brendan & Raf from Gentle Hand as they celebrate the holidays together. A sweet and sexy Christmas novella with no angst, all the Christmassy stuff, sexy shenanigans, and a feel good vibe.
Naughty Hand is not a stand alone but needs to be read after reading Firm Hand and Gentle Hand.
Review –
Could Raf get any more precious? And could Rhys get any more perfect? I don't think so. 😉 I love these guys. I like Cornell and Brendan too, but Raf and Rhys are my faves in this little world.
It's coming up on the first Christmas for Rhys and Cornell without Jonas. Each man has mourned differently. While Cornell is more openly emotional about losing his best friend, Rhys' grief for his father is a little more subdued. When Rhys wants to decorate for Christmas before Thanksgiving, Cornell doesn't. He's of 'the age' (I'm of that age too) where you just don't decorate until after Thanksgiving. Of course, there's more to it than that. He's just not ready because of Jonas.
Daddy Brendan and Raf have been together for almost a year now. They've fallen into their Daddy/little relationship as if they've always been together. Brendan is caring and takes good care of his boy. Raf is embracing his little side with gusto. In Naughty Hand the reader is able to see more of Raf's little side away from the privacy of their home. Daddy Brendan wants to make sure he has the best Christmas ever, totally unlike the ones he shared with his family growing up. He even takes him to a special event at the BDSM club where they met that's strictly for Daddies and their littles. I even got to see Ford briefly. Ford will be getting his own story. I can't wait.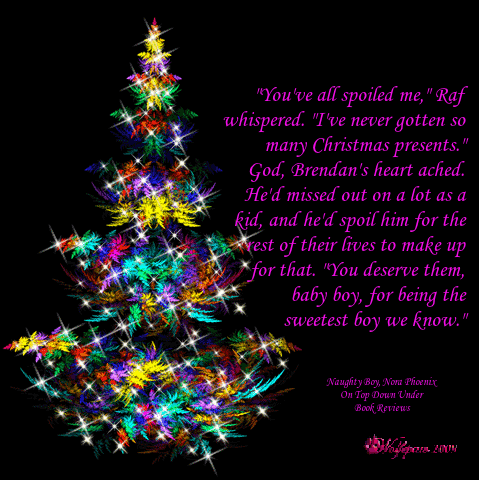 Raf is having the time of his life. He's still a little insecure, but he's slowly getting beyond his horrible childhood.
When the forecast calls for over a foot of snow on Christmas Eve, it's decided that the two couples – who'd planned on spending Christmas Day together – will stay with Rhys and Cornell until the storm passes. It's either that or risk Rhys and Cornell being stuck for days with Cassie, Rhys' mother, and Brendan and Raf spending that amount of time with Brendan's parents if they get caught up in the storm while visiting.
Oh, how absolutely adorable Christmas morning was! Of course, this is after a bit of serious naughty time with each couple (in separate rooms, of course). Raf is in full little form. He's excited about opening his gifts and playing. The reader can't help but be just as excited for him.
Raf's childlike wonder as he opened his Christmas gifts was so sweet and refreshing. Seeing both of these couples together for the holiday was as well. Another thing that I liked about this story was that the reader is given a brief glimpse of Rhys and his own insecurities about Cornell. When I say brief, I mean it's very brief, but it's there and it was nice to see. He's always so strong, so put together, so, well, Dom like, that it was nice to see him be vulnerable, even if it was only for a few moments. Also, seeing him with Raf is one of the best things for me about this series. They're truly the best of friends.
The sex, as always with this author, is super hot. The entire series is. This is a nice, feel good story. You really need to read the first two in the series to fully appreciate this one. If you haven't, I highly recommend them.
I will be eagerly looking forward to Ford's story.
"We thought we'd watch some classic Christmas movies tonight," Rhys said.
"Though Daddy and I disagree on what constitutes a classic Christmas movie," Cornell said dryly.
"Dude, Die Hard is not a Christmas movie. Help me out here, Brendan."
Brendan shrugged. "Sorry, man. I gotta disagree with you. It ain't Christmas until I see Hans Gruber fall off Nakatomi Plaza."
Rhys threw his hands up. "I'm surrounded by idiots."
"Says the guy who quotes Disney movies," Cornell fired back.
Die Hard is totally a Christmas movie. Duh 😉