Audiobook Review: Kept in the Dark by H L Day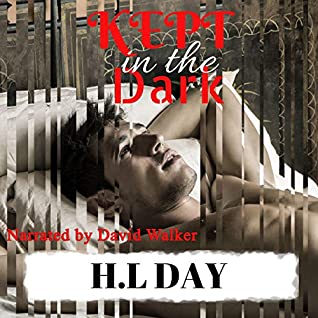 Genre/Tags: Gay Romance, Beauty and the Beast Theme, London Setting, Rent boy  
Author: H.L. Day
Story Rating: 5 Stars
Narrator: David Walker 
Narrator Rating: 5 Stars
Length: 5 hours and 15 minutes
Audiobook Buy Links: Audible, iBooks
Struggling actor Dean only escorts occasionally to pay the bills. So, his first instinct on being offered a job with a strange set of conditions is to turn it down. No date. Don't switch the lights on. Don't touch him. I mean, what's that all about? What's the man trying to hide? Dean certainly doesn't expect sex with a faceless stranger to spark so much passion inside him. It's just business though, right? He can put a stop to it whenever he wants. 
Then, Dean meets Justin – a scarred, ex-army soldier unlucky in love. Dean's given a chance at a proper relationship. He can see past the scars to the man underneath. He's everything Dean could possibly wish for in a boyfriend: kind, caring, and sweet. All Dean needs to do is be honest. Easy, right? But Justin's holding back and Dean can't work out why. But whatever it is, it's enough to give him second thoughts.
They both have secrets which could shatter their fledgling relationship. After all, secrets have a nasty habit of coming out eventually. The question is when they do, will they be able to piece their relationship back together? Or will they be left with nothing but memories of bad decisions and the promise of the love they could have had if only they'd both been honest and fought harder.
Review:
I originally read Kept in the Dark on my Kindle in August 2019. I liked it a hell of a lot when I read it. The audio version did nothing to dampen my enthusiasm but I had a slightly altered experience listening to it as opposed to reading it.
First of all, thank goodness for British narration of a book set in London. I appreciate authors going to the effort of not going American on characters from other places. I enjoyed David Walker's narration for the most part. If I'm being picky, I felt the narrator could sound a bit old for Dean. He did, however, have Justin's voice, accent, and age down perfectly. Interestingly, I had more attachment to Justin in the audiobook. I still thought Dean was a really nice and caring guy, because he definitely is, but Justin popped more. I had no preference when I read the book.
This isn't just another rent boy meets damaged or insecure soul story. Both MCs are immensely grounded and likeable, barring reasons for a hiccup in their journey. I can't say much more because it spoils the book if I do. It is a gay Beauty and the Beast reimagining, which isn't unique but it is well written and then well narrated. A man requesting a rent boy every Tuesday, the same one, who can only be there if the room is completely blacked out. The rent boy who also waits tables and hopes his acting auditions will land him the acting career he's always wanted.
This is another book that doesn't have an overabundance of sex, I'm really glad about that. So I'm clear, there's sex, it's nicely balanced though. I have a dislike of fade to black in adult contemporary romance but I don't wish to be inundated with sex either. I need a good story, good character development, good world. The sex scenes on (Kindle) page were really sexy, I found them lacking some heat in this version. Others will not necessarily agree. However, the emotion and feelings of and between the MCs was a more intense experience for me hearing it narrated by David Walker. It balanced out. I actually got teary in the latter part of the story after things were discovered, even though I knew what was coming because I'd already read it. I desperately needed to hear the happy ending for this pair in this narration. It reassured me. Georgia still frustrated me but I could hear her good intent more through David Walker's narration as opposed to the written word.
I've now decided audiobooks are going to become a part of my book (and reviewing) journey because, like the rest of me, my eyes are aging. Kept in the Dark on the back of The Alpha's Warlock have both spurred me into knowing this is something I can do and enjoy. Thank you to Eliot Grayson and H L Day for their excellent stories, and professional sounding audiobooks. Because of them I now have a couple more audiobooks up my sleeve, ones I loved reading originally but now want to hear. Here's to more audiobook reviews on On Top Down Under Reviews in the back portion of 2020 and on into 2021.
My original book review of Kept in the Dark is here.  Ironically, it's an audio review.