Stealing Summer (Hunter #5, Thieves #10) Lexi Blake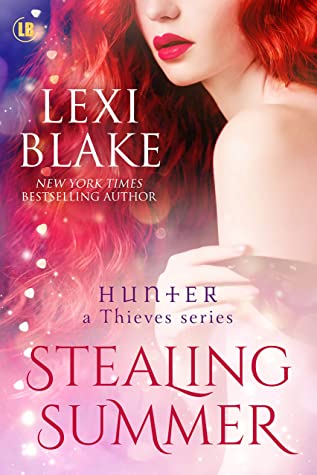 Rating: 4.5 Stars
Publisher: DLZ Entertainment LLC
Tags: Paranormal, Fantasy/UF, Series, Romance, Menage/Poly, Humour 
Length: 505 Pages
Reviewer: Kazza
Purchase At:  amazon, Lexi Blake
Blurb:
From New York Times and USA Today bestseller Lexi Blake comes a new epic-length story in her Thieves/Hunter world…
A daughter lost
Summer has spent her whole life wondering about the family she left behind. On the night she came into being she only had a few moments with them. In that brief time, she reached out to her father, looking deep into his soul, and gifted him the will to go on. But now she is the one in need. Once a child made of pure magic, she is forced to live as a mortal. Her power caused great harm, and she has sworn never to let it happen again. With her friends beside her, she tries her best to help those she can. If that requires her to do a little thievery, well, she is her mother's daughter, after all.
Everything changes when a woman falls from the sky and Summer meets the handsome vampire named Marcus Vorenus. Just as her past begins to catch up with her, she might have finally met her future.
A mother discovered
Kelsey Owens went searching for Dev and Marcus but all she found was a trap. She was pulled through a magical painting and thrown smack into the middle of a battle on a foreign plane of existence. Luckily she's good in a fight. Saving the woman targeted by the horde of brutal soldiers, Kelsey is shocked by her resemblance to her queen. As Kelsey investigates the mystery surrounding Summer Donovan-Quinn, she also hunts for a way back to the husbands and son she just claimed.
A queen exiled
Zoey Donovan-Quinn is not happy. The wizard Myrddin is back, her marriage is troubled, and she is sure those two problems are connected. But nothing is more worrying than Dev's sudden disappearance. When she and Daniel go looking for him, they are drawn into a world thought lost to the Earth plane. Danger awaits them there, but so does the daughter they thought they would never see again. She hopes they survive their reunion.
Three heroines. One mystery. And an ending that will change the Thieves world forever…
Review:
A trick and a trap. You'll solve the mystery and never see the evil coming for you.
This is book #10 in a series. I'm here to tell you I am not known for my staying power with series, but I love this world and these characters with all my being. I'm especially attached to Zoey Donovan-Quinn (nee Wharton), thief of the arcane, Companion, rebel, badass, mother, loyal friend. As well as as her two husbands; Daniel Donovan, ex Nex Aparatus, the Vampire King, head of the Vampire Council, and Devinshea Quinn, fae prince and ascended fertility god. They started my addiction in Steal the Light, and then I gradually developed a connection with Kelsey, the current Nex Apparatus, previous paranormal Hunter, and her two husbands, Grayson Sloane, a dark prophet and half demon, and Trent Wilcox, a werewolf. However, it is always the first three characters plus their friends and family, like Neil and Sarah, big Lee and little Lee, and Marcus Vorenus that have kept me, still keep me, fully invested.
Stealing Summer has three of the MCs of the overall series disappearing and a worried Zoey conspiring with her son to steal a grimoire that is important to the arsehole that is Myrddin Emyrs, aka Merlin Satanspawn. Myrddin was introduced previously in Steal the Night (Thieves #5) which added a contemporised Arthurian story line to the series. He helped with Excalibur and a heart problem Daniel had, and he ingratiated himself too much, was the reason a beloved character died, and has sown a lot of dark seeds of discontent that are now about to be fully reaped; I know I'm in for some upcoming heartache. I hoped he'd be gone for good but, no, he just keeps hanging around – at least Halfer and Stewart, bastard demons that they were, made me laugh on occasion.
And I just have to shout add. Goddammit!!!! I now have heart fissures. What's going to happen between Lee and Zoey? I understand this prophecy now… in its entirety.
"Tell me it's going to be all right, Jacob."
He stood and his eyes seemed to find mine. "Eventually. Hold strong, Queen Zoey, and know none of this was your fault. As for you, little prince, forgive her one day. She never meant to leave you. When you see me next, know you are close. Do not leave the path."
In keeping with this series writing, Stealing Summer contains stellar world building, the intricate balance between the planes, the various beings, the mirroring, the convergence, etc. Ms Blake crosses some of her other series characters over into Stealing Summer, the Dellacourts and Taggarts to name a few. This time the characters are off the Earth plane, finding the eponymous Summer on an in-between plane being a chip off mum's block – running from ulterior motive, angry beings trying to nab her, having stolen an arcane book from another plane. Summer is part of a fairly long-standing prophecy, as well as some parent's desire to find their child, that comes to fruition here.
To truly understand this series you can't start at this book. There are far too many arcs, entwined characters, prophecies, beings and events to enable you to immerse yourself without knowing the big picture and feel the ever-changing emotions the characters always manage to elicit. You could perhaps start at Ripper, Hunter #1, but I'd always advise people to go back to the (excellent) beginning, Steal the Light. Thieves #1. The Thieves books are truly the series nexus point. I'll also add that I had a tussle with the Hunter books until the multi-tonal Outcast and then it took off for me. Kelsey came into her own, something I was personally waiting for, and Gray and Trent became as one with each other instead of having a tug of war. **As a note, my reviews are in different places for this entire series, only some are on here.
While Thieves is from Zoey's POV, Hunter from Kelsey's, Stealing Summer has three POV – Zoey, Kelsey and Summer. Dev has power thrust upon him, Daniel the reverse, and for some of them they have to learn how to survive and thrive in different roles. *Sighs, from a romance perspective, Dev offers something unselfish and beautiful. Daniel gifts his words of love to both his partners. I'm happy for a bit of bi rep too, not things just intimated. They are now a triad. Cheers, Lexi Blake. New people pop in who will have bigger parts to play moving forward, something that the author continues to do to ensure the series remains fresh. I'm also happy for Marcus, he deserved his happiness. That this series is continuing is a delight to this reader. I thought it might be ending, I know I wasn't the only one who thought that. I'm definitely interested as to where this is all going to go because I'm clearly in this for the long haul, and, shit, that ending!!!!
Audio edits: I say Italy for the Vampire Council, it seems I went all Twilight, I meant France. And I say Willow Creek instead of Willow Fork.
.
I do love Zoey, this is the modest version of what she's done…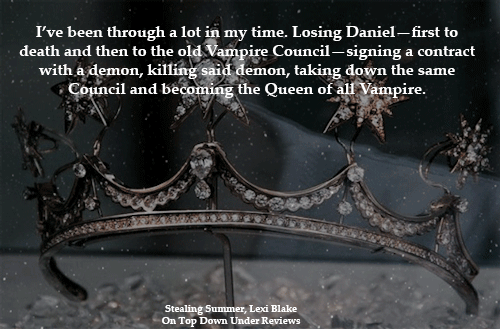 A plotting Zoey is a rebellious Zoey and that's my favourite kind of Zoey…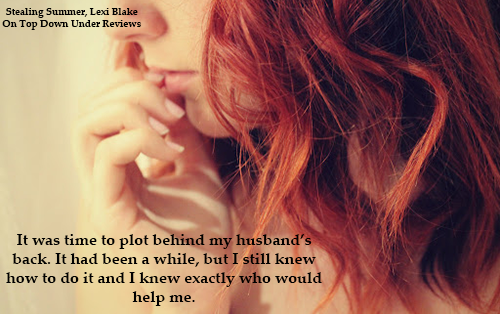 .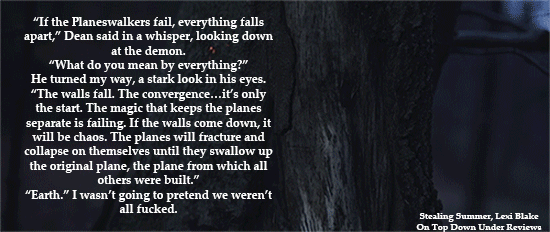 This is me behaving myself with the choice of GIF I used for this quote…