The Rebel Queen (Outlaw, #1; Thieves, #11), Lexi Blake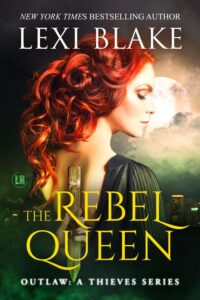 Rating: 4.5 Stars
Publisher: DLZ Entertainment 
Tags:  Urban Fantasy, Paranormal, Humour, Violence, Bi Ménage, Romance, Ongoing Series
Length: 351 Pages
Reviewer: Kazza
Purchase: amazon, Lexi Blake 
Blurb:
From New York Times and USA Today bestseller Lexi Blake comes a new novel in her Thieves world…
After returning from the outer planes, Zoey expected a joyous reunion with family and friends. She couldn't be more wrong. Her kingdom is in the hands of Myrddin, her friends are on the run, and her children are being hunted by the supernatural world. But that isn't the worst of it. They aren't just outlaws—they are fully grown adult outlaws. 
In the four days that passed while they were gone, twelve years have passed at home. Now Zoey, Danny, and Dev find themselves in the middle of a new war where they are hunted by old foes and former allies…some they could never have imagined would turn against them.
As Myrddin's plan becomes clear, Zoey realizes she just might hold the key to stopping him for good and reclaiming their kingdom. Doing so means risking it all to steal back an artifact out from under the wizard's nose. The fate of everyone on the Earth plane hangs in the balance, and one wrong move could cost Zoey everything she loves.
**BEST TO HAVE READ PRIOR BOOKS BEFORE MY REVIEW**
Review:
Zoey, her husbands, and her painting-visiting retinue arrived from the outer planes at the end of the last book, Stealing Summer, to find their pre-adolescent children all grown up and outlaws on Earth. This is the continuation immediately after. And, surprise! It turns out that four days on an outer plane is a LONG time in Earth years. Readers of the series know time moves differently in Faery but this is definitely more intense. Rhys, a Fae Green Man, Lee, a human with a twist, Evangeline, a companion, and Kelsey's son Fenrir, a wolf king, have aged twelve years because they are now going to be a significant part of this world moving forward. As will Dean, a potentially powerful witch and someone Zoey brought back from her outer plane travels. Dean fits into prophesy that Grayson Sloane, a dark prophet and one of Kelsey's partners, has, well, prophesized.
In this book they are no longer living in Dallas, Texas. Nope, they are living in Frelsi, a created village of paranormal/supernatural beings loyal to the Royals, in a remote part of (wonderful) Iceland. Thank goodness for portals and family-friendly demon transportation methods.
Zoey has difficulty coming back to a time where her children are older, knowing some of the things they have lived through. While other people around her are working through the here and now, Zoey is feeling guilty and grieving about the time lost with her two sons and daughter.
My children weren't children. They were fighters, warriors, when I'd promised them an easier life, one where I protected them.
Zoey wants to find her way back to another timeline when her children were still her 'babies'. As understandable as it was for her to feel this way, not living in the moment causes issues of its own – like not enjoying what someone has become, or appreciating the people who made that happen, pushing away instead of pulling toward, that everyone around any of us, or soon to be around us, are shaped by the events in our/their lives. But Zoey, being the total Queen that she is, processes and gets with the program.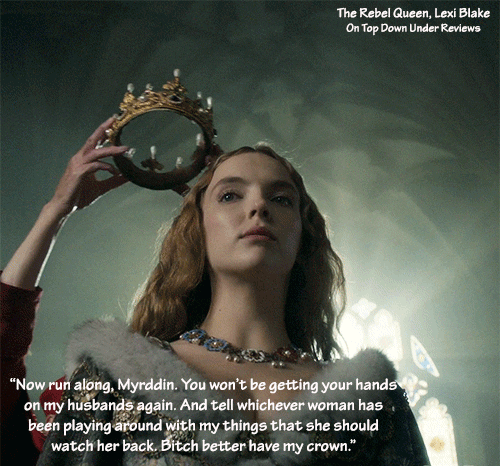 There is so much happening in The Rebel Queen that to go into detail that makes sense isn't possible and will be spoilerish. So these are my general thoughts and take away, etc-
I'm just throwing it out there that you really shouldn't read this book without having read the Thieves and Hunter series. Beings have ascended, descended, developed new powers, gone to the dark side, are lost and found, or waiting to be found, there are prophesies still in play, and so on.  Everything is tied into the previous books through ongoing characters and arcs. Even the antagonist, Myrddin, is part of the original series, now with a building role.
I always love Zoey's POV, in the three Hunter series books we have Kelsey's POV, but Thieves is pure Zoey. No one beats Zoey's inner machinations, banter with her men, her enemies, and her gay best friend and werewolf, Neil. I also love her outlook around necessary violence, she's no shrinking violet.
He was gone before I could take another breath, and all I heard was the door slamming. Then the screaming started, but honestly I'd heard worse.
The characters remain fresh and vibrant in this series. There is a large cast of characters to contend with because in The Rebel Queen the Thieves and Hunter series converge upon the new Outlaw (sub)series. There was some culling of characters in Stealing Summer when Summer had her long awaited reunion with her mother and father, Zoey and Daniel, and Marcus Vorenus, a series favourite for many people, had his HEA. Here, there are some more people culled out of the series to make way for the further development, or start-up development, of the new generation.
Zoey and Harry's time together and their big moment nearly broke me. I didn't know this would affect me so much but it really, really did. This is where Lexi Blake shines, her main and primary characters are able to deliver such humour and also such pathos. It's well timed and well delivered and pretty much always apropos of the moment and the bigger picture.
"Little" Lee is his amazing self in adult form. I think all readers of this world know and love Lee in all his iterations. Rhys gets more time to be known, and Evangeline is introduced and then scoots off on a mission elsewhere, as does Kelsey. I'm sure Evan and Fenrir will have their moments in the spotlight and it's Kelsey's POV coming up in book #12. We need to know what's happening with Trent and Gray and their growing family.
First introduced in Stealing Summer, Dean is a newer and interesting character, I do love a guy with long white hair, some witchery up his sleeve, and some prophesy hanging around him – it's a thing. There is much promise with Dean and a character who is off the scene right now and one who is very much on the scene. I'm looking forward to the ride with this promised sexually fluid trio.
Against all odds, against every machination of the world's wickedest wizard, they were here together. They were the same age, seeming opposites of each other. Lee's looks were dark like his father's, while Dean was white as the snow that fell around us.
The action isn't as balls-to-the-wall in this book as a lot of the others, same as the sex, although it works organically to the plot and story. There was a systems upgrade here, with new directions being plotted, and more added to the world, and Lexi Blake does a great job around folklore, mythology, and legend. But there is this…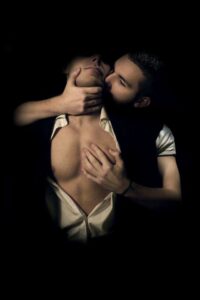 And this…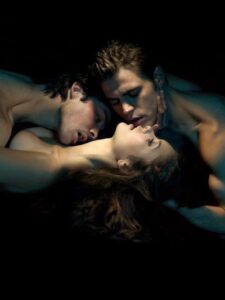 Good friends and family are sick or missing so time is spent on that. Plus they're relearning their family, finding out who is where, getting grounded in their new reality. Zoey does go on another heist, more like stealing back something you've already stolen – a scheming, thieving Zoey is my absolute crack.  Neil fitting back into his (nearly) 5 star lifestyle and being at his rightful place as Zoey's best friend felt like the best kind of home. Neil is an incredible character and he and Zoey have some of the best dialogue. I missed that connection, having it re-established felt all kinds of right.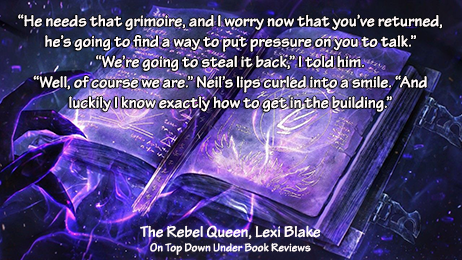 This series and sub(series) is such a fun ride. You are up. Next moment down. A plateau. The you upshift before diving again. This is how good UF books should be. It's also laugh out loud funny and touching. I love how the main characters and their best friends and close allies know and accept and protect each other while still being able to call each other out if need be, a knee to a brother-in-law's balls included. Dear lord… Declan is tone deaf. I also love the main romance – Zoey, Daniel and Dev are committed to one another in all the best possible combinations they can be. The last three books cemented Dev in Daniel's heart and bed in a concrete way, no longer just implied. I look forward to the journey ahead.
The best compliment I can give this series is that this is book #11 and I'm still buying every book. I'm still reading every book. I'm still invested in every book, and I am not one to stick with long series. I've read and reviewed a lot of books over the years and I'll stand firmly behind the sentiment that Lexi Blake is the doyenne of entertaining writing. She delivers characters you can't help but feel something very real for, alongside  some top-notch world building. I also happen to love Zoey (Wharton) Donovan-Quinn. She's very special to me. She isn't the "little lady" accessory, never has been or wants to be, she kicks arse, is incredibly loyal and there for those she loves, and she doesn't hold back her feelings. She also gets the job done, while taking the role of being a mother seriously. A total multi-tasker. Mother's guilt permeates this book, being a parent myself I get it. However, I generally try to manoeuvre far, far away from books with children and families in them, and yet here I am 11 books in. All I have left of this review, which is the tip of the iceberg in regards to the content held within the pages, is to say that I can't wait for book #12 – bring it! 4.5 Stars!