A Soft Touch, Laura Lascarso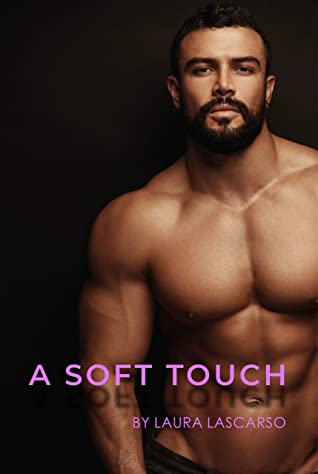 Rating: 5 Stars
Publisher: Self Published 
Genre:  Gay Romance
Tags: Age Gap, ASD MC, Interracial MCs, Niiice. CW/TW – See blurb below. 
Length: 264 Pages
Reviewer: Kazza
Purchase At:  amazon
Blurb:
Roman Reynolds needs a housekeeper and Ezra Powell is arguably the best. Despite their rocky start, Ezra is determined to set Roman's house to rights without any distractions, if only the man would keep his shirt on and stop looking so damn handsome all the time.
An ex-NFL player and confirmed bachelor, Roman has been on a long losing streak when it comes to men. When his best friend (and notorious prankster) says he's got someone who's perfect for him, Roman knows it's too good to be true. But then Ezra comes along with his shy smiles and thoughtful gestures and Roman's hardened heart finally begins to thaw.
Both men have been hurt before, both are a little shy when it comes to love, but when the opportunity to form a deep and lasting connection arises, will they be bold enough to take it?
A SOFT TOUCH is a sweet and steamy 73K MM romance novel with low angst, lots of cuddles, and a bonafide happy ending. Content warning for ableism.
Review:
This was a feel-good, adorably romantic story. Straight-up, it's as sweet as a musk stick. And that cover, well, that cover is glorious.
Roman, I can't remember his age being mentioned, is an ex NFL quarterback. In his retirement he's a successful restauranteur of multiple food establishments in and around New Orleans. His best friend and former teammate, Jaylen, tells Roman he has a housekeeper in mind for him. Honestly, "housekeeper" for Roman seems to have always morphed into fuckbuddies who end up feeling entitled to the finer things of Roman's so he's not keen on this "housekeeper" that Jay has in mind.
Roman shook his head. A man who was both kindhearted and compatible with his desires? He'd been looking long enough to know that that sort of dream man simply didn't exist.
Also, a shout out to Jay. He's a crass devil at times. I couldn't help but like him because his devilment comes from a good heart. I hope he gets a book, maybe with his yoga teacher. I mean, they do have a nice memento of his. 🙂
Ezra is a computer science student and he's also neurodivergent – he has ASD, (Autism Spectrum Disorder), SPD (Sensory Processing Disorder) – hello, chicken nuggets and noise cancelling headphones – and OCD (Obsessive Compulsive Disorder.) Whilst not always the case, these things commonly go hand in hand. Ezra has a very formal speech pattern, he needs to process, and handling change is also a big deal for him. I thought Laura Lascarso did a good job of making Ezra fully drawn. Not at any stage was he a caricature. Thank goodness. There was only one mention of stimming though, which would have definitely been more obvious with his level of ASD. But, you know, I'm being pedantic.
Roman is a big, fit man, but he's also a PoC who knows a thing or two about people's unfounded, prejudiced attitudes. He's good to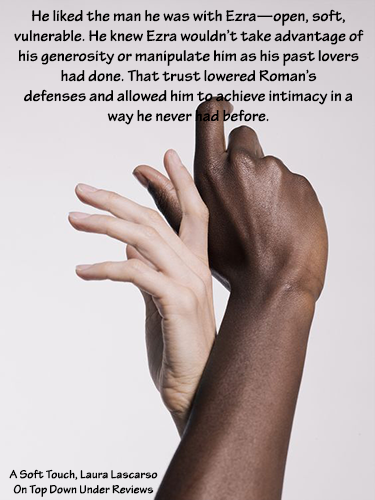 and for Ezra, as Ezra is for him. Roman has a great capacity for love and care and understanding, also learning the person you need in your life does exist if you allow it to happen. He gets involved in Ezra's world of gaming and science and facts, while Ezra learns about football, working out, trying some different foods, all while getting the freedom to decide where he'd like to go after university finishes. Roman never pushes but he hopes it will be with him. I did too.
I loved Ezra. I loved Roman. I thought they complimented one another. Together they are memorable MCs, and the writing allows you into both their thoughts and feelings. There are cute moments around purple socks and reindeer antlers and Christmas undies which are adorable.
While Roman initially feels that Ezra could end up being another me-centric person, and he prefers to live without the drama, when he meets him he sees something different – you can't help but notice Ezra's unique demeanour and psyche. The discovery that Ezra is guileless, sincere, professional, and is as honest as the day is long is a revelation to Roman. That was lovely. That made me feel and connect to this story so much. I am surrounded by neurodivergent people, including some of the most important people in my life, the ones who hold my heart, so it's always incredibly important to me that it's done right. It helps that Roman is at first the physical type for Ezra, but Roman's big heart and passionate spirit provides the substance of the pie for him.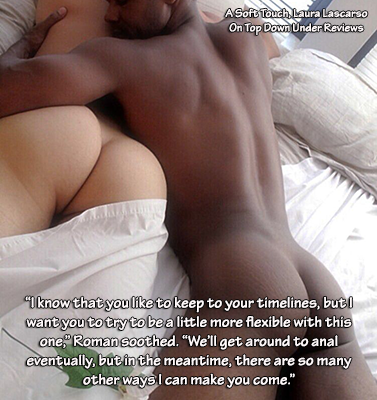 I'm not especially a fan of books much past 200-220 pages for standard contemporary romance. I'm also not always a fan of stories with nothing else bar the romance. But I've had a long, hard month and I knew the wordcount going in and that this was going to be a niiiice contemporary romance. I chose it for the promise of a lack of angst, also because it was written by Laura Lascarso. I felt it could have been cut back a smidgeon. Sometimes it got a tiny bit caught up in the minutiae of a day or a setting or a moment but it enabled me to kick back and just chill. There are some, uh, curious words used too – but I found the juxtaposition of the innocent and sexy worked really well. The book is plenty sexy with a slow burn. Anyway, I'm a Cameron Dane devotee. I reread her back catalogue every single year, so you can't usually get too freaky or left of centre with the words for an arsehole, an erection, a sexual kink, position, or a personal endearment for me. "Pleasure hole" and "Cutie" and "Privates" included. It suits Ezra. It suits Roman with Ezra. It suits the story. But, and it's a big BUT, it has to match the characters and the world that's built by the author, how invested the author is in these characters. How the author holds steady while writing what feels organic for them is critical… and this is what Laura Lascarso did.
Two things: I do enjoy a book (or movie) where someone has a disorder or disability and they get to have romance or love or sex (all three) because I work with people of all abilities who crave touch, sex, love, but often the people with a disability/disorder have carers or case workers who can't deal with this. And while Ezra does not need a carer or case worker, nowhere near it, I mention this because I hope readers don't see this book as someone on the Spectrum who is innocent and young(er) and that means he doesn't understand or can't give willingness and consent. Because there is a ton of willingness and consent in this book. There is no power imbalance either. Kudos to Laura Lascarso for the above.
Also, the CW/TW for abeleism is, in my opinion, about one tiny moment in the book where someone says something and Roman handles it one way, Ezra another. This allows a salient point to be made. However, it's good the author mentions it for anyone who could be triggered by context and certain words.
There isn't much more for me to say because you simply need to read the book to see how it unfolds. If you're in the mood for a gay romance/love story with two characters who suit each other and just click, who make you cut loose with a happy sigh that they found one another and they get a HEA, then here you go, A Soft Touch is that book. By the way, the title is awesome because Roman has been a soft touch previously, still is but now with a person who isn't entitled, and ironically Ezra likes the more Temple Grandin approach to being held. This book is full of lovely, purposeful juxtapositions and that adds to the overall rating of 5 Stars!