Never Let Go (The Men of River Gorge, #3), Jacki James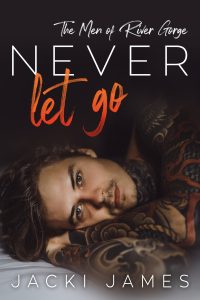 Rating: 3 Stars
Publisher: Jacki James
Genre: Gay Romance
Tags: Contemporary, Age Gap, Daddy Kink (Daddy/boy), Romance, Series, Small Town
Length: 137 Pages 
Reviewer: Cindi
Purchase At: Amazon
*This review has spoilers.*
Blurb –
One retired Navy officer used to being in charge.
One younger man who doesn't want anyone telling him what to do.
Donovan McCall spent twenty years in the Navy, and he's looking forward to an uneventful retirement where no one answers to him. He'll raise his rabbits, take care of his chickens, and enjoy the quiet life he's building on his farm in River Gorge.
He's planned for everything. Well, everything except a sexy young tattoo artist who steals his heart and challenges him to rethink what he really wants.
Maverick has always liked stronger, older men, but that doesn't mean he wants someone to order him around. Or does it?
When they both realize what they crave is the exact opposite of what they thought they wanted, Donovan and Maverick will have to work together to figure out how to get what they really want. Each other.
This is an MM romance book is intended for adults age 18 and older. It is age gap and contains a mild Daddy/boy dynamic.
Review –
Don't Let Go started out with one heck of a bang. Donovan and Maverick matched on a Daddy/boy hookup app very early in the book. They met and had great sex, then found each other again not long after. All that was great. I was thinking, "Finally! A book that doesn't go on and on and on before something happens with the couple."
Well, that 'great' didn't last long for me.
After the first time, Maverick takes off without giving Donovan his real name. When they see each other again, it's totally by accident. It gets hot and heavy pretty fast again, this time in Reed and Ripley's bathroom during a small party. That was hot. But, then? Really a whole lot of nothing. Okay, maybe not nothing, but no more sex for a while. They make the bonehead decision (in my opinion) to hold off completely on all things sexual until they get to know each other outside of the bedroom. I totally got that to an extent. I figured they'd date, spend some time together, but still tease a little here and there. Or, hell, act like more than like an old boring couple who sits around watching TV all day long when they're not working.
Hey, I'm not knocking that. Really. I've been married to my husband for 37 years, and we have that 'old boring couple' thing down, and we're as happy as can be. I just felt that there was SO much detail overload about their day-to-day – from the recipes of the foods they were eating, to every single booth at a farmer's market, to pretty much everything.
Maverick, 26 (if I calculated correctly), is a tattoo artist who recently moved to River Gorge with a friend to open a tattoo shop. He's got that bad boy vibe going big time.
Donovan, 40 (if I calculated correctly), is retired military who also recently moved to River Gorge. He bought a farm and had every intention of spending most of his time alone with animals and away from people. He'd been in close quarters with others in the military. He's now wanting a break from it all, which is understandable. That obviously doesn't apply to his sex life. He's a Daddy, and he does want a boy on occasion, for a few hours here and there anyway.
Maverick is a boy through and through, though to look at him, you'd not know it. He came from a pretty crappy home life, with his mother only being 15 years older than him. He also had to raise his younger brother and sister as dear young old Mom was trying to find her a rich man to take care of her. In other words, Maverick had to grow up quick.
When Maverick's family stuff came out, I felt bad for him. I also understood what he went through to an extent. My mother stood no chance in hell of finding her a rich man, but my sisters and I had to raise ourselves because she damn sure didn't do it.
Maverick was obviously the more interesting of the two men.
Donovan was just… there. Not much was said about his military career, or even what really led him to River Gorge in the first place. He raised rabbits – this is actually where Ripley got his from in Finding Ripley – and he worked around his farm a lot. He liked watching movies. Other than being a Daddy in the bedroom, he's really quite boring, if you want to know the truth. Honestly, they both were.
Something happens later in the book with Maverick's sister. For the first time in the entire story I didn't like him. It only lasted a couple of pages – thank goodness! – but it was annoying. I get it. I understand where he was coming from, but it was still a bit much. Thankfully, it was over and done with quickly, and he realized (thanks to his sister) that he'd been a bit of a jerk right before. What happened with the sister was quite unrealistic. There was also an inconsistency with her. Was she 13 or 14? Both are thrown out there as her age in the here and now.
The Daddy/boy part of the story just didn't work for me at all. Not the beginning when they first met, or even their quickie in Reed and Ripley's bathroom, but everything that happened later. I just didn't see it, and in my opinion, it's doubtful their relationship would come close to lasting long-term in the real world.
Another thing that bugged me was the lack of the other characters from the other books. When I'm reading a series I like seeing other characters interspersed in each one. I don't want 'secondary/former main character' overload, but those guys are what keep the River Gorge series entertaining, especially Ripley. Ripley's in this one a few times but not enough for me. Had there been more of Ripley, I might not have found myself wanting to skim after about the 50% mark. I didn't skim, but I didn't exactly rush back to the book when I had to walk away for a little while. Honestly, I had to force myself to finish it. I hate that because I really enjoy this author, and I've enjoyed the rest of the books in the series for the most part.
I'm also going to throw out what several other reviewers have stated in their reviews – the blurb is kind of misleading. There's a tiny bit of Maverick wondering if he can handle being controlled by Donovan, but not enough for it to even be mentioned in the blurb. Also, when the L word is spoken, it's a nonevent, and barely acknowledged. It was like they'd already been saying it for a while. If so, it was off-page and the reader didn't see it. I'm a huge romantic, and I want to see when it's said the first time, not just a 'love you' thrown out later like it's been said a million times before.
Overall, Never Let Go is okay. I love books with substantial age gaps, but in this book I found myself being bored by Donovan more often than not. There's an epilogue that takes them down the road 3 years. As nice as it was, it couldn't save this book for me. Maybe I was just missing having a hot cowboy like in the others.