Audiobook Review: The Demon's in the Details, Meghan Maslow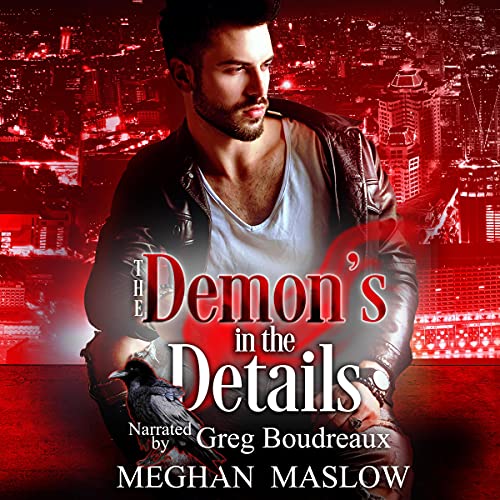 Genre/Tags: PNR, UF, Gay Romance, Humour
Author: Meghan Maslow
Story Rating: 4 Stars
Narrator: Greg Boudreaux
Narrator Rating: 5 Stars
Length: 6 hours & 38 minutes
Audiobook Buy Links: Audible
The Demon's in the Detail.
Can a sexy demon really spin straw into gold?
Poe Dupin, raven shifter and thief extraordinaire, is in trouble with a capital 'T.' Not only did he get his wing caught in the cookie jar during his latest heist, but his loser stepdad, the alpha, seems determined to run their roost into the ground. And Baltimore is many things, but forgiving is not on the list.
When his stepdad puts the roost in peril, Poe sees no choice but to bargain with Charm City's only demon, Tommy Tittoti. Rumors are that Tommy eats the souls of those foolish enough to try. Three strikes and you're out. But really, Poe wasn't using his soul anyway. And if it saves his roost? Worth it.
Tommy isn't what Poe expects. Demon – huge, horned, hairy, and scary, right? Nope. Blond, gorgeous, with a bubble butt, and a lilting drawl that beckons Poe to come play. Total hookup-app fantasy material. Even if he is a murder twink.
Poe's no angel, but Tommy…well he's more devil than demon. Yet, Poe just can't seem to keep his feathers out of the fire. As one bargain turns into two, and then a third tragedy strikes the ravens, Poe finds himself falling for a guy who may very literally be the death of him. Or maybe the flames will burn them both.
The Demon's in the Details is a fast-paced roller coaster of a romance with a guaranteed HEA and lots of steam. Shenanigans include: a gold object that is definitely not a ring, a best friend who's trigger-happy, and a demon who's got a few surprises up his, uh, sleeve. 
Previously published in the Fables Retold Anthology. Around 60,000 words. No new content has been added.
Review:
I recently bought several books at once that I thought would be my review books while also buying this audiobook, thinking it would be my easy-peasy night listen that I'd just rate on Goodreads/Audible. Pfft. Yeah, that didn't work out as planned. The other books didn't get a review and this did. Why? Because I really did enjoy Greg Boudreaux's stellar narration and the book is mostly a fun, enjoyable read.
Poe Dupin is a Raven shifter who lives at the roost with his stepfather, the roost's arsehole autocratic alpha (ha, total alliteration to match an MC's name) and his younger twin half sister and brother, the latter he loves dearly. Right from the outset Poe is constantly bailing his stepfather out of trouble for gambling or generally being irresponsible with the roost's money and the flock in general. Poe steals to pay for racked up debt or for things the roost needs or uses, like the community centre. The latest heist isn't going to end well when the nasty snake Briggs Bickley finds out he's been robbed by Poe, of course. When Bickley wants a large sum of money in return, and/or Poe's body as his, Poe's BFF, Kennedy, makes sure to hook Poe up with Tommy Tittoti, a demon with the money and clout to help him out.
Tommy is a two thousand year old demon with a smooth southern accent. I loved the way he called Poe shug or birdie throughout – made so much sweeter by Boudreaux's delivery. I also liked how kind and generous Tommy was right from the get-go. You just know he fancies Poe, Poe really needed to get the 'he's totally into you, shug' memo.
The book is a will Poe or won't Poe survive a snake shifter with his nasty sights set on him, his god-awful stepfather, and the demon who, you know, keeps helping him out – nothing to worry about regards that last one.
The things that worked for me the most-
Tommy. Tommy. Tommy Tittoti. He was the star of the book and yet the POV is solely Poe's. I don't even know how that worked, but it did. I loved that the big bad demon was a twink, or a murder twink as Poe referred to him after he bumped off someone who didn't pay his debts, who runs his area's barber shop. It appealed to me in a bizarre and odd way.
Greg Boudreaux. Greg Boudreaux. Greg Boudreaux. That man is one of the most talented narrators. He always,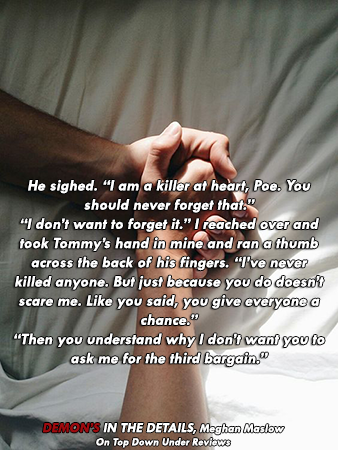 ALWAYS value adds exponentially to any story he performs. Way to make me want to listen to a book – hire GB. He is the reason I took a chance on this unknown to me author. I listened to the sample, remembered why Greg Boudreaux is da bomb, liked the words he was narrating and, one click later, I'd bought it.
I liked Carter, the cat shifter who worked for Tommy as his barbershop assistant/2IC. Complete with bubble gum chewing-blowing attitude and all.
Kennedy worked for me. I'd read a book with Kennedy as an MC if this author writes het or bi/pan, etc, romance. Poe would be fairly hopeless without Kennedy. Honestly, she had his back and knew the machinations of their world.
I enjoyed the humorous, tongue-in-cheek nature of this… fairytale? I also liked the little nods to Edgar Allan Poe's The Raven in the sense that Poe is a raven shifter and there is accommodation called Edgar Allan towers.
It has a few moments of action, some moments of taking an arsehole or two out and there is also some psychologically and physically aggressive moments that are predominantly attributable to Ethan, Poe's shitty stepfather. I wanted to bump off Ethan several times myself throughout the book.
The Demon's in the Details is mostly on the light and bright side. The demon really is mostly perky. The raven is more brooding in a clueless way. But he loved his little brother and sister, and he cared for the roost, so that was in his favour.
What didn't work so much, aka why 4 stars (instead of 5) for the story-
The world building is pretty basic. It occasionally allows you to remember it's PNR because of the character's behaviours. I was okay about it overall because I wanted an escapist story not a fully blown PNR or fantasy but if you want more be aware.
Poe annoyed me quite a bit. He really needed to A) be grateful, and B) get a clue about Tommy more quickly.
Ethan annoyed the snot out of me throughout.
And I don't mind telling anyone (especially romance writers) who'll listen that "sniggering" does nothing for me as a reader. It makes me feel like I'm in primary school.
I actually did feel like I'd been dropped into a book that spun off from another series. I don't believe MASC – what felt like some kind of supernatural corporate board – ever got explained.
Overall:
I enjoyed listening to this book. I'd certainly read/listen to other books by this author in the future if the premise sounded good. I'm always happy when I can find books I enjoy in audiobook version too, so a big thanks to the author for getting this book out into audio format. Another resounding YAY! for having the great sense to have Greg Boudreaux narrate because he makes every book a thought out performance. He's simply one of the best voice artists/narrators out there and I will buy books off the back of certain narrators. The Demon's in the Details is enjoyable reading/listening. 4 Stars!