Taken By Storm (Palm Island, #2), K.M. Neuhold
Rating: 4 Stars
Publisher: K.M. Neuhold
Genre: Gay Romance
Tags: Contemporary, Fake Boyfriend, Opposites Attract, Romance, Series
Length: 201 Pages
Reviewer: Cindi
Purchase At: Amazon
Blurb –
Chef Storm is moody, antisocial…and he just asked me to be his fake boyfriend.
Most people on the island avoid the hot-tempered chef, but he doesn't scare me. Sure, he's prickly, but I've also caught him feeding a stray cat, so I know there's more to him than the sky-high, barbed-wire fence he's built around himself.
When Storm's ex-husband shows up unexpectedly during the off-season and refuses to go home, pretending to be Storm's boyfriend is apparently my new job.
Faking it with my grumpy boss should not be this much fun, especially since the last thing I need is to make a fool of myself by falling for anyone else on the island.
Is there anything more exciting than being swept up in a storm? Maybe taming one…
***Taken by Storm is a grumpy/sunshine, sort of boss/employee, definitely fake boyfriend (except how fake is it if they're ACTUALLY hooking up?), second book in The Off-Season series where the residents of gay resort island get up to WAY too much fun once all of the tourists leave for the season. Each book can be read as a stand alone, but trust me when I tell you that you won't want to miss all of these shenanigans.
Blurb –
Chef Storm owns a restaurant on Palm Island. His nickname is fitting because he's grumpy, anti-social, and doesn't allow himself to get close to anybody. He's been on the island for five years now, and the closest thing he has to a real friend is Mr. Tubbs, the island's stray cat. Hennessey's been working for him pretty much since he arrived on the island three years before. Strangely, Hen is the only person on the island who's not intimidated by him. Hen also has a habit of trying to rile him up.
It's off-season so the restaurant is closed unless there's a special event or whatever.
Hennessey came to the island and hooked up with Easy, one of the locals. Hen thought they had something they didn't, but he decided to stay anyway. To say Hennessey despises Easy would be an understatement. I'll come back to that because it's the main reason I didn't rate the book higher.
The locals on Palm Island like to party, whether it's in season or no. Storm's at one of the many beach bonfire parties when he sees his ex-husband Donnie walking over. What's he doing on the island? He'd been calling and texting Storm for weeks but he'd been ignored. Apparently, since Storm didn't take his calls, he just decided to show up and force him to talk to him. With the ferry to the island only running once every 7 to 10 days during the off-season, Storm knows he'll be stuck dealing with Donnie for at least that long.
So, what does Storm do to avoid his ex-husband? He grabs Hennessey, who's standing next to him, and lays on one heck of a kiss, with a quick whisper of, 'go along' before pulling back. He then introduces Hen to the ex as his longtime boyfriend, shocking Hennessey but amusing all their friends. That fake kiss turns into (a couple of days later) Storm giving him a hickey – you know, for appearances with Donnie – at Hennessey's request. Yeah, not so fake after all.
They play the game in public, but what they start doing in private is definitely real, starting with one hell of an experience in the closed restaurant one night. I'll never look at coconut oil the same. 😉
They may start a sexual thing, but both men are bound and determined not to take things further or allow feelings to get involved. Storm had bad luck in relationships, he and Donnie were pretty toxic together, and Hennessey's experience with Easy three years before proved that he wasn't the sharpest tool in the shed with them either. I get that's the whole point of why Hennessey stayed on the island, but three years seems like major overkill, and way too much time to be angry at a guy who was little more than a quick hookup.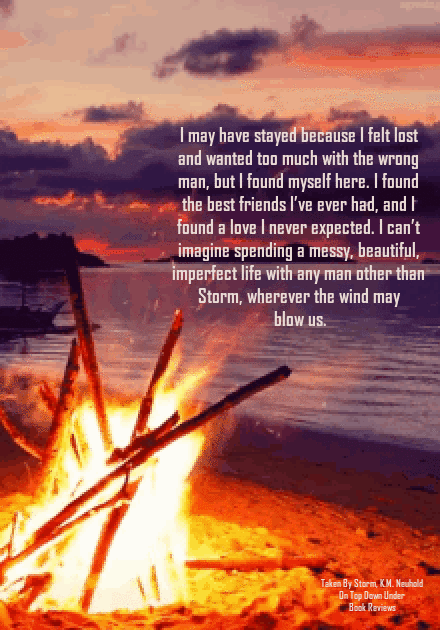 The heart wants what the heart wants and all that, so of course the feelings creep in with Storm and Hennessey. It was really sweet once they finally figured things out. There was also a bit of closure with Donnie that I think was done well. I will say this, though… I really hope the author doesn't bring Donnie back as a main character in his own book. The door was left open, but he's one of those characters I have no desire to revisit.
All the locals are back in all their pervy glory, minus Ten and Bambi, of course. Each one has their own thing going on, with Trick and Boston having their story next. I've not been impressed with Trick so far. His games against Boston are just childish.
Raven, the island's psychic, is back. I love him more every time he's on page. His predictions are dead on.
No magical carousel in this one, but Harold finds other ways to ensure these guys get together.
Now back to the Easy thing. That situation didn't endear me to Hennessey at all. For three years he was silly when it came to Easy. Yes, Easy didn't handle things correctly after they hooked up, but come on! Hen can't get over it in three years? He was so not over it that he literally kept a sign freshly painted that said FUCK EASY. These are grown men? We're not talking teenagers.
No matter. I still loved Storm and Hennessey together. These two take grumpy/sunshine to a new level.
There's a super sweet epilogue that takes place a few months down the road. There's even a quick mention of Real and Flynn from The Real Thing (#0.5).
Trick and Boston's story, Dirty Trick, is the next book in the series. As much as I want to keep going with it, I'm just not in a 'Trick' mood right now, so I'll be stepping away from the series temporarily. No doubt the author will have me changing my mind about him, but at the moment, I'm just not a fan. He's annoying, to be honest, and his silliness with Boston up to now has been a bit much. He acts more like an immature teenager than a so-called grown man. He's not even been a main character yet, and I'm already over him. I do like Boston.
Anyway, I'll come back to the series soon. I can't walk away completely because I'm very eager to read Raven's when it's released, and I'm curious about Goose. Who knows? Maybe I'll read Goose's story and then come back to Dirty Trick after when I normally don't read books out of order. We'll see.