Billion Dollar Sugar Baby, E.M. Denning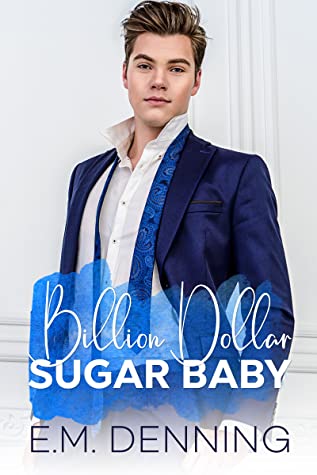 Rating: 4.5 Stars
Publisher: Paper Gold Publishing
Genre: Gay Romance
Tags: Contemporary, Opposites Attract, Rent Boy, Romance
Length: 222 Pages
Reviewer: Cindi
Purchase At: Amazon
Blurb –
Bachelor. Billionaire. Unlucky in love. Alex Schaffer is tired of rich playboys with ulterior motives.
Broke. Tired. Trying to get by. Wren Collins just wants to look after his found family.
Wren's life is about to go from rags to riches when Alex decides he wants Wren all to himself, and he's willing to pay any price.
It was supposed to be a simple transaction, but what if they went and complicated it by doing something crazy … like falling in love?
Review –
This book is classic Pretty Woman. So much so that it's even mentioned in the book.
"I feel like Julia Roberts in Pretty Woman."
Alex blinked. "What?"
Wren furrowed his brow. "Have you not seen Pretty Woman? It's practically us. A hooker with a heart of gold with the affections of a super hot rich dude."
Wren is a sex worker who has just been dropped from his main client, Tyler. Losing Tyler isn't so much the problem. Losing the money he regularly pays is. Wren lives with his best friend Riley and Riley's thirteen-year-old brother Caleb. He needs the cash he was bringing in from Tyler to help make ends meet. It's already hard for Riley, who took his brother in when their parents died. He works a dead-end job at a grocery store, having been forced to give up his final year of college. On top of that, he has student loans he's trying to pay.
Riley had inherited the small falling down house, and a baby brother, and too many bills for him to handle alone.
Wren's only concern is helping Riley and Caleb. He has other clients but losing just one like Tyler cuts back on his finances drastically.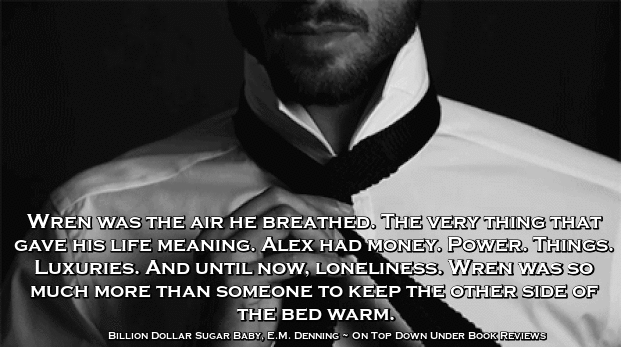 Alex is a billionaire. Honestly, I normally run the other way when I see billionaire in a title, but Alex isn't like the others I've read about, thankfully. Tyler, a close friend of Alex's, has seen the losers Alex has hooked up with over the years. It's usually men who only care about his money and status. So, Tyler gives him Wren's information, suggesting he call and set up a meeting of sorts. Maybe they can work out some type of arrangement that will help them both.
Alex has never hired a sex worker before but he builds up the courage to contact Wren. Their meeting goes better than either could've ever planned. Their sexual chemistry is off the charts, and within minutes Alex is wanting exclusivity with Wren, and he's more than willing to pay as much as necessary for it.
Maybe it was the control the situation gave him. He didn't have to guess what dating Wren would cost him. He didn't have to wonder if Wren was only interested in him for what he could get out of it. Because Alex knew the cost already. And Wren was worth every penny.
No way in hell can Wren turn down $10,000 a week (!). They start their little 'arrangement' with Wren finally feeling like he can help out more with Riley and Caleb.
Alex and Wren start spending a lot of time together, with Wren feeling like he's won the lottery. And in a sense, he has. But not only is Alex super wealthy, he's also a good guy, and damn good in bed. He cares about Wren, not just getting off.
It doesn't take long before real feelings are getting involved, but they keep that to themselves. At least for now.
Wren does as he hoped to do – he pays off bills, including Riley's student loans. He's also able to set aside enough money for Riley to finally finish getting his college degree.
All this is fine and good – for Wren. For Riley, not so much. He's appreciative, but he's always had a problem with what Wren does for a living. It also hurts his pride (what I gathered anyway) that Wren is doing it all, though Wren doesn't see it that way. What he sees is him helping out his best friend who was there for him years before when Wren's parents threw him out. There were times when Wren would've been homeless and without anything to eat had it not been for Riley. This, his paying for everything now with Alex's money, makes him feel like he's finally doing something to repay him.
Riley looked on, his shoulders were rounded, and he looked small and defeated. It wasn't a wonder why Wren worked so hard. He was clearly best friends with a marshmallow.
I adored Caleb. He's your typical teenage boy and he was written as such. I liked Riley for the most part, though I wanted to shake him a couple of times when I felt that he was judging Wren for what he was doing, for his 'job'. This kind of goes on throughout the book until it reaches a boiling point. Honestly, I felt that Caleb was more of the adult than Riley was a few times.
"I'm tired of having different versions of the same stupid fight with you. I'm a sex worker, Riley, and I fuck men for a living. Right now it's just one man, but all of that could disappear in a blink and I'd be back to relying on you and your kindness and your never ending generosity… It's not a secret that you don't like that I sell myself. And maybe my motives were more selfish than you think. Maybe I wanted to make sure you were in a good place financially so I could do something you'd actually be proud of when all this with Alex falls apart."
Alex and Wren were simply perfect together. Wren had his moments about all the money Alex spent on him – Alex was really big on spoiling him – but he was finally able to breathe and not worry so much about money and bills.
Something happens later that has Wren and Alex's relationship going public in a big way. This, of course, causes issues for pretty much everybody, though Alex handled it better than one would expect. He cared about Wren, truly cared about him, so he didn't care much about what anybody else thought. He knew what was in his heart, and that was all that mattered.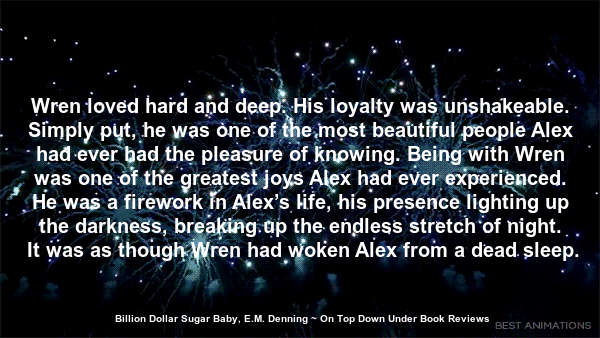 I also like how Wren handled all that. I actually like how he handled himself throughout the entire book. He could've felt guilty, maybe ashamed, over what he did for a living but he didn't. He did what he felt he had to do, not allowing himself to feel bad for how he brought money in.
There were a couple of jerk characters who made their feelings known, but they were dealt with quickly. I never liked Tyler. I didn't like him from the first time he was introduced, and I liked him even less at the end of the book. At one point, he's lucky Alex didn't smack him. Had he done so it would've been warranted. Another thing about Tyler that annoyed me was how he reacted when Wren and Alex's relationship – the true nature of their relationship, re: the rent boy thing – came out publicly. Tyler acted like it was all about him (huh?) when he was at this point a nobody in the grand scheme of things.
The sex scenes were super hot, with Wren having a thing for thigh-high stockings, lacy panties, and corsets. Of course, this drove Alex wild. My only complaint, though I wouldn't even really call it a complaint, was that I felt there was a little bit too much sex. All of it was written well, but you can have too much of a good thing. Even so, I ended the book with a big smile on my face.
Another really good book by E.M. Denning. She's become one of my new go-to authors.