Perfect Ten (Palm Island, #1), K.M. Neuhold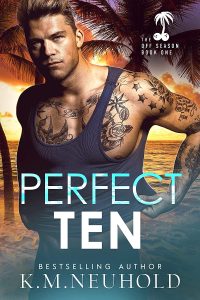 Rating: 4 Stars
Publisher: K.M. Neuhold
Genre: Gay Romance
Tags: Contemporary – with a little paranormal thrown in, Age Gap (10 Years), Opposites Attract, Romance, Series, Virgin
Length: 222 Pages
Reviewer: Cindi
Purchase At: Amazon
Blurb –
A total virgin and a HARD Ten.
I came to Palm Island two seasons ago, confused about my life and desperate for a change. The island drew me in, but I'm still not sure why.
Maybe it's time I cut my losses and go back home, back to med school like I always planned.
But when the breathtaking, flirtatious, tattooed bartender I've been crushing on for ages offers to let me room with him this off-season, there's no way I'm leaving now.
I can't believe I've lived here this long without truly appreciating everything the island has to offer: the beauty of its untouched nature, how to catch a wave, the appeal of casual s… well, you know. But Ten seems determined to make sure I experience every last one, and then some.
Will this be the last off-season I spend here or could this thing between Ten and I be perfect?
Welcome to Palm Island: Come for the sweaty nights and beach parties, stay for the endless swoon and heart melting romance.
*** Perfect Ten is a Roommates to lovers, virgin and a super NOT a virgin, small-town-ish, gay resort island during the off-season story full of heat, humor, and all the island magic.
Review –
I've been looking for a series I can get lost in. I think I finally found it. And then there are a couple of other series by this author I'm now eager to go back into and finish.
Bambi (aka Ryan) has been working as a server at a bar on Palm Island for two years now. He's had to deal with handsy patrons since the day he started, but the person he wants to get handsy with is out of his league. That would be Ten, the sexy bartender who always has a smile for Bambi.
Bambi's had a crush on him forever. A virgin, he knows he could've gotten laid at pretty much anytime on the island, especially during tourist season when it's not much more than one big gay orgy. He's very shy, which likely played a major part in him staying so innocent when everybody around is anything but, including Ten. Let's just say that Ten is as far from being a virgin as one can get. 😉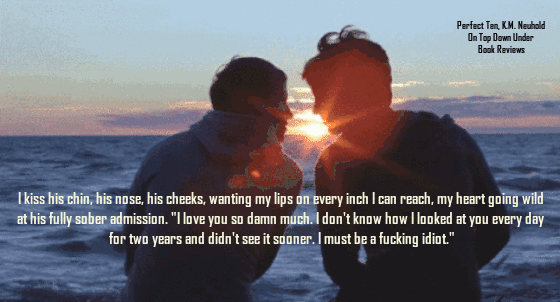 At the end of the season, Bambi's roommate and only friend on the island is leaving. This means he'll be stuck paying full rent on a 2-bedroom apartment. When Ten learns Bambi's staying for the off-season, he offers his extra bedroom. He reluctantly agrees. I say reluctantly because Ten's sexual exploits, like most on the island, are pretty frequent – with one of them leaving Ten's place as Bambi's walking up with his stuff – and how awkward will that be?
No matter. He's already given up his apartment, and he's at Ten's now, so he'll see how it goes.
You know the expression shy, blushing virgin? Yeah, that's Bambi. All Ten has to do is smile at him and he's turning several shades of red. Ten thinks it's charming. Bambi, not so much. Ten hasn't got a shy bone in his body, so he invites Bambi to one of the frequent parties on the beach one night where Bambi tries pot for the first time. What happens next is him stripping down to nothing and having to be rescued by Ten before he drowns in the ocean. Talk about embarrassing. It's bad enough his only friend has left the island. Now he's embarrassing himself in front of the locals. He adds to that embarrassment when he walks into the only sex toy shop on the island to buy his first toy and Hennessey (whose story is next) is in there. Hen actually helps him pick out the right toy, and they end up getting coffee and becoming quick friends.
Bambi's eager to, ahem!, learn things about his body. What he doesn't know is that Ten catches a glimpse of his new toy on his bed. Ten, who'd never met a guy he didn't want to get naked with, is suddenly seeing Bambi in a way he's never seen him before. He's already protective of him, but now he's wanting him in his bed. But not just in his bed. He's finding himself wanting a relationship when he's never wanted one before. He wants to give Bambi all his firsts. It takes a little while before they actually do anything, but when they do, it's hot as hell and sweet at the same time. Ten is a serious romantic just like Harold Tellinson who was the original owner of the island. Harold built everything from the ground up for him and his beloved partner. The locals claim Harold haunts the place, his only goal bringing couples together for a true love connection. Legend also says that the old carousel that he built for his man long ago won't work unless that love connection is there for the ones who attempt to ride it.
Strange how it works for Bambi and Ten when they end up at the carousel after getting lost during a hike to a waterfall. You know, the same waterfall Ten had been to many times. Maybe it was Harold pushing them in the right direction?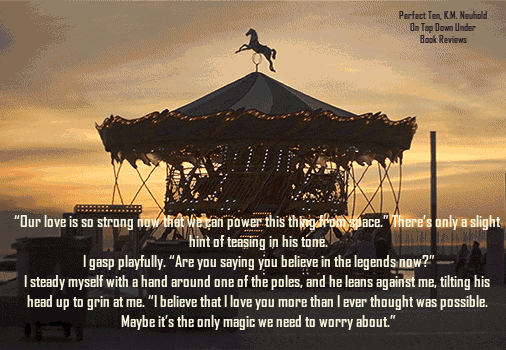 Bambi and Ten become a couple, falling head over heels in love with each other. The problem is that Bambi has a decision to make. Does he leave the island and go back to medical school, his dream before his father passed away a couple of years before? Or does he stay on the island hoping he and Ten are the real thing?
I loved these two together, though I admit to being more than a little annoyed over Bambi's naivete in the beginning.
I love all the others on the island, each with unique nicknames – Goose, Easy, Boston, Trick, Hennessey, Lux, Storm, Lyric, Devil and Angel, and my favorite whose story I really want to read, Raven, the resident psychic. I know I probably missed some. These are the ones off the top of my head. It's already kind of obvious who's going to get together, though I'm a little confused over Easy. Not who he'll get with. That part's easy, but the feud that he and Hennessey have. I know it'll be explained at some point.
Overall, a really good book. For Ten to be so wild, he was a romantic softy when it came to Bambi. Bambi was just a sweetheart once he got over his awkwardness in the beginning. And I can't not mention the Never Been Kissed reference. Michael Vartan. Enough said. 😉