Audiobook Review: Wormwood Summer (San Amaro, #1), Kai Butler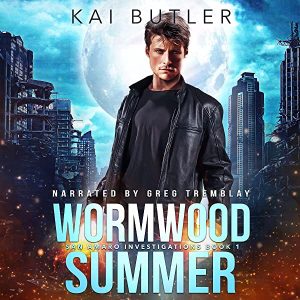 Genre/Tags: UF, Gay Romance, Mystery, Investigative/ Police Work, Humour, Series, 
Author: Kai Butler
Story Rating: 4 Stars
Narrator: Greg Tremblay
Narrator Rating: 5 Stars
Length: 10 hours & 59 minutes 
Audiobook Buy Links: Audible
Parker Ferro owes the fae his life. They've come to collect.
When the Summer Queen summons Parker to her court, the private investigator knows there's trouble brewing. Trapped into compliance by his past debt, he's tasked with locating a missing girl in San Amaro. Now he has to find the girl or give up his life.
Things only get more complicated when a very familiar cop asks Parker for his help on a case involving murdered magic users. With the victims completely drained of their magic, the San Amaro Police Department needs Parker's special skill set to track down a killer. Navigating through San Amaro's paranormal underbelly while dealing with his own past and this new case is the last thing Parker wants or needs.
Now Parker's stuck trying to locate a missing girl, stop a paranormal war, find a killer, and resist Detective Nicholas King's many charms. Here's hoping he doesn't die trying.
Wormwood Summer is a 107,000-word MM urban fantasy with a HFN ending.
Review:
I'll get the narration portion of the review done first this time. While I liked the sound of this book Greg Tremblay, aka Greg Boudreaux, was the main reason I grabbed this in audiobook. I love his style, he really lives and breathes the characters he narrates. I read an audio review the other day of another book where one reviewer said, "it sounded like a shopping list being read" and I agreed 100% as I'd listened to the other book as well. This is not what you want in an audiobook. You want life and emotion and depth given the characters and Greg Tremblay has that down to a fine art. 5 stars for his pitch perfect narration.
Now the story. I've never read Kai Butler before. One thing I learned reading Wormwood Summer is that it appears Butler has quite the vivid imagination, along with a mind that goes at 1,000 miles an hour. This is one frenetic, action-packed, character-jammed tale. It's a thriller, mystery, UF, and gay romance between a PI and a detective in the San Amaro Police Department. The detective is from alchemist 'royalty' who works primarily, at least in this book, with all things paranormal and supernatural, including some fae. When I say some fae, it's because the fae were integral in the formation of San Amaro, infamous really, but they've lived in the Far Realm for quite some time now. They have power in four courts, all named after seasons, who war with one another if not checked, and aren't to be trusted because they have a degree of manipulation that overshadows any other group, and their obligations and contracts are to be avoided at all costs.
We first meet Parker working a cheating boyfriend case, which is so much more than that, and the guy he's following isn't impressed… for many reasons. This turns into quite the lead to so much more. The threads from this case link into other threads as well as those that will clearly be developed as the series progresses.
Parker grew up in the foster system but also spent some time in the Far Realm, living with the fae at the then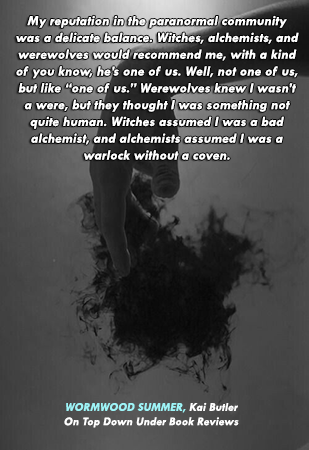 Summer Queen's court. He came back to the human side again and has a foster sister – a kitchen witch – and foster parents he's very close to. Something he doesn't advertise is his fae lineage and he can get away with it because he has other magic that gives him a hybridised magical feel. He's quite elemental though, using grass, trees, rocks, sand, water to do his bidding or to come to his assistance as required. He can sweet talk anything within nature or anything that contains nature.
Parker has quite the list of people wanting him–
His slimy landlord, for overdue rent.
Two powerful werewolf pack alphas, Malik Bell, SoPa, and Jimina Torres, one of the The Five Dragons, are both unsure whether they need Parker or want him disposed of.
The newer Summer Queen has machinations and obligations, that horrible word in the fae world, involving Parker.
Dieter, a werewolf who would like to be much higher up the chain of SoPa and doesn't want Parker on his rear is after him.
A professor of alchemy is in the mix.
Tar pit like monsters.
Timebomb people.
A voice that rumbles in his head.
A foster mum who isn't dead, is in a vegetative state, is magic, and who kind of, sort of haunts him – I loved Shannon.
There are people he's looking for – someone is killing and draining magic from the supernatural community and he has to talk to a lot of people and get into a lot of action to find out who. It's something he's working unofficially on with the SAPD, and he has orders from the Far Realm as well about a missing person.
And there's a title and role that he doesn't know he'll get – Windrose.
Then there's Detective Nick King, who obviously knows Parker already and who like-likes him, the feelings are mutual,
but sadly, we do not get that crucial on-page  development. There is a link at the end of the e-book if you want to see how they met. As a character obsessive who follows the development of the primary characters closely, I didn't like that. I want to get to know my characters throughout the original (series) book and see why they desire each other. I don't want to think, "Huh, these guys must have met a few times for the familiarity they have, but how is there that initial connection?" This book has SO much going on that some of it could have been pared back to develop the relationship between the MCs instead of just dropping us into it.
The writing is really solid. The MCs… I believe I like them. I need to be with them some more when they have moments to catch their breath and mesh to see the personal and relational development. There are things between them that will build as they trust each other fully and they're developed more. It's clear that Kai Butler has such a head full of ideas and that makes the series full of wonderful potential, but this book needed to slow down at times. However, you cannot complain about a lack of action because it's, wham bam, right there on page.
Overall: 
I'm late to the party for this series, typical me. I believe there are 5 or 6 books out? and it's still ongoing from what I can glean without looking too far ahead – I don't want to look too closely and spoil where this world may take me. San Amaro Investigations is a series full of promise with characters who stay with you and tease much, who live interesting lives. I would like to see more of them and this world. Wormwood Summer is a fast paced, adventurous start to a series with good humour, the names Parker gives to pretty much everyone he sees made me laugh. It's a book that piqued my curiosity. I have book #2 already, now all I need is time. If you're on the lookout for an UF, PNR, fantasy series featuring gay MCs with some well balanced and not too frequent sex, then this is definitely worth grabbing, the audiobook is really good. 4 Stars!