Pinot & Pineapple Lumps (Southern Lights #4), Jay Hogan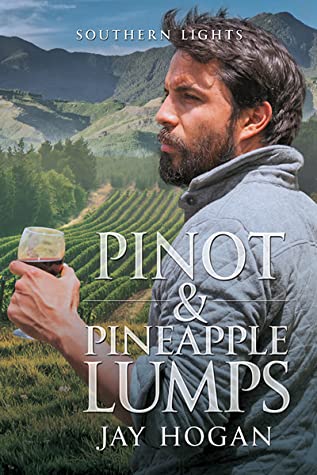 Rating: 4 Stars
Publisher: Self Published 
Genre: Gay Romance
Tags: Contemporary, PTSD, Cancer, Emotional, Humour, Series. TW/CW – See Bottom of Blurb
Length: 359 Pages
Reviewer: Kazza
Purchase At:  amazon
Blurb:
Penn from Adelaide. That's all I knew.
We shared a single kiss over a year ago, and I can still remember every toe-curling second of it. He thought I was too young for him. I thought he was running scared. But that kiss was the first time I'd felt alive in a long time, and I've been chasing the feeling ever since—doing my research, a lot of research, a lot of men. Something my protective older brother isn't too happy about.
I've been through more than most guys my age, and I still bear the scars. My head's not always my best friend, but I'm building a life, PTSD be damned. I can't turn back the clock, and I'm not sure I want to.
Except maybe to that moment when Penn kissed me. I mean, the odds of us ever meeting again were slim to none, right?
Yeah, about that.
But this time I'm ready. I'm a year older, an ocean of therapy wiser, and I know exactly what I want.
Possible Triggers: One of the main characters in this book lives with PTSD as a result of a fire and within the story there are flashbacks and descriptions of triggering events. There are also themes of loss and grief.
Review:
Even though this is book #4 in the Southern Lights series, this is the second book I've read, the first being book #1, Powder & Pavlova. I liked this more, but having read the first book gave me some insight into one of the book's MCs, Kurt. Kurt is Ethan's younger brother and he was, from memory, around sixteen in that book. Their mother had passed away after battling cancer and Ethan had come back to New Zealand after extensive travelling to say his goodbyes and to effectively become Kurt's guardian.
Kurt is now nineteen/twenty in this book – the book's prologue starts with a nineteen year old Kurt kissing a sexy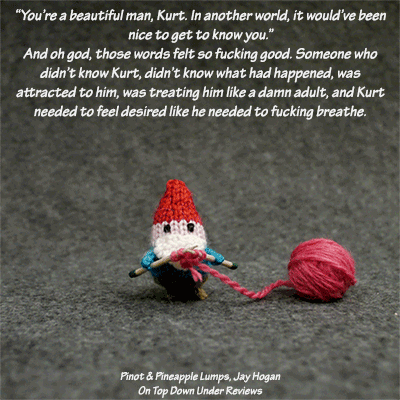 older guy (twenty nine) who is over in New Zealand from Adelaide. Said guy, Penn, is thrown off by the age difference and he has to leave anyway. Shame. Kurt thought Penn was all that and then some. We also know that Penn has some insta-attraction going on as well. And, as the romance writing gods would have it, they get to meet again fourteen months later when Penn's family-owned vineyard needs an image update. Kurt just happens to be a newly emerging, local graphic designer who Penn unwittingly calls in for the job. Surprise, everyone! Penn's family actually lives in the area, he may have been living and working in Adelaide for the last five or so years, but the family is definitely from Otago. Oh, and Kurt is still hot, and that spark is still there between them. Only this time, hmm, Penn has a boyfriend. Bit of a buzzkill… but you know how that's going to go. Bye Gary, hi Kurt. Here's hoping Gary gets a Guernsey at some stage.
The blurb gives you plenty to go off. So a few overall thoughts:
These books all seem to have a similar theme – character A, who is local, meets character B, who (for various  reasons) is just passing through, and then there's a relationship that complicates things/feelings. Decisions need to be made, and it builds and builds, all while the romance is coming down to the wire.
There is a real family of characters that is forming at the heart of this series. I haven't read books two and three but I didn't feel like I missed out, although I may pick them up at some stage to feel the ongoing love. I do believe, however, having read book #1 did help as I knew Kurt, Ethan and Ethan's partner, Tanner.
I felt the intensity of the situation and the relationship in this book more than anything I felt in Powder & Pavlova. It was hard for me to read. Cancer. How I hate the fucker, and this book made me feel the hurt and burn.
While Kurt was the (understandably) angry, hormonal younger brother in book #1, he's matured into a really likeable MC, albeit a little too sage for a twenty year old. Ethan is now struggling to not micromanage Kurt and it's affecting their relationship. Kurt wants Ethan to see him as more than a kid, which is understandable as he's technically an adult. It doesn't help that Ethan has witnessed Kurt's pain and fear. His isolation after trauma. His frequent hook-ups. Ethan suddenly had a lot of responsibility thrust upon him, needing to look after Kurt at a tricky time in both their young lives. He loves his brother but now has to buy a clue that sometimes familial love can get a bit smothering.
The overall writing was respectful to/of PTSD. Kurt's been in a fire and he has some scars as a result, both physical and mental. He also misses his mother, and that adds to the building blocks of his trauma.
That Ethan and Kurt have so much love for their mother, how much they miss her, is a palpable thing. The juxtaposition between Otis Cunningham, Penn's father, and the Sharpe boys' mother is stark. It hurt to see Otis behave like he did. Life is so short and love is so fleeting. In saying this, Jay Hogan shows that people can be flawed and still have qualities that are admirable. People are pretty dichotomous. That's something I feel will make readers think about Otis' behaviour after the book has finished. It was a complex, real, well written dynamic.
There is a lot of fun and suggestive banter and dialogue between Kurt and Penn. Kurt likes to create sexual innuendo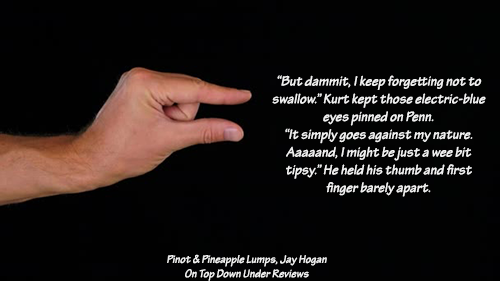 around wine tasting. He also likes to give stick to Penn about his age, seeing as how Penn is someone else who struggled not seeing Kurt as more than a chronological age for a while.
I love how much Jay Hogan makes you want to move to New Zealand, at the very least stay longer than you normally would on holidays. It is a beautiful country. The scenery shines while also blending seamlessly with MCs you know deserve to live in such a gorgeous part of the world. It pulls you into this happy place as you're reading.
Pinot & Pineapple Lumps is definitely recommended for people who enjoy contemporary gay romance with a bit of bite and who also like their MCs on the sweet, mooshy side. 4 Stars!