Audiobook Review: A Step Too Far, H.L. Day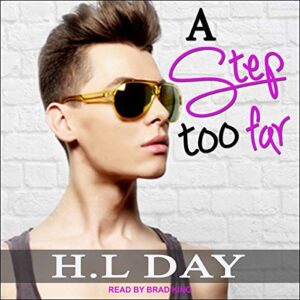 Genre/Tags: Gay Romance, Ballet Dancer, Russian Mob, Undercover Op, CW/TW: Dub-Con
Author: H L Day
Story Rating: 5 Stars
Narrator: Brad King
Narrator Rating: 5 Stars
Length: 9 hours and 50 minutes
Audiobook Buy Links: Audible
Two men. Three identities. An unstoppable attraction.
Desperate for his luck to change, Jake Spencer manages to land a dance contract with Dmitry Gruzdev. The job has plenty of perks, including a simmering lust between him and Dmitry's hulking brute of a bodyguard, Mikhail. Life is finally looking up. Except as the shine wears off, it becomes clear that Jake's stepped into a world of darkness and depravity where Bratva answers to no one and allies are not what they seem. 
Mikhail's hiding a secret: There is no Mikhail. He's simply a front for undercover operative Ryan Harris. A means to gain access to Dmitry. Ryan's not stupid. There's no way he's going to get distracted by a pretty face, no matter how attractive Jake might be. That would be far too dangerous for all concerned. Only it's not that simple, and before Ryan knows it, the line between personal and professional begins to blur spectacularly. 
Ryan's got an impossible choice to make: keep Jake safe or maintain his cover. 
Can a relationship built on lies ever lead to love? 
Contains mature theme
Review:
I enjoyed this book so much when I first read it – original review here – and I've reread it which is always an absolute compliment to any book, but Brad King elevates this like he did A Dance Too Far.
I LOVED this audiobook. Brad King is an absolute gem of a narrator and I'm a huge fan, I have also found H.L. Day's books make great audiobooks, and A Step Too Far is no exception. It has plenty going for it – great pacing, action, loveable leads – Jake is special to me, and try as I might to not like how Ryan has to be deceptive I can't fault him, and that's huge for me as I'm not keen on deception.
Basically, take one brawny bodyguard, complete with scars, add a sweet, down on his luck ballet dancer, mix in one undercover op, one nasty Russian mobster and, voila, you have a fantastic, sexy romance.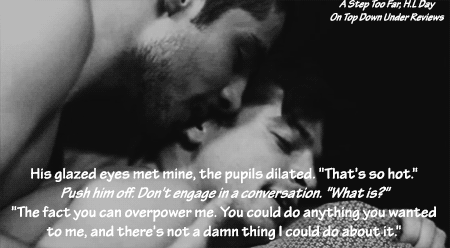 There is more of a darkness or shades of grey to this book than A Dance Too Far, and I appreciated that. It works, I truly hopes that H.L. Day comes back to this world again as she intimated she might at the end of the book. I just believe there are some good stories left to be told and one elusive Russian mobster who may make or be a good device for another interesting story. And lord knows I'd be up for another one of these gorgeous covers.
In this book-
I loved Mikhail/Ryan, so sexy, so torn, so loyal.
I adored Jake, such a sweetie.
I loathed Dmitry all over again.
Valentin deserves a gold medal.
Sprinkle in some hot, bothered and stolen sex, some angst, some determination, and some resilience to the above factors, and this is one compelling listen. Highly recommended with the incredibly talented Brad King at the helm bringing H.L. Day's excellent story to three dimensional life in audiobook.