Cinnamen, Andi James, Lila Wilde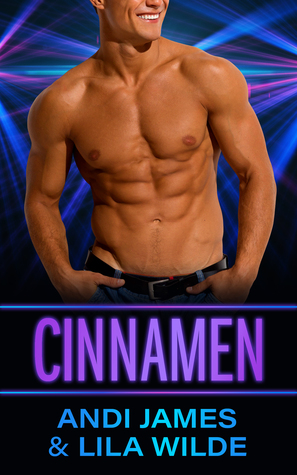 Rating: 3.5 Stars
Publisher: Self-Published
Genre: Gay Romance
Tags: Contemporary, Opposites Attract, Romance, Short Story
Reviewer: Cindi
Purchase At: Amazon.com
Blurb –
Oliver Douglass's world flips on its head when he gets a call telling him his mother has been in an accident. He agrees to take over running her bakery until she is back on her feet, even though it means leaving his coveted sous chef job and returning to a town he despises and the life he left behind ten years ago.
When Daniel Dawson isn't in his grad school classes or working as a dancer at Cinnamen, the town's hottest gay nightclub, he's spending time with Patty, who has become a second mother to him. After she expresses concern about her son's non-existent people skills, Daniel agrees to check in on the bakery and make sure things are running smoothly.
Daniel's first run-in with Oliver is anything but pleasant, yet Daniel can't deny the chemistry between them. Oliver continues to tell himself his hometown holds nothing of interest to him … except a certain happy-go-lucky dancer may show him that isn't the truth. Will Daniel's affections be enough to thaw Oliver's heart?
Cinnamen is a 35K word contemporary M/M novella containing hot cinnamon rolls, hot Cinnamen buns, and a sugary sweet soon-to-be librarian set on melting the rock candy heart of a grumpy big-city chef.
Review –
Oliver is back in his hometown to run his mother's bakery, Patty Cakes Bakery, while she recuperates after a car accident. Saying Oliver hates his hometown would be a major understatement. He left a decade before, became a sous chef in New York, and is on the fast track to becoming a head chef someday. Leaving the town of Easton also meant leaving his mother, Patty. He loves her dearly but hates the thought of being back in the town he couldn't escape from fast enough.
Oliver and Daniel's first meeting is anything but pleasant. Both men are in the hospital gift shop attempting to buy the same gift for Patty. Of course, Oliver has no way of knowing that Daniel is somebody who considers Patty his second mother. Daniel has no way of knowing that the grumpy guy is Patty's long lost son. When it all becomes clear a day or two later it doesn't make Grumpy Oliver act any better. He's not exactly a people person where Daniel is super outgoing and loved by pretty much everybody he comes in contact with.
Something changes in Oliver when he decides to check out Cinnamen, a gay bar next door to the bakery. It's been a long night and he needs a drink in the worst kind of way. Imagine his surprise when one of the hot dancers on stage is none other than Daniel, who he hasn't been able to stop thinking about since the gift shop incident.
Oh, Oliver may be a jerk (seriously… he was a big jerk) but he'd be blind to not be attracted to Daniel. Daniel, for some reason that escaped me, wants Grumpy Oliver and he doesn't give up on trying, even if Oliver fights him every step of the way.
But then Matchmaking Patty steps in and things start looking up for both guys. That is, until Daniel makes an innocent comment and Oliver's 'attitude' again comes out to play. After hurting Daniel's feelings Oliver's at a loss. He knows he screwed up but what can he do?
I was thinking grovel. He should've been groveling.
But that's just me. 😉
The story is relatively short so I can't say much more than that.
I loved Daniel from the minute he was introduced. Oliver, not so much. I get what the authors were trying to do with his character – and they did it very well – but it took me awhile to even like him a little bit. There's being grumpy and then there's being Oliver. Patty was amazing. She's the type of mother and 'adopted' mother we'd all be lucky to have. I can't forget Daniel's coworkers at Cinnamen. I'd love to see some of them have their own stories someday.
Overall, I enjoyed it. Oliver somewhat redeemed himself to me later. Daniel was perfect.
A nice, quick read.