Slow Hand (Perfect Hands #4), Nora Phoenix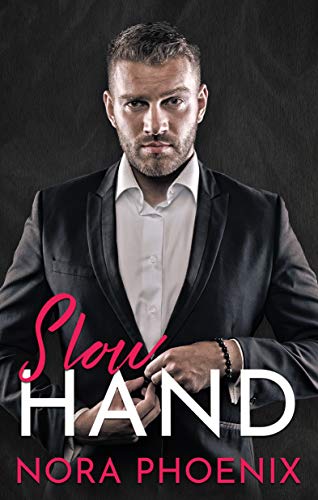 Rating: 5 'Keep Tissues Handy' Stars
Publisher: Nora Phoenix
Genre: Gay Menage Romance
Tags: Contemporary, Age Gap, Age Play, ABDL (mild), BDSM, Daddy Kink, MMM, Past Abuse (Possible Triggers), Romance, Series
Reviewer: Cindi
Purchase At: Amazon.com
Blurb –
Ford never wanted to be a Daddy. So how did he end up with not one, but two boys who need one…?
Master Ford loves his life. He's respected in his club, has his choice of boys to play with, and is happy staying single.
When the club owner asks him to take in two abused boys, Ford reluctantly agrees. But when one doesn't even talk, and the other is a bundle of hostility, Ford wonders if he's in over his head.
It takes a long time to win their trust, as the abuse they suffered is worse than Ford could've imagined. But when he discovers that Thierry is a little and that Jathan needs a firm Daddy, Ford questions if he can be what both his boys need. And where do his own needs fit into this?
Slow Hand is the fourth book in the Perfect Hands series. It can be read as a standalone but may be more fun if you've read the previous books. It's a 108k word slow burn MMM romance with two hurting boys, a man who discovers new sides to himself, and one very happy end. It features daddy care including age play.
Review –
I've listed this in my tags but it needs to be stressed – this book contains descriptions of past events that are possible triggers. I also highly recommend having tissues nearby because you're definitely going to need them.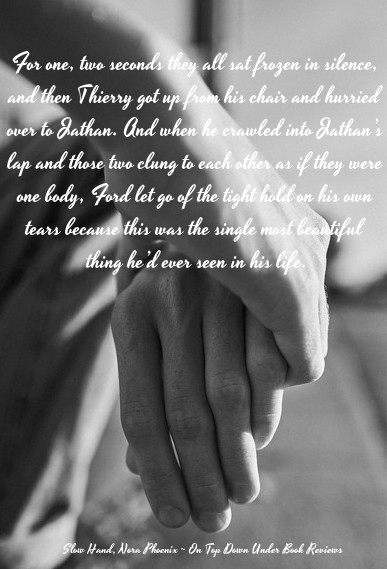 Master Ford, a well-known Dom, receives a call from the owner of the BDSM club he frequents. Two subs have been removed from an abusive situation and need someone in the lifestyle to take them in or they'll be sent to a homeless shelter. Ford agrees to bring them into his home. What he doesn't expect is what he sees when he arrives at the police station. The abuse these young men suffered is beyond anything he and the police detective (also in the lifestyle) have ever seen. They'd been held for two years in the home of a man who claimed to be a Dom. Only after one of them managed to crawl through a window to get help were they rescued.
The first 10 percent or so of this book will bring out all the emotions. Well, most of the book will, but the first few pages… just wow.  Thierry is twenty-four. Jathan is twenty-two. They were starved and suffered abuse at the hands of their former so-called Dom. Aside from the starvation and a couple of other things, a majority of the abuse they suffered was different. Jathan was beaten often and has the scars and physical injuries to prove it. Thierry's abuse wasn't quite so obvious but it was severe. Thierry doesn't talk. He can but something prevents him from doing it except in special circumstances and later into the book. Jathan, however, doesn't have that problem. He's rather outspoken and very mean to Thierry. You'd think with both of them having been held captive together that it would bring them closer. It was the opposite with these two.
Master Ford was gonna punish him. Thierry shrunk into the corner of the bathroom, his body shaking and shivering, his stomach rolling. He wasn't sure if it was with fear or nausea. Maybe both?
I had a hard time with Jathan until the truth behind his animosity came out. Don't get me wrong. I sympathized with him and my heart broke every time he flinched or pulled away or assumed that Ford was no different from the guy who'd held them captive. He was just so mean to Thierry, who was downright pitiful. I didn't dislike Jathan because I knew there had to be something serious behind his behavior. I was correct. When the truth came out I cried like a big baby.
The first twenty-four hours they were at Ford's house absolutely broke my heart. Ford is a Dom. The only experience they've had with Doms involved abuse. Of course, they didn't believe that his kindness was real. They've been down this road before. A Dom will say and do all the right things in the beginning and then his true colors will come out and the abuse starts.
Ford, thirty-eight, has been in every book of this series. He was introduced as Rhys' mentor in Firm Hand and was in the others briefly. He's very specific about his kinks. While he wholeheartedly supports Rhys being a Daddy to Cornell and Brendan to Raf, it's just not his thing. There's never been a desire to be somebody's Daddy. He's never had a boyfriend, and any subs he brings into his home leave shortly after the aftercare is complete. Nobody ever spends the night. There's no shortage of willing partners, but Ford gets out when feelings become involved. It's all he knows and all he's ever wanted.
But then he meets two broken boys who need a caring and loving Daddy more than they've ever needed anything else. It turns out that he needs them just as much.
These were his boys. His two broken, damaged boys. His sweet, vulnerable boys who had been through hell and back. How had they survived this? How were they still alive? How had they walked away? He'd known it was bad, but this? This was far beyond anything he had imagined. This was… He didn't even have the words. It was beyond description, beyond imagination, beyond anything and everything. And it smashed his heart into a million pieces.
Everything moves slow in this book – as it should. Thierry and Jathan need time to heal physically and emotionally. This is no 'rush, rush Ford suddenly fixes every problem'. It takes time for both men to trust. And it takes time for Ford to figure out how to help each one as they have individual needs. But no matter how much time goes by they're both still waiting for Ford to turn on them. It takes a long time to convince them that the man who held them captive and the others they'd experienced weren't actual Doms. They were abusive jerks who got off on causing pain and used the Dom title to excuse it.
Even as experienced as Ford is he has no idea what to do with them as their individual needs are so different. Thierry is sweet and eager to please. Jathan is like a bratty teenager who goes out of his way to hurt Thierry's feelings every chance he gets. He also lashes out at Ford sometimes.  A visit with Rhys, Cornell, Brendan, and Raf changes everything. A few minutes with Raf and it becomes obvious that Thierry is a little. Jathan is more difficult to figure out, though Cornell, a long-time sub, has his own theories. That visit, which takes place a few weeks after they come to stay with Ford, gives Ford a lot to work with. Even so, it also escalates Jathan's behavior with Thierry.
Every time Jathan said something hurtful I just wanted to hug Thierry. Jathan, even as mean as he was to Thierry, was also constantly protecting him in obvious ways. Only when Ford says enough is enough after one too many hurtful comments do things finally come to a head. Misunderstandings are cleared up in a big way, which changes everything.
There's so much more I could say about this book. I could go on and on about how emotional it was and even how sweet it was at times. But the main thing I got from this book was how amazing Ford was and how perfect he and his boys were together. I've always loved Ford. I fell in love with Thierry on the first page he was introduced. It took a while, but I also learned to love Jathan. He came across as mean but that was the way he coped when he felt that he was dying inside.
Seeing the others – Rhys, Cornell, Daddy Brendan, and Raf – was a pleasure. I've read a lot of Daddy/boy books recently but none have compared to the ones written by this author. I was hesitant with Raf and Brendan's story because I'd not read a lot about littles and their Daddies, nor had I been interested in age play, to be honest. I loved the book and I loved them, especially sweet Raf. In Slow Hand, Thierry being a little is much different. Unlike Raf who Brendan takes care of 24/7, Thierry needs to be doing things for Ford. He's not happy unless he's working around the house – cleaning, doing laundry, etc. Jathan's needs are quite different.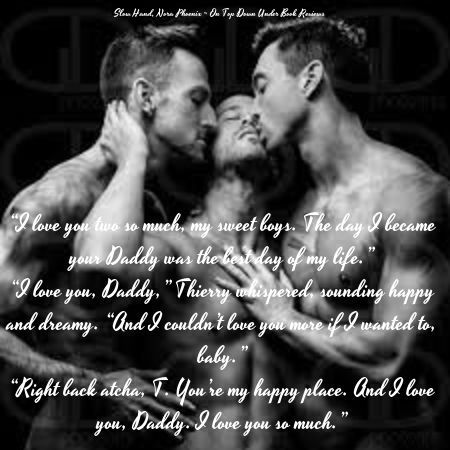 One of the main things I loved about this book was how Thierry and Jathan had to work through their issues with each other before anything sexual happened with Ford. When it did happen, it had to be on their terms, not his. He waited patiently until they were ready. And when they were? Holy cow, that was hot. 😉 It was also very sweet.
This is great menage book. While I've read a few good ones, the majority I pick up involve ridiculous jealousy and pettiness. There was some jealousy here but I understood the reasons for it. Sure, it got aggravating at times, but I knew why it was happening so I waited patiently until everything became clearer for that particular character. Ford, Thierry, and Jathan belonged together. Once they finally got there, it was absolutely beautiful.
This is my fifth book (I think?) by this author and I've loved them all. I recommend this series highly. If you're on the fence about age play – as I was until I read this series – I dare you to read Gentle Hand and Naughty Hand and not fall head over heels in love with Raf.
Fantastic book.