Delivering Dante (Made Marian #6), Lucy Lennox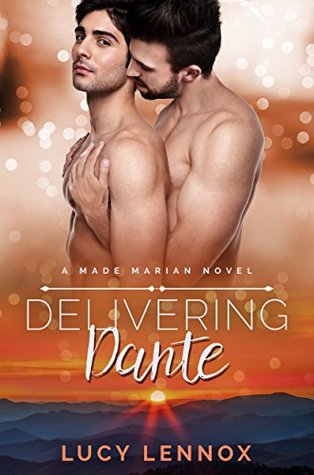 Rating: 4.5 Stars
Publisher: Lucy Lennox
Genre: Gay Romance
Tags: Contemporary, First Time, Past Conversion Therapy/Abuse – Possible Triggers, Romance, Series
Reviewer: Cindi 
Purchase At: Amazon.com
Blurb –
AJ: I know Dante's story better than anyone. After all, I was the one who rescued him from his homophobic, abusive father eight years ago. Since then, I've kept my distance, but when I run into him at the Marian House gala and he doesn't recognize me, I can't resist the incredible, sensitive man he's become.
I would do anything to protect Dante Marian, but what if his past keeps me from being part of his future?
Dante: Every new relationship has obstacles, it just turns out that ours involves my bumbling inexperience (ugh), an octogenarian naughty toy party (don't ask), and being on the run in an RV with Aunt Tilly (it involves the Secret Service— no really, don't ask).
When my biological father takes his homophobic views on a national platform, the only way to stand up for what I believe in is to claim my past and confront him. So now it's time to decide: do I put the past behind me and walk away from AJ for good or face my biggest fear and fight for what's mine?
Fair warning: Dante and AJ's story contains frequent detailed scenes of man parts touching, little old ladies being inappropriate (this time with, ah, props), and two hearts finding their HEA when they least expect it.
While it can also be read on its own, Delivering Dante is the sixth in the Made Marian series. Each book tells the story of one of the Marian brothers' search for true love.
Trigger Warning: Delivering Dante includes references to domestic violence and conversion therapy.
Review –
Quick note: Dante's given name by his biological parents was Daniel. I say that here and in the next paragraph. All other references to him will be as Dante.
I'm going to start this review by saying that the story begins with a prologue of fifteen-year-old Daniel/Dante after having been severely abused during conversion therapy at his father's church. He's broken both physically and emotionally. While he's laying on a dirty basement floor praying to die, he's rescued by a male with a soft voice who assures him that he's safe now. He hears someone call the man Angel, which is fitting because Dante considers him his guardian angel for saving him.
It's absolutely heartbreaking to read. This may bother some readers.
I don't remember much about it, honestly. One minute I was curled up in a painful, broken ball, crying on the nasty bathroom floor of the church basement, and the next, a guy's soothing voice was in my ear telling me it I'd be okay.
It's now eight years later and Dante, the youngest of the Marian children, is the new executive director and head of programming of what has recently been renamed as Marian House, the LGBTQ youth center that saved his life eight years before. The 'angel' may have rescued him but being taken to the youth home helped make him the man he is today. His brother Griff, from Grounding Griff, also saved him shortly after he arrived at the center. The reader has watched the two brothers throughout the entire series. We've seen how protective Griff is of Dante. Now we know why. It was nice getting that glimpse of Griff as a teenager.
AJ is the nephew of Londa, the woman who's been the house director of the center and basically run it for years. He was introduced in the last book but the reader didn't really know much about AJ.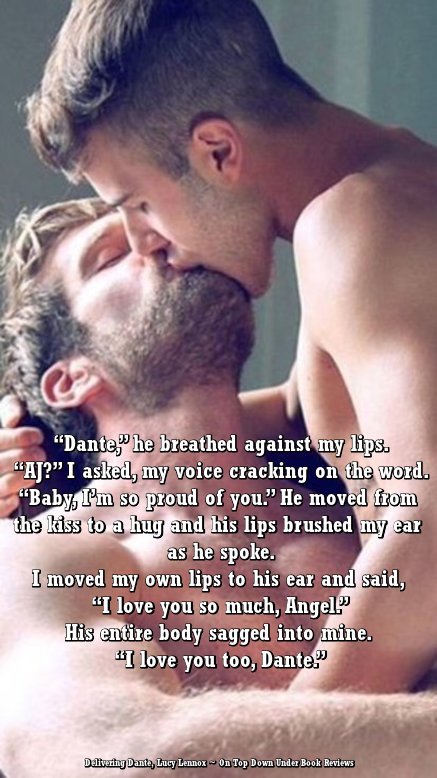 Dante is at the grand reopening gala for the Marian House. With his position at the center, he has to give a speech telling his own story of how he came to be there as a scared teenager. He also describes being rescued by a man he has always considered to be his guardian angel. He even has an angel tattoo, though that comes out later. Nervous because he doesn't do well with crowds or public speaking, his eyes center on a man sitting not far from the stage. For some reason this man calms him and he's able to get through the speech without his nerves getting the best of him. After he takes a few moments to himself outside with the help of Griff, he takes his place at the table with his family. This is where AJ finds him. After a few bumbling words between them – Dante is very shy around men – they leave together. Dante misunderstands something and bolts a little later. He doesn't see AJ again until Griff makes it where he has no choice. Even so, they don't really get started until there's an emergency SOS text to Griff from naughty Aunt Tilly.
Ah, Aunt Tilly. You'll love her or hate her. There's no in between.
When they all (Griff, Sam, Dante, and AJ) arrive at Tilly's, the SOS/emergency is a naughty toy party. You'll have to read the book to find out why she said it was an emergency to get the men there. I laughed out loud. The woman's crazy.
AJ and Dante are leaving when they're asked by Tilly's butler, I guess? to get some bags out of Tilly's RV since he's already dressed for bed. Well, as soon as the two men are in the privacy of the RV they get a little busy. 😉 That was hot. What they don't expect is to fall asleep and wake up several hours with the RV moving and them a good distance from San Francisco. This begins a crazy adventure with Aunt Tilly, the Secret Service, and Dante and AJ.
Hmm. Welcome to the crazy family, AJ.
Once all that's resolved (kind of) this is the start of Dante and AJ's relationship, though Dante's poor self-esteem and inexperience with men has him pushing AJ away more often than not. Unlike with Griff who drove me batty with his constant running away from Sam, I understood where Dante was coming from. He was starting to really care for AJ and couldn't understand why this man would want to have anything to do with him. They've played a little in bed but Dante was still a virgin in every other way. Simone, Dante's sister, makes a point in embarrassing him about that right in front of AJ.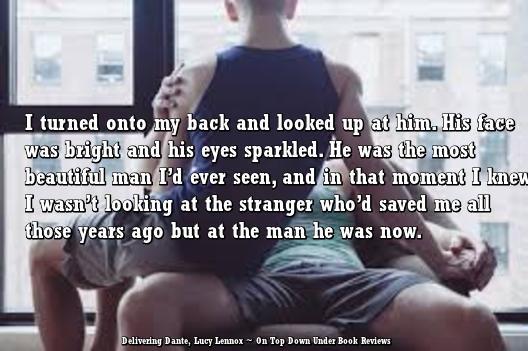 That made me mad. I've been somewhat on the fence about Simone since the first book. Her embarrassing sweet Dante like she did was out of line.
AJ is falling hard for Dante but he has a secret. He's the one Dante considers his 'angel' who rescued him from the abuse of his father. He knows he has to tell Dante the truth but Dante's emotions are so fragile that he's scared of him pushing him away when the truth comes out.
.
"The tattoo," he said quietly. "Your angel. The person who took you away and brought you to us?"
The way he said "to us" warmed my heart. How fucking lucky was I?
"Yes," I said. "And I recently found out who that angel was."
"Who?" he asked, studying my face. I lifted my eyebrow at him. "Oh," he said when the pieces clicked in place. "Oh."
"Yeah."
"Holy shit, Dante. That's like the most romantic fucking story ever," he said with a grin. "What did you say when you realized you'd hooked up with the guy you'd thought about all these years?"
He made it sound like it was a good thing.
"I told him to go fuck himself, Griff. He lied to me."
And that's exactly what happens when AJ is called by his given name, Angel, in front of Dante. I understood where Dante was coming from but I did feel bad for AJ as well. I should also note that AJ was only seventeen when he helped his father rescue Dante from the church basement eight years before. He was only two years older than Dante.
There's a lot of back and forth with Dante and AJ. Dante has a hard time trusting anybody. To know that AJ/Angel has been with him for weeks and hasn't told him the truth about who he really is… it was sad to watch. It also doesn't help that Dante's biological father is running for Congress on a 'family values' platform. That family values platform meaning pushing conversion therapy and taking away the rights of LGBTQ people. I'm sure the fact that he was from Indiana was no accident. Dante has the chance to face his past once and for all and to help others just like him. He's already told his story publicly. Now he can tell the world that the man who abused him was the man who's now running for public office. He has the ability to stop it. Unfortunately, he doesn't feel strong enough. It takes Aunt Tilly and her latest boy toy (even saying that makes me giggle because the man is VERY important in politics) to nudge Dante in the right direction.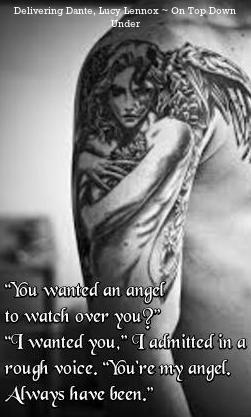 AJ and Dante are great together. It takes a little while for Dante to see it, and for AJ to prove himself, but when it's happens it's beautiful.
The Marian family is back in all their glory. I don't remember seeing Maverick and Beau but I'm sure they were there. There were quite a few Marian get-togethers. After Jude's, Dante's story was the one I was most eager to read. I'd seen him as the shy, somewhat innocent of the Marian children. It was nice watching him come into his own with AJ. It was also nice seeing more of Griff and finding out more about how he and Dante became so close. Even as protective as he was for his little brother, he played a big part in making sure he and AJ got together. There always seems to be a matchmaker amongst the Marians. It was Griff this go round.
A great book. Very emotional but with the classic humor that's been spread throughout the series.