Healing Hand (Perfect Hands #5), Nora Phoenix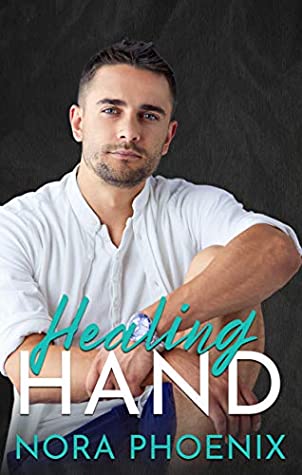 Rating: 4 Stars
Publisher: Nora Phoenix
Genre: Gay Romance
Tags: Contemporary, Age Play, Daddy/boy, Demisexual Character, Disability (Dyslexia), Hurt/Comfort, Low Steam, Opposites Attract, Past Trauma – Possible Triggers, Romance, Series
Reviewer: Cindi
Purchase At: Amazon.com
Blurb –
Can a broken boy and an unconventional Daddy help each other heal?
Saxton has never been able to make a Daddy stay. He wants one desperately, but they've all walked away. He knows exactly why: because he's damaged. Broken. Unable to give Daddies what they want from him.
When he meets Daddy Gale, who offers to take care of him after an accident, Saxton expects the same thing to happen. But Gale is different in many ways, and he has his own wounds. He has endless patience with Saxton, and he respects Saxton's boundaries.
But when Saxton can't open up about the trauma that forever changed him, will Gale decide Saxton isn't worth the trouble after all? Or will Saxton finally have a Daddy who accepts him the way he is?
Healing Hand is a sweet, low heat Daddy care MM romance with loads of hurt/comfort, age play, tender moments, and emotions that will give you all the feels.
Review –
I'm typing this review still unsure of how I feel about the story. Don't get me wrong, I loved both Saxton and Gale. Gale is a kind ER nurse who immediately takes to Saxton – a total stranger – when he needs him the most. Saxton is a broken character who has never managed to find his way with relationships. He has secrets that always push partners away.
The two men meet in the emergency room of the hospital where Gale works. Saxton has just been in a horrible accident and Gale is the nurse assigned to him. A paramedic quietly informs Gale that the patient is a little, having discovered his diaper when he initially treated him. The man knows that Gale will ensure that Saxton isn't embarrassed. The way that was handled was excellent. Noah, the physician's assistant working with Gale, knows something's up but he doesn't question it.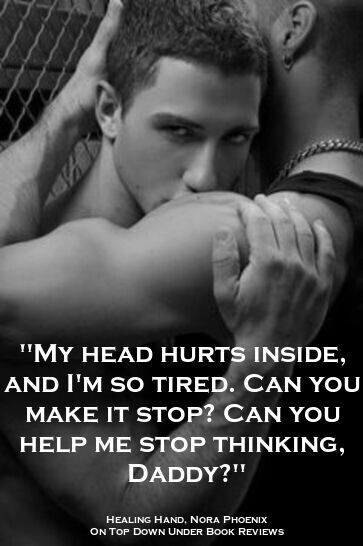 There's an instant connection between Gale and Saxton. Gale is a Dom who's never had sex in scenes. He'll make sure the sub is taken care of but there's never any sexual contact with him. Something humiliating happened at a club that had him taking a step back. I wanted to know more details about that. It was mentioned a couple of times but no details. If it was in another book in this series (and I've devoured them all), I don't remember.
Gale recognizes Saxton's need to be taken care of right off. A boy without a Daddy, he has no one. Gale offers to stay at the hospital while Saxton has surgery on his broken foot, promising he'll be there when he wakes up. After, this leads to Gale offering to take care of him away from the hospital, something he's never done with a patient before. There's something about Saxton that's calling to him.
This begins a rather unconventional relationship. There are secrets being kept by both men, though some of Gale's come out relatively quickly. One, he's severely dyslexic. Two, he's demisexual. When he explains the latter to Saxton there's obvious relief on Saxton's part. The most he'll say in response is that he hates sex. He says it so forcefully that Gale knows there's a lot more to it than an uncomfortable experience or two with a partner. With each one not being eager to start a sexual relationship, they grow together as a couple without any uncomfortable expectations on either part. Once the emotional connection is there for Gale, he's not opposed to it, but he always lets Saxton know anything that happens will happen when Saxton makes the first move, not him.
Saxton also comes from a very wealthy family. He only reveals this when he's forced to. So many people in his past have only wanted what they could get from him, nothing more. He doesn't go out of his way sharing who his father is, having even changed his last name years before. There's a bit of a backstory with his mother and father but I won't elaborate because it'll be saying too much.
Gale and Saxton easily fall into the Daddy/boy role. Gale loves nothing more than taking care of his boy and Saxton is all too eager to let him do it. One month turns into several, and before either realizes it, they're in a real relationship. Gale keeps his apartment even though he's not stayed there in months. There's a reason he kept it. That comes out later.
I liked these two together a lot but I had some issues. Saxton had something extremely traumatic happen to him when he was a child. It was so traumatic he could never tell even his many therapists over the years, though they were already aware of what it was, having been told by his parents. They could not, no matter how hard they tried, get Saxton to even discuss it a little bit. I can't say I blame him. Talking about it brings it back. He didn't want to remember.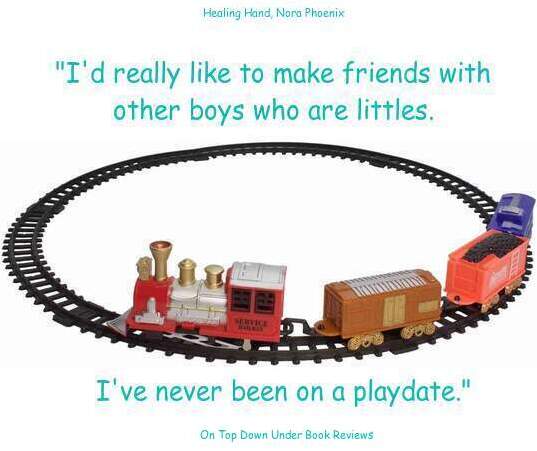 The issue I had with all of this is how long it took Saxton to finally open up with Gale. I get it. What he went through was horrific and not something that would be easy for anyone to talk about. But Gale isn't like other so-called Daddies he's been with. Gale is the epitome of patience. When Saxton finally does open up, it's at 90-something percent of the book and it's not when they're alone. Granted, nobody heard the conversation but still. It should have been a private moment between them, in their home. This was MONTHS after they got together, having not even spent one night apart in all that time, even if Gale did keep his apartment until they became official official as a couple.
Even so, I still enjoyed the story. It was nice seeing Master Ford and his boys again, as well as Rhys and Cornell. My favorites in this series, though, will always be Brendan and Raf. With Raf's help, Saxton is allowed to let his 'little' side out in ways he'd never been able to before.
I should also point out that Saxton occasionally wears diapers but it's really a nonissue.
The age play is not as out there as in Brendan and Raf's story or others I've read. As far as I'm concerned, either way would have been fine. I've read a lot of age play books this year but none have compared to how Nora Phoenix writes it. I actually had this conversation with Kazza on the phone a couple of weeks ago. This author brings out the emotions of the characters. It's not just the diapers, coloring books, or playdates. That's why I adore Raf so much. He was almost always in little mode and it was perfect for his character. Others I've read – and this in no way an insult to the authors who wrote them – made it more about the man being a little than the relationship with his Daddy. Nora Phoenix doesn't overwhelm you with it.
Another thing to note is that there's a connection (though not exactly what one would expect) between Gale and Rhys and Cornell. If you've read the first book (Rhys and Cornell's) it'll get to you. It definitely did me.
When Saxton's past finally came out it broke my heart. I still feel that it dragged out way too long before it got there, but it was still heartbreaking to hear. There's also an issue with his parents that fall into all of that.
Gale's family, on the other hand, is simply amazing. His mother is a parent anybody would be thankful to have. She welcomed Saxton into the family without question, as did his siblings.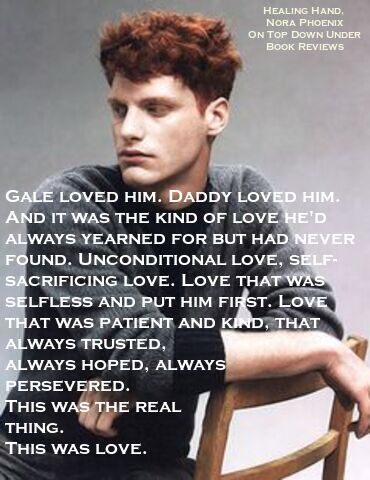 I understood the build up to certain things as the two men worked on their relationship. I just would've liked to have seen a little more of their relationship after Saxton shared what he did about his childhood. There's an epilogue that takes place about a year down the road. It was really nice but, again, I needed more of the two men after the truth came out. I also wanted more of Gale's backstory.
Noah, the physician's assistant mentioned above, is in this with his men later on. They're from the No Shame series that I'm sure I'll read someday. Unlike another crossover series that I read recently that made ZERO sense if you'd not read a dozen or so books by another author (that had nothing to do with the series I was actually reading with the exception of one character who was thrown in), I wasn't confused or even a little bit aggravated over lack of backstory for Noah and his guys. The author said enough to satisfy me while at the same time making me curious about how they came to be.
Don't go into this expecting sex or any kind of kink. There is spanking but it's not for punishment or even sexual purposes. The spanking makes Saxton feel closer to his Daddy, even if it doesn't go beyond that. There's a little bit of kissing, rubbing against each other, and fondling but that's it. It's not that type of book. Honestly, with these two I don't think it would've worked if it would've had much more than it did.
Overall, a good book and a nice addition to the Perfect Hands series. It may not have wowed me as much as the others did but it was still a nice read.