The Castle of Count Shagula (Tales of Monstererotica #1) Justin MacCormack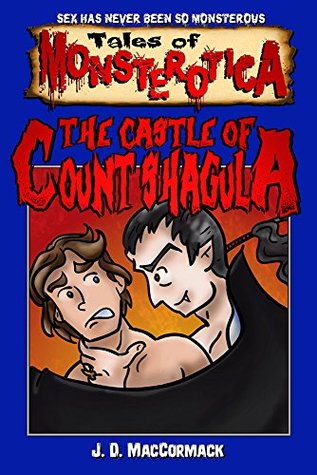 Rating: 3.5 Stars
Publisher: Deep Desires Press 
Genre:  Gay Erotica
Tags: Dracula Reimagining, Humour, Kink
Length: 49 Pages
Reviewer: Kazza
Purchase At:  amazon, Deep Desires Press
Blurb:
A tale of warped sexual desires, twisted comedy and frantic naughtiness. Come, travel with the young Jonathan Woodcock to the distant realms of Transylvania, where he encounters a sinister vampire, the aristocratic Count Shagula, last in a long line of great shaggers.
Witness as poor Jonathan experiences the terrors and horrors that go bang in the night, and finds out just what mysteries lurk at the heart of THE CASTLE OF COUNT SHAGULA (hint, it's sex. Lots of sex)
TALES OF MONSTEROTICA
A new line of comical erotic romps featuring the classic and not-so-classic monsters of book, stage and screen, written by J. D. MacCormack, author of "Diary of a Gay Teenage Zombie"
.
#NSFW REVIEW
Review: 
I bought this on whim. It was short. I love reimaginings of Dracula and various vampire tales. I enjoy erotica and I like humour – which this combines with an homage to a vampire classic, Dracula, so it was a no-brainer to read. Also, the books I've read by Deep Desires Press have been well edited.
Jonathan Woodock has some dealings he has to take care of with Count Shagula at his castle and is in Romania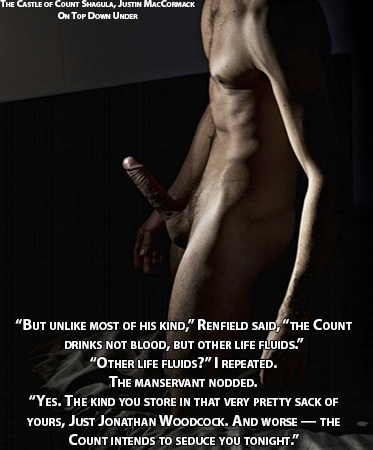 when he meets Raul, the first of many Rauls. When Jonathan is taking a wiz up against a tree and Raul #1 sees him… and admires him, he implores Jonathan to bring the other men back from the castle to the village, and that's about as far as the plot goes ?
There are blowjobs – you have to get your bodily fluids in some manner when you're the undead, and this is erotica, complete with some tentacles, and general sexual shenanigans. Mostly it's tongue-in-cheek fun. Oh my god, and the names for a cock – organ, member, maleness, wang…
In the wrap up, Count Shagula is short, it's the right length for the type of story it is. It's kinky and a little bit sexy, it's funny, enjoyably kitsch, and it pokes fun at the original Dracula. It's like the love child of Austin Powers – shag me baby, yeah – and Mel Brooks' Dracula: Dead and Loving It only with sex of the gay variety, even Renfield wears a leather thong – This is wrong, you hear me? Wrong! This is … Wrong me! Wrong me! Wrong my brains out!
I had some nice downtime reading this short and I'll probably read Doctor Wankenstein in the near future. If you're quirky and like an erotic vampire tale like me, or you enjoy a funny/interestingly sexy/camp romp, grab a copy. It's $0.99 cents. 3.5 Stars!