Grounding Griffin (Made Marian #4), Lucy Lennox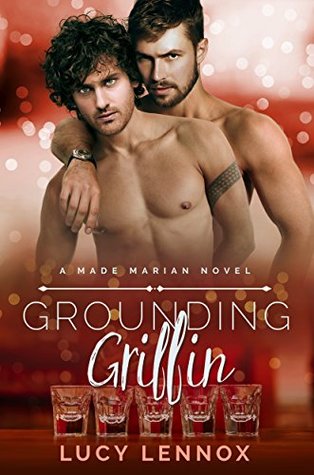 Rating: 4.5 Stars
Publisher: Lucy Lennox
Genre: Gay Romance
Tags: Contemporary, Family, Romance, Series
Reviewer: Cindi
Purchase At: Amazon.com
*** This review has a few spoilers. ***
Blurb –
Griff: I learned early on that the easiest way to avoid a broken heart is to always be the first out the door. Caring about anyone or anything is asking to be disappointed, which is why I avoid relationships and chase freelance gigs — ghost writing restaurant reviews and penning articles about the efficacy of cheesy pick up lines — instead of chasing my dreams.
Besides, dreams don't come true for people like me. And no one, not even the sexy-as-hell bartender at the club can convince me otherwise. Because I'm never risking my heart again.
Sam: As a bartender I've watched a million pick-up artists work their magic, but none as talented as Griffin Marian. He's a flirt, a good time. Hooking up with him was supposed to be just a fling. I wasn't supposed to care abut his fractured past or his buried dreams. I have my own future to worry about, especially after that stupid food critic scuttled my hopes of finally opening my own restaurant.
But, the more time I spend with Griff, the more I'm beginning to realize that my plans mean nothing without him. If only I can convince him to give us a chance to follow our dreams together.
Fair warning: this book includes flirty sweetness, detailed descriptions of man parts touching, and the dirtiest thing to come out of Aunt Tilly's mouth yet.
Grounding Griffin is the fourth book in the best-selling Made Marian series. It can be read on its own but is much more fun read as part of the series. The series begins with Borrowing Blue and each book follows a Marian brother's search for his HEA.
Review –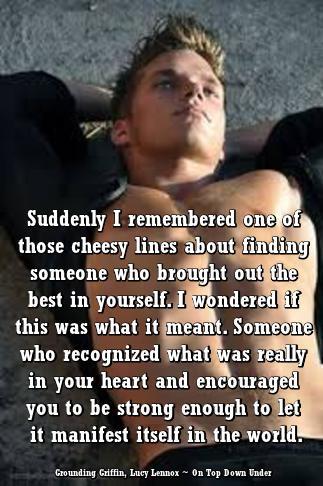 Sam, a bartender, has been watching a customer pick up men at the bar he works at by using cheesy endearments. They're so cheesy they're laughable. Even so, the man's successful and leaves with most of these guys. Then he'll come back another night and do it all over again. Sam secretly calls him Foxy because that's one of the endearments he uses.
What he doesn't know until later is that Griff's last name before he was adopted by the Marians was Fox.
Griff is a freelance writer and occasional ghostwriter. He's researching his latest writing project when he's a bit sidetracked by a hot bartender who won't back off as he does what he's getting paid to do. Things kind of come to a head when the hot bartender accidentally on purpose pours a drink all over Griff. Griff had totally noticed the man who he secretly calls Theo because he looks a lot like the actor Theo James. After a bit of an uncomfortable moment when Sam rambles, Griff goes back to what he was doing before – researching his upcoming article by picking up strangers simply by calling them silly names.
But Sam, who has no clue what Griff is doing, is determined to get him away from these guys. He's been attracted to him since the first time Griff walked into the bar.
And Griff… well…
"Well, was the bartender cute?"
"So fucking hot. Like … how do I describe him? Let me put it this way: I'd have his babies. Even if I had to shove them out of my dick with no anesthesia. That's how hot he is," I explained, wiping the back of my hand over my forehead dramatically. "He looks like that guy from Divergent who plays Four."
Dante smirked at me. "Yes, Griff, but is he attractive?"
"Shut up." I moaned, falling back against the sofa cushions. "It doesn't matter because he thought I was a whore."
The next time Griff shows up, Sam's determined to get him alone again. When he does, they kiss and are close to taking things further when Sam says something about Griff and his 'random hookups' that pushes Griff away. But then again, what else is he supposed to think? He's been watching Griff in action with other men for a week.
A conversation with Sam's friend…
"It's nothing. Just saw a cute guy, that's all."
"A cute guy? At a dance club? That can't be right," Robbie feigned shock.
"Shut up," I laughed. "You know I don't usually notice or give a shit. This was different. This guy was adorable. Like, I wanted to steal him and snuggle the hell out of him."
Robbie choked on his crepe. "I'm sorry, you mispronounced 'fuck his brains' out."
It takes a little matchmaking from Griff's mother and a bad experience for Griff with one of the patrons before the two men actually start something. Even then, Griff refuses to call what they have a relationship. I'll come back to that.
Sam is a trained chef who lost his job at a fancy restaurant a few months back because of a bad review. He's working as a bartender until he can figure out what he wants to do. His plan had been to open his own restaurant but that plan came crashing down when he was fired.
Griff is, as I said, a freelance writer and the occasional ghostwriter. The last time he did ghostwriting it was doing one of his journalist friends a favor by reviewing a certain restaurant.
Yeah, you can see where this is going.
Griff, one of many adopted by the Marian family years before, has a hard time getting close to anyone because everybody (except the Marians) he's gotten close to in his life has abandoned him. It started when his baby brother was put up for adoption by the parents who would ultimately kick Griff out of their home for being gay. Had it not been for a cop who took him to a shelter when he was a teen – so he could ultimately be adopted by the Marians – he might have been lost in the system or worse. Little by little the story of his biological family comes out. I admit to getting teary when Griff told the story of Ben, his baby brother.
Sam has his own family issues but they don't stop him from falling hard for Griff. It doesn't take long before they're spending almost all their free time together. Sam becomes a regular at the Marian family events and is welcomed into the fold as part of the family. Griff is spending a lot of time at Sam's, even getting to know his roommates pretty well. They're on track to have a true relationship that could possibly lead to more.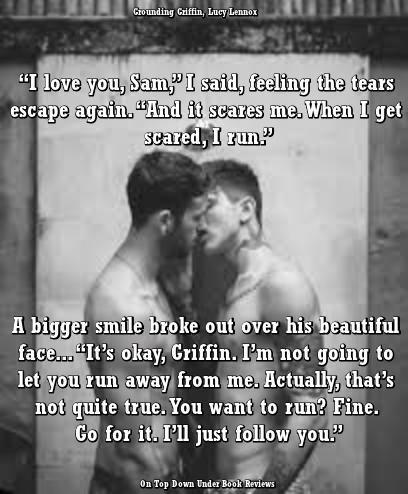 Only Griff doesn't do relationships. Or should I say that Griff is in denial about his and Sam's relationship. The word boyfriend freaks him out and he makes it clear when it's said that, "Oh, he's not my boyfriend," or, "We're not serious." Uh, yeah, they kind of were. All that comes to a head when they're at another Marian family dinner and Griff goes off on his sister about leading a guy on. Every single word he says is hypocritical considering that he's accusing her of the exact same thing he's doing with Sam, only he doesn't see it. Everybody else does, including Sam, who smartly walks out the door before breaking down in front of all those people.
They work things out shortly after.
Sam is head over heels in love with Griff. He knows Griff feels the same but every time it looks like they're finally getting it together, Griff bolts. Sam reaches his breaking point when Griff runs when he needs him the most.
I felt bad for Sam when that happened. I should have felt bad for Griff, who thought he was doing it for the right reasons, when he got super emotional. One thing I hate more than anything is seeing a man cry. While I did feel bad for Griff, he deserved what Sam said. Sam needed him and he wasn't there. This is made worse by Griff taking off to a planned family thing without Sam.
When things work out, they work out nicely. Griff is determined to prove to the man he now knows he loves that he's not going anywhere again. The real test is if Griff will be there when Sam's forced to fly to see his mother and father for Christmas who he and his sister haven't had a relationship with in years. What he doesn't expect is for Griff to prove his love and his commitment the way he actually does it.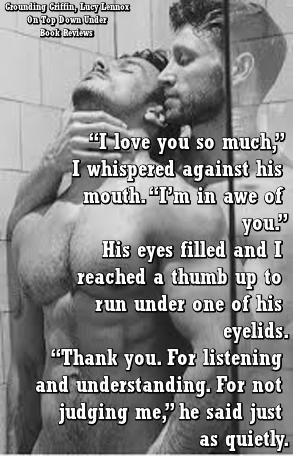 That was so sweet. And unexpected.
The truth about the restaurant review that cost Sam his job months before comes out in between all the stuff mentioned above. It goes about as well as can be expected. Thankfully, the author didn't drag all that out for too long.
The Marian family is back in all their glory, including pervy and inappropriate Aunt Tilly and Granny and Irene. A little info was in the book about upcoming characters and their books, including a love interest for one of the other Marian brothers.
Grounding Griffin was a really good book. I admit to getting frustrated when Griff did his disappearing acts. Sam had done nothing but be there and love him, but Griffin didn't know how to handle it. He thought that being the one leaving first would save him the heartache when Sam ultimately left him later. The way Griff finally proved his love and that he'll be hanging around was just beautiful. There's also an epilogue that takes place a little bit down the road.
Overall, a great read. It could probably be read as a standalone but to get the most out of Griff and Sam's story (especially the pervy old ladies),  I suggest reading the others first, preferably in order.