Jumping Jude (Made Marian #3), Lucy Lennox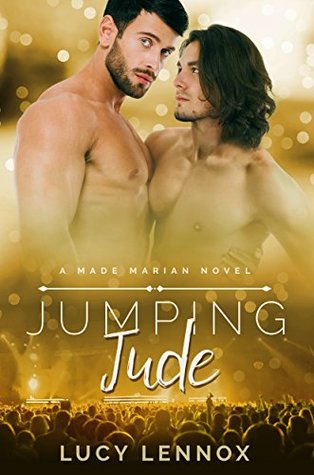 Rating: 4.5 Stars
Publisher: Lucy Lennox
Genre: Gay Romance
Tags: Contemporary, Musician, Romance, Series
Reviewer: Cindi
Purchase At: Amazon.com
*** This review has some spoilers for Jumping Jude and the two books before it in the series. ***
Blurb –
Jude: Reaching the top of the country music charts brings out the crazy, and there's no one crazier than my ex. Unfortunately, his threats to out me are escalating. Enter the bodyguard of my dreams.
I'd probably chafe under his constant presence if his attention to my body wasn't so… ah… thorough. Now I have to worry about outing myself to millions of fans if I can't keep my hands off him in public.
Derek: Now I'm an ex-Marine turned babysitter. If I have to hear Jude sing his mega-hit Bluebells one more time, I might murder him myself, and after 6 years in special ops, I know my way around a weapon. Unfortunately, so does he. Except his arsenal includes washboard abs and a killer set of pipes.
I've faced guns, knives, explosives and yet it's Jude Marian who may end up bringing me to my knees.
Fair warning: Jude and Derek's story contains frequent detailed scenes of man parts touching, little old ladies being inappropriate, and two lonely hearts coming together in perfect harmony.
While it can also be read on its own, Jumping Jude is the third in the Made Marian series. Each book tells the story of one of the Marian brothers' search for true love. The first in the series, Borrowing Blue, is available now on Amazon.
Review –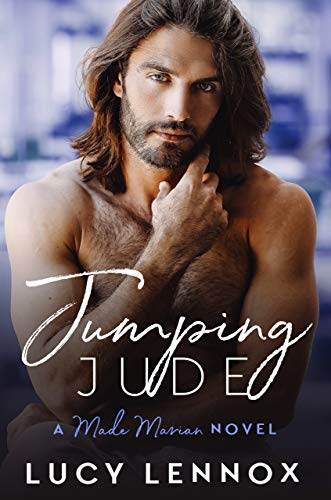 Before I go into my thoughts on Jumping Jude, I want to mention the covers for this series. The ones I'm using for my reviews are from Goodreads, not from Amazon. In the books I've read so far, I've loved the GR covers best – until this one. While the cover above is very nice, the one on Amazon is perfect for Jude. I'm trying to be consistent but I couldn't not add the other one to this review (on the right). I love a man with long hair. I love a man with long hair even more if he has a bit of facial scruff. Absolutely gorgeous.
I've been enjoying this series, but Jude's was the one I was most looking forward to. I'm not usually a fan of books about entertainers, but I'd already met Jude and knew he was nothing like the ones I normally read about.
Jude, one of the Marian brothers, is a popular country music singer. He's also closeted. Very few people know he's gay. His brother Blue and an old ex (Ari) know, but anybody else who might wasn't mentioned. He's very careful about keeping it quiet because of his career. The last guy he hooked up with was six years ago and that was Ari, who broke his heart before he became famous. It was actually a song written after the breakup that catapulted Jude to stardom, Bluebells. Ari is an ass from the get-go. He gets worse as the story plays out.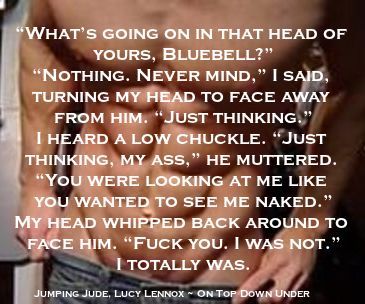 Derek Wolfe becomes Jude's bodyguard after the last one was too busy talking to girls on his phone to protect Jude from an attack outside of a club. Derek is a former Marine who does his job well. I liked Derek right off. He hates country music with a passion and after six months of being forced to listen to it while Jude's on tour has him ready to strangle somebody. I'd already met Derek in Borrowing Blue when he and Jude came to Tristan's vineyard for the wedding that ended up not happening. It was easy to see he cared even then and his protectiveness over Jude (and not just because it was his job) was pretty obvious.
Derek, like Jude, is gay and deep, deep in the closet. His parents are southern conservatives who are extremely homophobic. I hated his family before they were ever on page. I really hated them when they were.
Derek may not like the music Jude sings but he damn sure knows beauty when he sees it. He has a hard time being professional when he's forced to see Jude day in and day out. Even so, he does his job well and nobody has a clue that he's secretly lusting after the man he's guarding. What he doesn't know is that Jude would like nothing more than to ride his bodyguard like a pony. 😉
During an event where Jude is forced to come face to face with his ex (Ari), things change. The author did a great job of showing the reader what kind of person Ari was. He had an annoying habit of calling Jude Bubba as a so-called endearment because he's a California boy singing country music. It wasn't a sweet endearment. It was him making fun of people who may like country music. You know, kinda like those silly southern folks like a specific reviewer who lives in Alabama. 🙂 I don't know one southern family who doesn't have a Bubba in it. Really. But for Ari to call Jude that just to be a jerk made me dislike him even more, when I didn't think that was possible.
"To him, only rednecks liked country music. So he called me Bubba."
After the event, Ari is adamant about speaking with Jude alone. No way in hell is that happening if Derek has anything to say about it. He doesn't know their story but he knows there is one. He allows them to walk just out of hearing distance but he never takes his eyes off them. It's his job to protect Jude and he's going to. What he doesn't expect is to see Ari moving in to hug Jude and grabbing his ass in a familiar way. Jude jerks away but he knows Derek saw what Ari did.
Realization dawned. It wasn't the shove of a straight guy fending off advances from a gay guy. It was the resistance of something familiar, comfortable. Like an old lover.
Was it possible that Jude Marian was gay?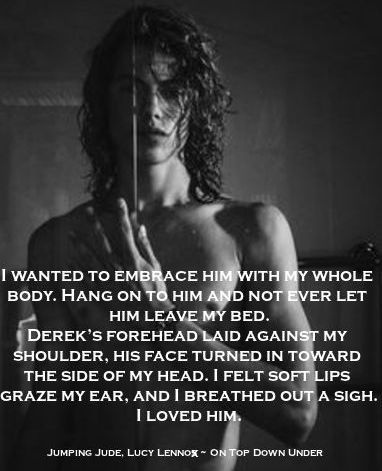 A conversation at their hotel later and Jude's spilling his guts, which has Derek doing the same. A lot of pent up lust for both finally comes out and they end up in bed together. This starts something between them. What they hope will stay a 'let's scratch each other's itch while we work together' quickly turns into more before either man realizes it. With them always being together because of Derek's position as Jude's bodyguard, it's pretty easy for them to hook up because there are a ton of opportunities. It kind of gets difficult always being professional when they're in public together but they somehow manage to do it.
In the background Ari is pushing to see Jude again and he finds several ways to do it, even overbidding at a charity auction to have a two hour guitar lesson with him. Thankfully, Ari's wife is the one getting the actual lesson and the media and Derek are all close by. One thing that's not allowed is Ari getting Jude alone. He's crude about wanting to have sex with him again and pushes, but Jude refuses to go down that road again. Ari actually has a reason (outside of wanting to get Jude naked) to want to meet with him. I won't go into all that here.
There's also a stalkerish male fan who does a few things, one of which almost brings everything Jude's worked for crumbling down if he doesn't handle it the right way. It's in that moment that he knows he has to come out before somebody outs him. He and Derek have already declared their love for each other. Their private relationship was fine until it got to the point where it's either Jude out himself on his own terms or be outed by somebody else. Unfortunately, as much as Derek loves Jude – and oh, how he truly does love him – he's not ready for the media scrutiny from being Jude Marian's boyfriend or the fallout from his family.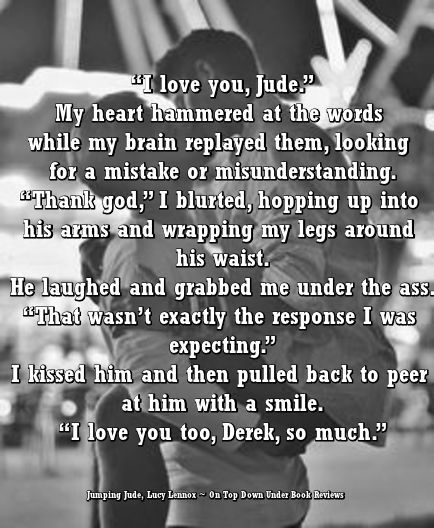 My heart broke so bad at one point. It's New Year's Eve in Maui. It's the night of Tristan and Blue's wedding and this is right after Teddy and Jamie get together, though the last part isn't mentioned in this particular book… I just know it because I read their story. Being together and unable to be public has pushed Jude to his brink. Everyone else is kissing and embracing at the stroke of midnight and he's forced to stand away from the man he loves more than anything in the world.
He's ready to come out but Derek still isn't. They still love each other but they know they can't be together.
Oh, that killed me. I normally don't like books where one or both of the men are closeted but these two were different. You could understand why and it hurt because you wanted them to be together so bad. They wanted to be together so bad.
Things start to shift after Jude comes out to his family and then to the world without Derek by his side. This is right before he and his band perform during the Super Bowl halftime show.
When they do come together again… just wow. So sweet.
I loved both Jude and Derek. It was nice to see the Marian family again, though I wish they could've had more page time. Even the pervy old ladies (Aunt Tilly especially) were back in all their naughty glory. It was just enough to not be annoying, but I can see where too much of Aunt Tilly would drive anybody crazy.
There's a bit of violence, lots of secrecy, and some hot as hell sex scenes. Jude and Derek were absolutely perfect for each other.
Great book and a great addition to the series.