The Sweetest Thing (The Blackburn Brothers Duet #1), E.M. Denning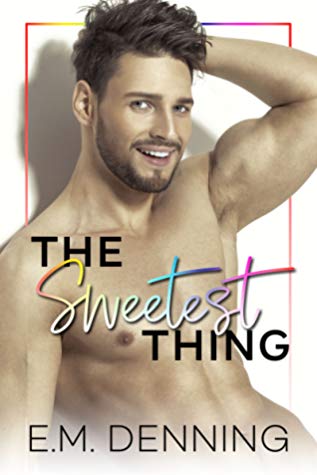 Rating: 4.5 Stars
Publisher: Paper Gold Publishing
Genre: Gay Romance
Tags: Contemporary, Family Drama (Mild), Romance, Series
Reviewer: Cindi
Purchase At: Amazon.com
Blurb –
Scotty St. James has led a complicated life. He was once on the fast track to a career in professional sports but turned his back on a promising future to barge out of the closet in the most dramatic way possible. Now, he's a hairdresser with a love of feminine fabrics, and a crush on his brother's best friend, Nathan.
Nathan Blackburn is fleeing his over-protective mother. He's glad to be back in the town he grew up in, even if he's there to fix up his aging grandfather's house. While visiting, he uses a hook up app and falls into bed with an alluring stranger. Only, the man he shares an incredible night with isn't a stranger… it's Scotty.
Despite the short-lived deception, Scotty and Nathan can't stay away from each other. Fighting through family friction, personal responsibilities, and a limit on Nathan's stay, their relationship turns into the sweetest thing either of them has ever known. With the clock running out and commitments rearing their head, Nathan will have to decide between fulfilling obligations, or following his heart.
Review –
This wasn't at all what I was expecting. I mean that in a good way. I started this book expecting a lot of family drama, denials, and aggravation on my part. What I got was the complete opposite. While there was a tad of family drama, the other things simply weren't there.
The book starts out with Nathan showing up at the apartment of a man he found on Grindr who calls himself Aaron. He doubts it's his real name but he doesn't care. All he cares about is the sex. Not to mention that it would be kind of hypocritical anyway considering he goes by Neil on hookup apps. When the man opens the door Nathan is blown away. 'Aaron' is easily the most beautiful person – male or female – he's ever seen. Wearing feminine clothing and a bit of makeup, Nathan can't remember the last time he got so turned on so fast. When they make it to the bedroom, the sex is better than any he's ever experienced in his life. He'd love nothing more than to stay and go a few more rounds but he knows he can't. He's only back in his hometown for a few weeks and knows he can't start something he won't be able to finish.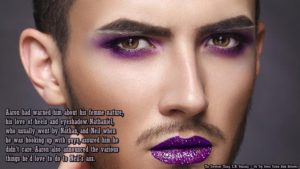 When 'Neil' leaves after the amazing sex, 'Aaron', aka Scotty, doesn't know if he's the luckiest bastard on the planet or if he's just made the biggest mistake of his life. Neil – Nathan – may not have recognized Scotty but he damn sure recognized him. Nathan is his brother Tod's longtime best friend who moved out of town years ago but kept in touch with Tod. Scotty has had a huge crush on him for as long as he can remember. Nathan hasn't seen Tod's little brother Scotty in probably a decade, and why would he? He was Tod's friend not Scotty's. Also, the last time Nathan saw Scotty, Scotty was still pretending to be straight, excelling in every sport he could, and doing his best to keep the real him hidden from the world.
Until one day he can't take the hiding anymore.
Of course, there's no way Nathan could know this. Tod doesn't exactly talk about Scotty to Nathan.
But then the truth comes out. It's a few hours after Nathan leaves Scotty's place. Scotty and Tod's family have a standing family brunch where the whole family gets together. Scotty had no intention of attending this one but he knows he will now, especially after 'Neil' told him that he had to do a family brunch thing later.
Of course, when Nathan arrives and sees Scotty he freaks out a little, especially when Scotty kind of sarcastically calls him Neil in front of Tod. Tod knows that's Nathan's hookup name, so you can imagine how that goes down.
I hated Tod in the beginning. He wasn't just rude about his best friend and little brother hooking up. He was rude to Scotty in general for no reason at all really. Thankfully, that didn't last long into the book. Had it, I would've probably gotten frustrated. Also, Nathan didn't exactly try to hide the fact that he was really into Tod's little brother, even if he was angry about the initial deception.
Scotty and Nathan start something with both of them trying not to fall in love because there is an expiration date on their relationship. Nathan's only in town to help renovate his grandfather's old house so it'll be safer for him. There's also his overbearing mother and little brother Christian to go back to. His whole life has been doing what his mother expects him to do and being there for Christian who has a seizure disorder. He also loves his grandfather dearly and wants to do everything he can to make sure he's comfortable. He's never really thought about his own happiness.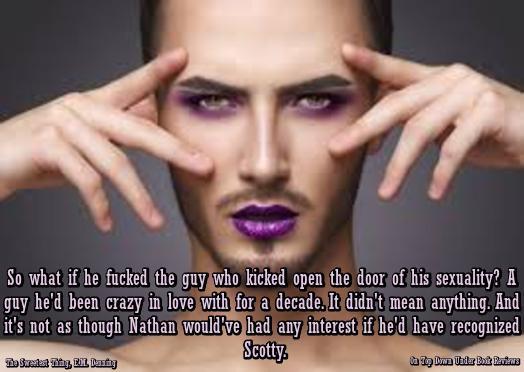 Until one day he has to.
The closer he and Scotty get, the harder he knows it will be to leave. Tod has finally come around and is supporting their relationship, even if he doesn't quite understand it. His main concern is being afraid of their relationship going south and Scotty getting hurt (he has in the past) and losing his friendship with Nathan as a result.
But then there's a bit of an emergency and Nathan's forced to leave in a big hurry, leaving Scotty wondering if he'll be coming back.
One thing I liked about this book is that the so-called temporary thing was in the background but it didn't stop the men from declaring their love for each other. They weren't sure how things would work between them considering they live a four hour-plus drive from each other, but they knew how they felt and weren't shy about saying it and showing it. It's like they knew somehow that they'd always be together.
Strangely, Tod plays a big part in making sure it happens.
I loved Scotty's family, even if I couldn't stand Tod in the beginning. I adored both Scotty and Nathan and Nathan's grandfather. There's only a little said about Christian, Nathan's eighteen-year-old brother, but his story is next. It was led into in this one. Snippets of his and Nathan's overbearing mother are shown so you can imagine how she is when Christian wants to move out on his own. She's always treated him like child who can't take care of himself.
Overall, a really good book. I really like how both men knew what they wanted and found a way to make it happen. Had the 'it's temporary' thing gone on too long, I know I wouldn't have enjoyed it as much as I did.
Very sweet story with very little drama. An entertaining read.