Highland Games (Highland Games #1), Erica Raye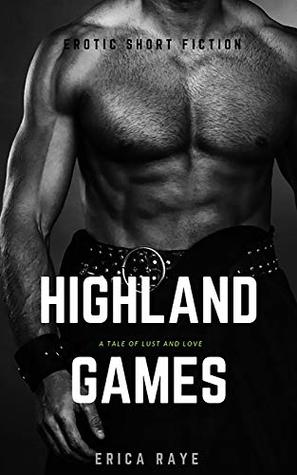 Rating: 4.5 Stars
Publisher: Erica Raye
Genre: Gay BDSM Erotica
Tags: Contemporary, Age Gap, Cliffhanger, First Time, Heavy BDSM, Humiliation, Multiple Partners, Public Sex, One Hot Scotsman
Reviewer: Cindi
Purchase At: Amazon.com
Blurb –
Deep in the highlands there lies a castle full of hedonistic gay pleasure. Men come from around the world to indulge in their fantasies. Hours from city life it feels like a kingdom of its own, where pleasures of the flesh are openly enjoyed by those who wish to submit and those who enjoy inflicting their desires upon others.
Ryan
Recently divorced from his cover-up marriage, Ryan has been floundering through his local gay scene. Left unfulfilled and unsatisfied from quick encounters with other men he finds himself on his way to The Castle. He's not sure if submitting to his desires will fill the void he feels, but it's a dream come true to have the chance.
Gregor
Owner of The Castle and long-time deviant, Gregor has seen all there is to see and had his fill of experiences. Jaded with the decadent lifestyle he leads, and bored with the ever bountiful array of people throwing themselves at his feet.
When Gregor spots Ryan, lust courses through him taking his breath away, he doesn't know where pursuing Ryan will lead, but he wants to find out.
This story is an erotic Romance with a heavy D/s component. It includes very explicit scenes of MM sex. This story includes a first time experience, public play, and multiple partners.
Review –
Well, that was hot.
And way too short, damn it. 😉
I went into this expecting a quickie erotic story and that would be that. What ended up happening was me ending the story wanting a whole lot more. I hope the author gives us that more. If so, I'll be one of the first ones to read it.
The blurb says a lot about the story.
Gregor. Ah, the hot Scotsman. Gregor is forty-two and jaded. Twenty years before, he inherited an old castle deep in the hills of the highlands. He didn't want the castle. He was having fun living it up in London. What would he do with an old castle in the middle of nowhere?
What he did was turn it into the perfect gay BDSM paradise. Men come from all over the world to indulge in what Gregor has to offer. There are sex slaves and more hardcore toys than one could imagine. The sex slaves stay in cages and are available at Gregor's whim and that of his guests. Each 'slave' is there willingly and must sign a contract. Gregor, however, has the final say in who stays, who goes, and what happens under the roof and on the grounds of The Castle.
Ryan is twenty-three. After a few years of being married to a woman for the wrong reasons, he gets a divorce and starts living as a gay man for the first time. He's done a little playing around, and has even had sex a few times, but he's never let anybody take him. Maybe it was fear. Maybe it was the loss of control. Who knows? All he knows is that he's desperate for what The Castle has to offer. After sending photos and a lot of personal information he's invited on a temporary basis. Not everybody makes the cut. Some run away when they discover what being a slave at The Castle entails. And with good reason. Not many are willing to endure what the men endure under Gregor's watchful eye.
Gregor is bored. The sex isn't as great as it used to be. The excitement simply isn't there anymore.
Then he sees Ryan.
Ryan has Gregor wanting things he's not wanted in a very long time. It's not just sex. If that's all he wanted he could have his pick of the many men in cages in The Castle. No, this is something else.
And I have to say this… holy cow when he does take Ryan. So hot!
That's all I can say about the story without giving it all away.
I enjoy a good BDSM story if it's written well, but I don't like humiliation, especially if done publicly. In Gregor and Ryan's case it worked. Not only did it work, but it was really hot. Ryan got off on it so it wasn't a matter of him being forced to do anything against his will. And Gregor, who may be the lord of the manor (so to speak), appeared to have a bit of a soft side though that wasn't really explored much.
There are more than a few editing issues in this short story. Normally I'd knock a star (or at least a half star) off my rating for that but I'm not in this case. While they were quite glaring at times, I didn't allow them to take away from my enjoyment of what I was reading.
The story ends as soon as it starts really getting good – re: major cliffhanger. I'm assuming, if a note by the author at the end of the book is to go by, there will be more to Gregor and Ryan's story if the interest is there. Well, dear author, this particular reader definitely wants more. You can't leave us hanging like that. 😉
Overall, a hot and sexy story. It won't be for everybody. Know what you're getting into before reading it. The blurb tells you enough to let you know if it's something that might or might not work for you.
I've tagged this as 'Gay BDSM Erotica' but no doubt it will be a romance soon enough. I can't wait to read more about Gregor and Ryan.