The Captain and the Squire (Captivating Captains #5), C Curzon & E Harkstead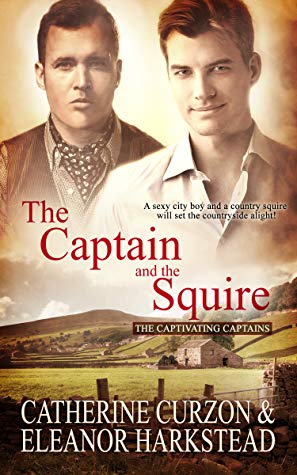 Rating: 5 Stars 
Publisher: Pride Publishing 
Genre:  Gay Romance 
Tags: Humour, Kink, Sexy, Mystery, Contemporary Setting, Standalone Series 
Length: 207 Pages 
Reviewer: Kazza
Purchase At:  amazon, Pride Publishing 
Blurb:
A sexy city boy and a country squire will set the countryside alight!
Tarquin Bough is a tweedy squire with an ambitious fiancée who controls his every move. He's also the owner of the finest collection of saucy artefacts in the world. From Christine Keeler's eyelash to the Virgin Queen's dildo, they're all safe in Tarquin's care.
Christopher Hardacre is a city-slicker with the tightest jodhpurs and the most smackable bottom in London. He's given up the ratrace for a country life as captain of the village rowing team. The only trouble is, he's lost his money to a ruthless scam and Bough Bottoms is his last hope of a home.
But Chris hasn't reckoned on his late uncle's will. The house comes with a sitting porcine tenant and if Chris can't look after his newly-acquired pet pig, he'll lose his inheritance and his last chance at happiness.
When Tarquin sees Chris it's lust at first sight, but dare he be honest about his feelings in a village where being gay is bound to be a hot topic? As soon as Chris and Tarquin get together, it's the hottest summer this little corner of England has ever known.
With a scheming local hotshot out to turn the beloved pig into sausages, can the captain and the squire save everybody's bacon?
.
Review:
I read this a few months ago but never got around to putting up a review. It deserves one because I had a ball reading The Captain and the Squire.
.
This tale was a charming romp through the English countryside with a squire and his new neighbour, someone from the enemy camp, who ends up being so much more. There's the virginal squire with his collection of "naughty" – they love that word – erotic paraphernalia, his outlandishly OTT villainous girlfriend, Petunia, who likes Tarquin's gentry status but him not so much. Then there's the new neighbour, Christopher Hardacre, who more than flips Tarker's switch. Oh, and Ori, a Gloucester Old Spot pig, who determines Christopher's inheritance in the town of Bough Bottoms (the town name says it all) and loves a good show tune, thank goodness Chris knows how to turn one out.
.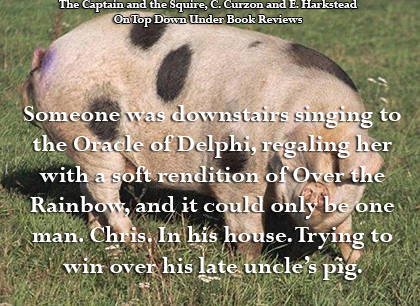 If you appreciate a man in jodhpurs then this is your book because Tarquin is an admirer too. Can't say I blame him. Fellow appreciator photos follow 🙂
.
To quote an oldie but a goodie about this book  – it's delightful, it's delicious, it's de-lovely.
.
Half-naked was bloody hot enough, but somehow, jodhpurs had turned up the heat even more. In jodhpurs, Christopher Hardacre was blazing.

"Every time I pass your orchard, I steal something," Chris teased him. "Are you going to let me get away with it?"
"No, I'm going to spank you." Tarquin was fairly sure he had the hang of it now. He released Chris' erection, then kissed his neck. "Hold that metal ring. Your squire wants to see this arse of yours properly. And get your shirt off."