Daddy's Fiery Pets: A Dragon Pet Play Tail. Featuring a May-December grumpy sunshine MM romance., Amarra Skye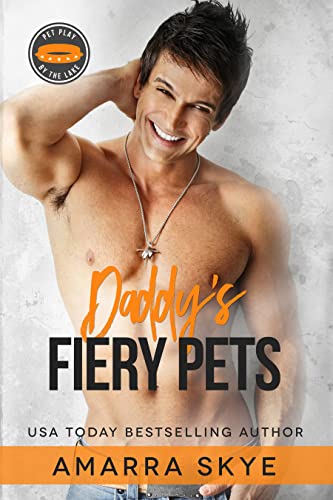 Rating: 3.5 Stars
Publisher: Amarra Skye
Genre: Gay Erotic Romance
Tags: Contemporary, Age Gap, HFN, MMM (Established Couple + 1), Pet Play (Dragons), Romance, Series
Length: 165 Pages
Reviewer: Cindi
Purchase At: Amazon
Blurb –
Two dragons for Daddy: Scorching Hot or Scorched Earth?
Riley
I'm desperate to move past my crappy ex. You know what they say, the best way to get over someone, is to get under someone else. When I lay eyes on Tristan with his exuberant antics and smokin' hot body, I know just who I want to get under.
Tristan
Life with my billionaire daddy fulfills my every dream. I have no desire to invite a third person into our perfect life until Riley sets my heart ablaze.
Evan
One younger dragon was more than enough for me, but when Tristan makes friends with this sexy new man, I decide two dragons for Daddy is NOT too hot to handle.
From USA Today Bestselling Author Amarra Skye comes this May-December romance featuring a grumpy, sunshine threesome, with lots of steamy fun.
Dragons for Daddy is part of the Pet Play by the Lake multi-author, shared world series. You can expect plenty of snuggling, romping and playtime from a variety of adorable pets and their commanding Daddies and Masters.
Review –
Before I go into my review, I'm going to go ahead and get one of my reading pet peeves out of the way because it's the first thing you see.
The title. Not on the actual book, on Amazon and Goodreads. I copied and pasted it exactly as it's listed on Goodreads for this review. Doing so absolutely drove me crazy. One of my biggest reading pet peeves is when authors throw out a bunch of keywords or book descriptions in the title on Amazon and Goodreads instead of just letting the actual title and blurb speak for themselves. I've probably missed out on a lot of really good books because of it. It looks extremely unprofessional, and I have no problem skipping over them when looking for something to read. I only read this one because I was curious about dragon pet play, something I'd never read before. This is also a new author to me.
With that being said…
MMM books are hit or miss for me. I'd also already read one of the other books in the series and had to DNF it. I ended up liking this one, though I found a few things about it a little odd. It's dragon play, so I guess it was supposed to be a little odd. 😉
Since I had read (81% of) one of the other books, I was familiar with the event where everything happens in this book. It's a kink event for 'pets' and their Daddies/Masters/handlers, or to find one. This event covers all pets, not just pups and other more common varieties.
Tristan and Riley have dragon names that I mention below. For the sake of not being confusing, I'll be using them sparingly in this review.
Tristan's 'dragon' is named Kath. His Daddy is a billionaire (because of course he is) named Evan. There aren't many (any?) dragons at these events for Tristan to play with because they're not that common.
Riley/Rowen is a 'dragon' who just got away from a controlling ex. When his friend Luke encourages him to go to Tahoe for the kink weekend, he's nervous, but he does go. He and a couple are the only ones on the bus taking them from the airport to the resort. Of course, that couple is Tristan and Evan. He overhears Tristan say something about dragons, he shyly jumps in and says he's one, and they decide to spend some time together over the weekend. This, of course, leads to them becoming a triad by the time it's over.
When Tristan goes into Kath mode, he's all over the place. Seriously. I have ADHD and have nothing on this guy. There's one scene in the book when they (the different types of pets) all play together. This is when I learned that Kath the dragon is a snooty little snob when it came to pups. It sounds bad, but it was really funny. Riley as Rowen was a little more subdued, though he got in on the action as well.
Tristan and Evan know pretty much right off that they want Riley to be part of their little family. They often play with others when they're together, but Riley's different. They've been wanting to add someone to their relationship for a while, and Riley basically falls into their laps before they ever even make it to the resort where the event is being held.
Tristan takes to Riley like he's been part of their lives forever. Evan, being the protective and doting Daddy that he is, only wants to make his little dragon happy. It also helps that he wants Riley as much as Tristan does.
The story consists of what the three guys do together during the kink weekend. There's public sex, an expensive amusement park ride, and even hiking to see the sunrise over Lake Tahoe. The public sex was pretty hot. The other two were just sweet things Evan did for his boys.
All Evan cares about is making Tristan happy, even if Tristan is a bit of a bratty and petulant child more often than not. Again, it sounds bad, but it really wasn't. The author wrote Tristan where you kind of have to love the guy.
I liked Riley, though I would've liked to have seen more about his ex (that's barely mentioned) and how he got away from him. I liked Evan a lot, though I tend to avoid books with billionaires more often than not. He's got a heck of a lot of patience, something he has to have when Tristan goes into Kath mode. Strangely, I adored the bratty Tristan/Kath because he had me smiling a lot.
The story is relatively short, so there aren't a whole lot of details about their lives away from Tahoe, or even what the plans are when they leave. While the reader knows they'll all get their HEA as a throuple, it ends with a HFN.
I enjoyed the book, but I had some issues with it.
The word HOARD is used 56 times. I get where Tristan/Kath was going with it, but it was overkill on how many times the word was used sometimes on the same page.
Same with TAIL HOLE. I found myself rolling my eyes.
Cody from Prancing With Daddy was a Dom/Daddy/handler. He was NOT a cute little pony, as described at least twice in Daddy's Fiery Pets. I didn't finish that book for reasons mentioned in my Goodreads review, but I more than read enough to know that Cody wasn't a pony. Shane was Cody's pony, Starshine. I know the books were written by different authors, so I could've easily let one slip-up go, but not two.

82% – Thankfully, Cody, the pony who's running the booth, is staying back and letting us have our moment.

83% – By the time Evan is done talking to Cody, the cute pony running the booth, and paying for everything…

The book could've used a couple of more read-throughs for typos. Quotes weren't broken up, there were a few extra words thrown into sentences that had me rereading them… that type of thing. While I wouldn't say errors are on every single page, they were on enough of them to be distracting.
Overall, I liked the book. The three guys together were cute, though I wouldn't say it's a grumpy/sunshine book as mentioned in the freaking title.
That seriously drives me nuts, sorry.
Anyway.
I went back and forth on my rating. I definitely wouldn't say it's a 5 star read because of the issues I mention above. It's also not a 3 star read. I'm giving it 3.5 stars because it did keep me entertained for a little while, and it didn't have me wanting to throw my Kindle as bad as the other one did.
I'm sure I'll read more in this series.