The Dragon's Rebel, Jacqueline Rohrbach – Podcast Review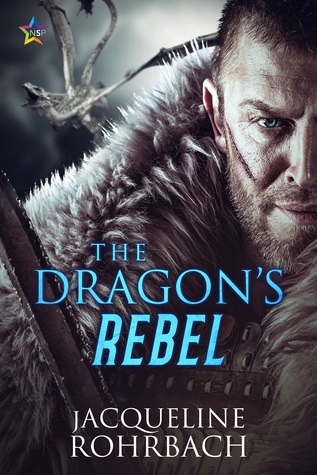 Rating: 4 Stars
Publisher: NineStar Press
Tags: Fantasy/High Fantasy, Holy Mission, Sadism, Concubine & Warrior, Humour, Gay Romance 
Length: 250 Pages 
Reviewer: Kazza
Purchase At:  amazon, NineStar Press
Blurb:
Cheron, former rebel leader and newly crowned king, comes to Wren Gardens on a holy mission to free his goddess from exile and bring peace to his kingdom, but he's distracted by an unholy and very beautiful concubine, Ekos.
Ekos may be more than a simple love slave, though. The King of Wren Gardens seems afraid of the strange and often blasphemous concubine and swears the man is cursed. Cheron agrees, especially when Ekos mocks and taunts Cheron's sense of honor. But the urge to distance himself from Ekos can't compete with the desire to remain close. Nor is it as strong as the urges in his body—urges he hasn't felt in years.
As Cheron tries to refocus on his mission, Ekos throws him off again—this time by offering to help him in his holy quest. Cheron knows he shouldn't trust a man who's in the employ of a rival king, particularly not one who seems to know all Cheron's deepest secrets. But he can't ignore the signs from the goddess telling him to entwine his fate with this tricky, captivating man.
He prays the signs aren't simply wishful thinking, manifestations of his very unholy desires. Time is running out, and Cheron is falling deeper for Ekos—and deeper into danger of another betrayal. One that could cost him his life.
Review: 
I believe that the blurb of this book gives you a lot of information about what to expect. Because my microphone is somewhat basic, some sounds are not terribly clear. As a reference, and just to help, I've listed below the primary names I use throughout –
Cheron
Ekos
Sinnac
Isa
Lion
Kalin
Atyx