Perfectly Imperfect Pixie, M J May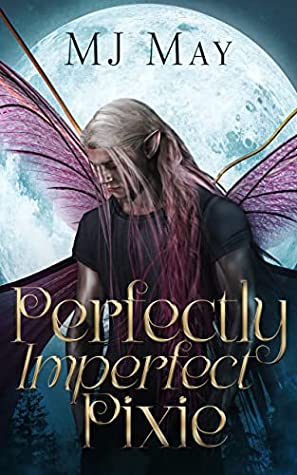 Rating: 5 Stars
Publisher: Self Published
Genre:  Genre Fiction/Gay Romance
Tags: Paranormal, Alt-Universe, Hurt/Comfort, Family/Pack
Length: 367 Pages
Reviewer: Kazza
Purchase At: amazon
Blurb:
Size matters. Pixies are supposed to be petite, beautifully lithe creatures with gossamer wings. Sporting luscious, ombre pink hair and fluttering pink wings, Phil meets two out of three of those criteria. At over six feet tall, no one would dare call Phil petite. As a home-and-hearth pixie, Phil yearns to find a home and family he can bond to. When no one's willing to hire a pixie of his stature, Phil is forced to find work elsewhere. Turns out, pixies make terrible bouncers.
The sudden death of Sedrick's brother and sister-in-law left Sedrick Voss a pack of one—plus two young, traumatized were children. Sedrick needs help. He needs a home-and-hearth pixie. But pixies are small, delicate creatures nowhere near sturdy enough to stand up to a couple of growing werewolves. Phil seems like the perfect answer—a pixie that might be able to physically withstand small werewolf teeth and claws.
Phil is overjoyed, finally able to do a job that speaks to his heart and soul. But peace is a hard-won commodity. Sedrick is in the middle of a nasty custody battle with his niece and nephew's maternal grandfather—one of the most arrogantly deceitful werewolf alphas to ever lead a pack. If their grandfather gets custody, Sedrick's niece and nephew are in for a lifetime of manipulation.
Between the custody battle, noxiously invasive garden gnomes, and fairy lawyers, Phil and Sedrick struggle to keep their home and family safe. Werewolves and pixies don't mate. Phil and Sedrick are about to challenge that misconception.
Perfectly Imperfect Pixie is a m/m standalone title with a HEA, a rough but kind werewolf, fairy lawyers, vampire bar owners, dwarf miners, questionably intelligent humans, pesky garden gnomes, and charming pixies.
Review:
I was hooked on this book from the beginning. I slowed myself down by taking breaks because I literally didn't want it to end. These characters are something else. I loved, loved, loved them. The pacing is not fast. It's a day-by-day look at the life of a 6'2″ pixie named Philodendron, Phil for short, and a grieving werewolf mine owner, Sedrick – his brother and sister-in-law recently died after a car accident.
Sedrick now finds himself the guardian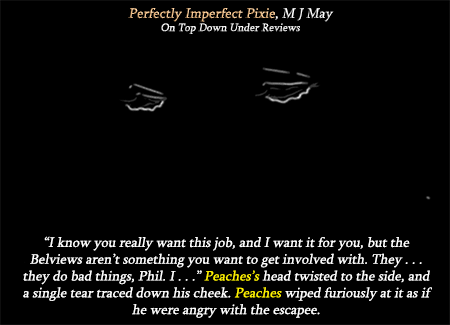 of two young were's, his seven-year-old nephew and five-year-old niece, Dillon and Ruthie. Dillon already presents as an alpha and Ruthie looks like she will be too. However, since the death of her parents – Ruthie was in the car with them – she hasn't spoken a word. Sedrick needs someone to be able to both handle and care for two budding alpha weres who have lost their parents. He needs to go and work his mine to provide. He also has a fight on his hands as his late brother's father-in-law is the alpha of the nasty Belview pack, the very cruel and ruthless Arie Belview. Belview wants his grandchildren at any cost, which is ridiculous because he doesn't care about anyone but himself. Still, for reasons, they are going to be locked in a custody battle. Sedrick is justifiably worried about what Belview will do. He doesn't want his nephew and niece left alone. He needs someone to care for Dillon and Ruthie. Someone to care for his home so it's thoroughly respectable to raise them in. And that someone needs to be big enough for safety's sake while also caring and nurturing. The fact that there are vicious gnomes invading the backyard is already a big problem. A home-and-hearth pixie is just what Sedrick technically needs… but pixies are small and that won't work with weres.
Phil needs a job. He doesn't fit the mould of what people are looking for – big enough but too kind and gentle to be a
bouncer at the local vampire's club, too big to be the accepted as norm home-and-hearth pixie. He has to be able to pay his rent at the boarding house where he lives next to Peaches, his best friend. Peaches is your regular pixie, in nature and height, and has been lucky enough to bond with an orchard. He loves the work and speaks to the trees, nurturing them, and they are bountiful in return for his pixie care. Peaches is more financially set up because he is the traditional pixie, and that has lead him down a more easy path to the right job. Phil just needs a break so he can both work and bond. Between Sedrick needing a larger pixie and Phil needing a job where he can hopefully belong, irrespective of his atypical pixie size, these two intersect. Could it be the seemingly imperfect yet perfect answer?
For this character obsessive, Phil is the most sweet, kind, loving character I think I've ever encountered in a book.  Sometimes that can be code for saccharine and that's definitely not what I mean. I mean Phil is a genuine and believably kind soul. The world needs more of Perfectly Imperfect Pixie's characters, it really does. Phil of the white crown of hair growing down to various shades of pink, his sneezy (to many but not all) pink pixie dust that he releases when his wings flap as he gets a bit nervous. His easy love for Dillon and Ruthie, his best friend relationship with Peaches, seeing care show up from the people who know what a beautiful soul he is, even if he's been bullied into self-doubt, is something that made me sigh with happiness as I read.   
I absolutely want more of this world. It's a complete and utter travesty that the words 'a m/m standalone title' follows the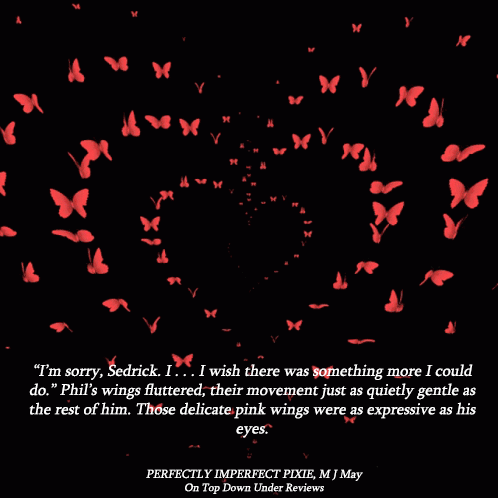 blurb. There are characters in Perfectly Imperfect Pixie that could fill more books. Peaches is one, Lucroy Mooney is another. Absolutely Ray, Sedrick's fae lawyer. I'd be very interested if he got a book. I mean, fairies tend to swing every which way in a lot of paranormal books I've read, bring Ray some love! These fairies are a handful, conservative and smart, their external appearance belies the brimstone underneath it all. This contemporary alt-universe is begging for more exploration. It was fae who made legal changes when the human world was heading toward WWIII. I would happily read more about the origins of this world. More about Phil and Sedrick in other character's books. I want to see more of Dillon and Ruthie as well, and that is a big call because I really do not like children in my romance/y reading. That segues me into talking about the romance. This book is not your standard gay romance, or m/m. It is most definitely a love story though, in spite of there being zero romancelandia's more often than not on-page sex. There is mention right near the end of some personal physical touch. Some earlier realistic thoughts of the other, given their situation.
My time with Sedrick Voss had done nothing to dissuade my libido that he was just about the most handsome thing my grass-green eyes had ever landed on. Sedrick's love for his niece and nephew only added to that warm, jiggly feeling. It was completely inappropriate and just as pointless. Werewolves weren't attracted to pixies.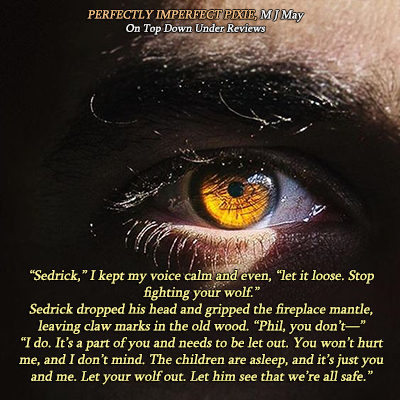 If you'd love to read a gorgeous, quite emotionally authentic romantic love set in a subtle yet well drawn contemporary fantasy world, including multi-paranormal species, this is potentially your book. There are little instances throughout when the MCs lean on one another in such an intimate way, it's perfect physical connection and absolutely works within this story. Support and heartfelt care is a truly sexy thing. Mostly, this is a lovingly crafted tale about a good man – a lost, frustrated werewolf – trying to manage a shift in life's circumstances, an absolutely abysmal in-law. Then there's an atypical home-and-hearth pixie, larger than every other pixie, with a huge heart to match, one who needs to find a place to call home, the people within that home who need that just as much as he does. If you like the sound of a werewolf who realises his fear that he has no particular pack anymore to then desiring and finding more than he ever expected, and a pixie who bonds to home-and-hearth, and all that that means, then here is a lovely, lovely book.
The love story that slowly and gently develops between Phil and Sedrick, because both have a degree of uncertainty on their respective plates, is organic and just grows alongside the build-up to the trial, the aftermath that you feel coming. The developmental stages of everyone living in Sedrick's home is a big arc, the relationship of their little pack. It's a joy. Sedrick is a kind man, a diamond in the rough, Phil so soulful. Sedrick and Phil are such a well written match. The dual POV helps you be aware of what both men are feeling but in amongst everything going on in their lives, they actually realise their feelings after we do.  5 'Pink' Stars!