Leo and His Lion (Oh My! #2), Andi James, Lila Wilde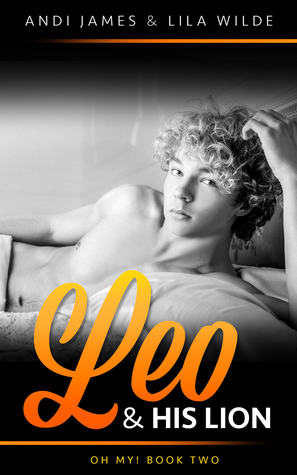 Rating: 4 Stars
Publisher: Self-Published
Genre: Gay Romance
Tags: Contemporary, Age Gap, Kitten Play, Light BDSM, Pansexual MC, Romance, Series, Spanking
Reviewer: Cindi
Purchase At: Amazon.com
Blurb –
Leo Varma doesn't need love. At thirty-seven, he's satisfied with focusing on his career, friends, and casual hookups. Besides, getting into a real relationship would mean finally telling his conservative family that he's gay, and possibly losing them forever. He's convinced himself that living in the shadows is good enough… until he meets Dylan.
Dylan Drake-Matthews might be a catastrophe on two legs, but he loves life. After taking a part-time job at the club Leo frequents, the wide-eyed nineteen-year-old dives into the kink scene with both feet. When his first few attempts end in disaster, Leo takes Dylan under his wing, and everything clicks in a surprising way.
But secret encounters can only carry them so far. Dylan's authenticity and personal honesty make Leo wish things were different in his own life, while Leo's family situation keeps him from being what Dylan needs. Can Leo face his fears? Or will he let the love he never expected to find slip through his fingers?
Leo & His Lion is an 80K word May/December, kitten play MM romance featuring an adorable kitten, the sexy man he calls Daddy, and superhero underwear. It is the second book in the Oh My! series and can be read as a standalone.
Review –
Leo climbed onto the bed and sat back with his back against the headboard. Dylan felt Leo's eyes burning into his skin, and Leo wore a wicked grin. He crooked his finger and gestured to Dylan. "Here kitty, kitty."
The blurb says a lot about this book and my review of Teddy and His Bear (#1) introduces Leo, Dylan, and the other characters in the series. Others have gone into detail about the story in their reviews so most of what I have to say are my thoughts. I'm an emotional reader. I always have been. I've not been this conflicted over how to review a book in a long time. Bear with me.
Dylan, 19, is an absolute sweetheart. He's kind. He's brutally honest and couldn't lie if he wanted to. He's always smiling and loves life. He'll do anything and everything for anybody without hesitation. He may trip or fall, and maybe even break a few things in the process, but he'll give it his best shot. He has an almost childlike innocence that's really refreshing. He doesn't curse. He wears Super Man and Spider Man underwear. He draws comics. He's also the most real character I've ever seen. He doesn't try to be like everybody else. He's simply Dylan. Sure, he's the biggest klutz you'll ever see, but he's still a good guy.
Leo, 37, comes from a very conservative Indian family. It's so conservative that he takes a fake girlfriend (the owner of BDSM club Knots) every month to the family dinners. Having been abandoned by her family when she came out, she understands and goes along because she's a good friend. Leo's convinced he'll lose the entire family if he tells them he's gay. I get that. He refuses to even allow a man to come to his home or ride with him in a car because his parents have a bad habit of popping in unannounced and he's scared somebody may see him. That, I didn't get. He's a successful pediatric dentist. Would they expect him to not actually have friends of the same sex? I didn't buy it.
Dylan understands Leo's need for discretion. He knows going in that Leo's closeted and will likely remain so because of his family. When Dylan has a few, ahem!, issues at his new job at Knots and while trying to be a sub, Leo jumps in and takes him on. The traditional D/s relationship didn't quite work but kitten play did. That was very nice. Dylan has a need to be held and petted. He was perfect for the role – as long as nothing goes beyond Knots. God forbid somebody might see Leo talking to another male.
Throughout the entire book I had sympathy for Leo and his situation. I really did. It went on much too long, but I had sympathy. And even if he couldn't be with Dylan publicly or outside of Knots, he was still always there.
Until the one time he wasn't.
Leo does something that contradicts everything he'd said and done with Dylan up to that point. I've read other reviews and see that it apparently wasn't that big of an issue for some readers. I tried to see the reasoning for it. I tried to justify it in some way. I tried to feel a little bit of sympathy for him. I walked away from my review and slept on it, thinking that maybe I just wasn't looking at it the right way. I then waited days before coming back to it, still unable to get past what he did – or should I say didn't do.
I kept coming back to Leo but I also kept coming back to Dylan. Dylan is the kindest, most gentle person. For Leo to let him down when he did was inexcusable. I really wish I could give specifics but it's a huge spoiler.
What really got me… even after Dylan was let down in a big way he didn't get angry. He didn't cause a scene. He didn't guilt Leo for it. He simply… understood. His feelings were hurt but he understood without question and was still willing to continue with Leo in secret. He was willing to because he'd been told going in how the relationship would be. He felt that it wasn't his right to demand more. But it really was, you know? And that's the saddest part of it all. Sweet Dylan was willing to settle for being the secret lover. He was willing to settle for meeting up in Knots or other secret places. He was willing to settle, even knowing he was in love with Leo, because Dylan was just a good person and wanted to do right by Leo. But Leo should've been trying harder to do right by Dylan. Dylan deserved so much more than being hidden.
"… the only person who really believed in me, who was there for me, was Jason."
Leo frowned. "I have always believed in you, Dylan."
"I know." Dylan mustered a small smile. "It's the 'being there for me' that hasn't really worked out."
I remember thinking that Dylan seemed to be a little immature in Teddy and His Bear. And honestly, he is, but when it counts he has more maturity than Leo (who's 18 years older) could ever hope to have. At least Dylan is real and never claimed to be somebody he wasn't. I may have fully understood Leo in regards to his family, but there comes a time in a person's life when they have to stop living for others. I get it. I understand it. But it wasn't fair to himself or to Dylan. Leo may have made good later – and he really did – but letting Dylan down when it counted most really bothered me. It still bothers me.
I adored Dylan, even when I was scared to turn the page because there was no telling what he'd fall into, break, or say or do that was inappropriate at the club. And I know it doesn't sound like it but I really loved Leo too throughout most of the book.
The kitten play was fun. Dylan slid right into the role as if he was meant to. Some folks may not be into that type of kink but it worked well for him. Aside from what I've gone on about at length, Leo was the perfect Daddy. He never pushed too hard or expected more than Dylan was willing to give, though Dylan was open to pretty much anything as long as Leo was guiding the way.
Overall, I enjoyed this. I can't tell you how eager I was to finally read Leo and Dylan's story. I felt going in that it would likely be an easy 5 star read. And it was. Until what I mentioned above. I just couldn't get beyond that. DYLAN deserves 5 stars. Unfortunately, I had to knock off a star because of Leo.
Tony and Jason's story is up next. I loved both of these guys in Teddy and His Bear and Leo and His Lion so I can't wait to see them find their HEA. They've both already proven their stubbornness so I'll be going in prepared for it. Something tells me I won't mind it so much. 😉