Convincing Cole (Shore Thing #1), Jaclyn Quinn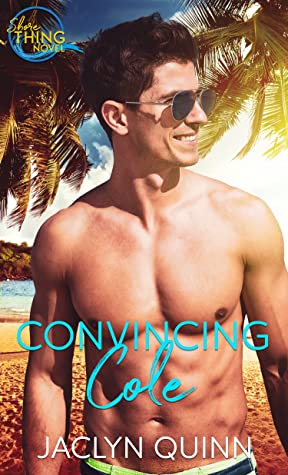 Rating: 4.5 Stars
Publisher: Jaclyn Quinn
Genre: Gay Romance
Tags: Contemporary, Age Gap (5 Years), Fake/Pretend Boyfriend, GFY, Friends-to-Lovers, Romance, Series
Length: 218 Pages
Reviewer: Cindi
Purchase At: Amazon
Blurb –
Cole Sullivan
Life's been pretty amazing. Moving back to my hometown of Coral Pointe Inlet and opening Shore Thing Management with my four best friends is the best decision I've ever made. Falling back into old habits with an ex? Not so much. When Aiden, the sexy, straight owner of SandBar comes to my rescue pretends to be my boyfriend—handing me the flashlight I need to make my way out of the darkness—lines begin to blur. Suddenly, I'm falling again, but is it stupid of me to want Aiden to land by my side?
Aiden Rafferty
I've made a name for myself in this town. Granted, sometimes it's passed around in a morsel of gossip over morning coffee. I've poured my heart and soul into SandBar, and despite some townspeople thinking I turned my back on the family business, it's become a tourist hotspot. I see and hear a lot as a bartender, but I never get involved—until Cole. There's something about him, something that makes me want to protect him. Problem is, he's been hurt before. This fake relationship was my
idea, so how do I go about convincing Cole there's nothing fake about it?
Review –
This book kept popping up everywhere so I decided to check it out. I waited until after I read Landing Levi (#2 in the series) before reviewing this one. I'm glad I did. After seeing Aiden and Cole in that book, I upped my rating by a half star. My original review remains the same.
Now to my review…
Cole Sullivan and his four best friends (Noah, Burke, Ford, and Levi) own Shore Thing Management in Coral Pointe Inlet. As close as brothers, each friend has their own special skills, so the business is successful. I loved the friendship between all five men. They were only ever just friends so there was never any weirdness between them.
Cole has been on-again off-again with loser bastard Drake for years. The friends are very vocal about how they feel about Drake. Hell, everybody in town knows Drake is a using bastard, but Cole keeps going back. He'll get stood up time and again, but for some unknown reason he still jumps every single time Drake contacts him. He uses him for sex, nothing more, and then he complains about how bad Cole supposedly is in bed, with the exception of what he can do with his mouth. Drake was seriously a heartless bastard.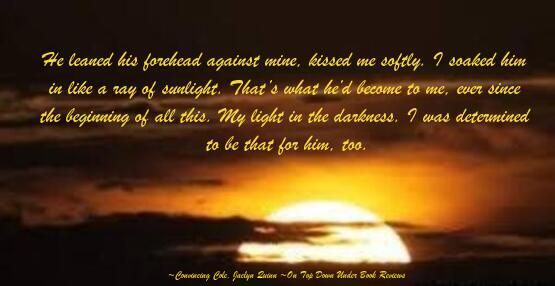 Aiden Rafferty owns SandBar, a popular bar and small brewery in Coral Pointe Inlet. Like Cole, he grew up in the area but took off for a while before coming back home to start his business – a business that's a bone of contention for his father. Aiden has watched Drake flaunt all his little boytoys when Cole wasn't around, and then watched him hurt Cole when he was. After watching Cole get stood up one time too many, Aiden – a friend of Cole's, but not in the same category as the other four guys – gives him some advice. That advice has Cole finally doing the right thing and dumping Drake, making it clear there will be no going back.
Everybody knows Cole, 33, is gay. Everybody knows Aiden, 38, is straight, was even married to a woman for a while. He'd only ever been with females. But watching Cole continue to allow Drake to treat him like dirt does something to Aiden. He wants to protect him. Sure, he considers Cole a friend, but he's also suddenly noticing other things about the man – like his lips, his hands, etc. – and not in a straight guy kind of way. 😉
When Drake causes a scene at SandBar by humiliating Cole in front of a lot of people, Aiden doesn't think before he's putting his arm around Cole and making it appear as if he and Cole are a couple. It shuts Drake up, but it also gets the gossip mill spinning like crazy.
Geez on the town. There are nice small towns, and there are bad small towns where gossip is the biggest pastime. Coral Pointe is the latter. All the people do is gossip, adding to each story with every retelling. So, of course, gay Aiden and straight Cole being a 'couple' will make its rounds pretty quick.
One of the biggest gossips was Cole's mother, who I couldn't stand. I'll come back to her.
They decide to keep the facade going for a little while, with it (as expected) turning into a real relationship.
I'm not usually that big on the fake boyfriend trope, but it worked well enough here. The problem I had with Cole and Aiden – well, one of them – was how long it took. They were seeing each other privately, even sexually after awhile, but their 'relationship' seemed to take forever. You'd think the one being iffy would be Aiden but it wasn't. It was always Cole. Granted, I understood his hesitancy to get too close to Aiden – a straight guy – after having such horrible luck with guys (ahem! Drake) in the past. Even so, Aiden was nothing but, well, perfect. When Aiden realized he had feelings for Cole, though he'd never been interested in a guy before, he didn't fight it. He embraced it and went all in.
I'll say straight up that I loved Aiden. He caught a lot of hell from nosy townspeople over his so-called abandonment of his ailing father. He never abandoned his father and those who knew Aiden knew that. But the thing about small towns is that the truth isn't always as entertaining as the fake stories they spread. And that 'abandoned his poor father' gossip is one of the things about Cole's gossiping mother that had me hating her.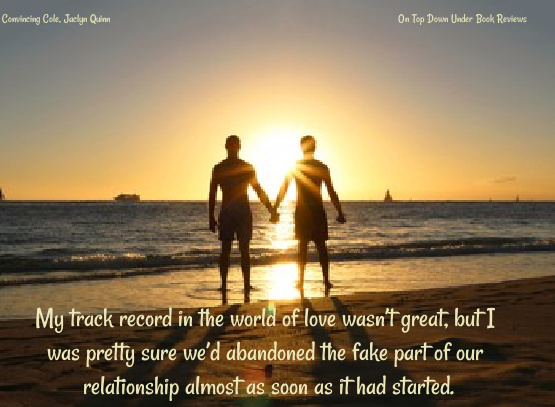 I liked Cole. The reason I only liked Cole instead of loving him is because he was such a doormat with Drake. I totally get where the author was going with it, but it just dragged on for so long. And Cole always got SO emotional around Drake and couldn't stand up for himself. He'd allowed this horrible man to keep knocking him down again and again instead of just saying enough is enough. When he did stand up for himself, it was nice. Really nice. But every single time Drake was on-page (even after Cole and Aiden got together) I cringed because I knew there would be tears and all the self-doubts would come creeping back, and Cole would go right back to where he was before; maybe not physically with Drake, but still there.
Now we get back to Cole's mother. There are no words for how much I hated her and her jumping into Cole's business. Until much later, she treated Aiden horribly. She treated him bad because he was with Cole (she said he was using him), and she treated him bad for 'turning his back on his poor father'. And we can't forget how she tried to sabotage their relationship during a weekend festival and then dared criticize Aiden about things she knew absolutely nothing about.
Cole may not have stood up for himself, but he damn sure stood up for Aiden, which I loved. He wouldn't listen to anybody, including his mother, talk bad about the man he was falling in love with. I was cheering him on when he finally put her in her place. She was described once as a helicopter parent and that's fitting. She did make good later, but the damage had already been done as far as I'm concerned. Aiden's dad did as well, though I didn't hate him as much as I did her throughout the book.
"I'm telling you right now, I won't shut my mouth while you talk badly about Aiden." My breath trembled and my heart raced, but this was worth standing up for. Aiden was worth standing up for. "Because he's the one who's proven to me how love works."
I love all four of the best friends. I like some of the other secondary characters, with Sage being one of them. Sage is Aiden's cousin who's head over heels in love with one of the four, Levi, but Levi's oblivious. Their story is book #2.
Other reviews have called this a bisexual awakening for Aiden, but I don't buy it. He'd never shown any interest in guys before Cole, so I'm going to say this is strictly gay-for-you, something I think is super unrealistic. Even so, I liked Aiden and Cole together, even if it took forever for them to get to the happily-ever-after part of their relationship. Cole's back and forth drove me nuts.
Overall, a nice story. It was super predictable with the typical bad guys and small town folk, but it was still entertaining. Because I did like the four friends, I'm sure I'll be reading all their books as well.