Snowflake Kisses (Snowed In – Valentine's Inc. #6), Jacki James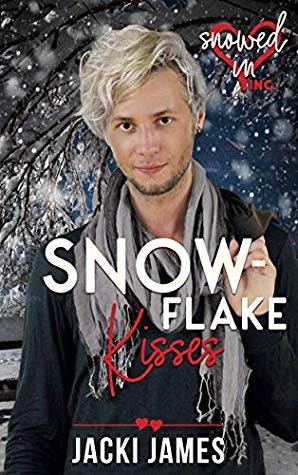 Rating: 4.5 Stars
Publisher: Jacki James
Genre: Gay Romance
Tags: Contemporary, Kid/Family, Kink, Romance, Series
Reviewer: Cindi
Purchase At: Amazon.com
Blurb –
Frankie Taylor is a pastry chef in need of a fresh start, and Cap Roberts is a coffee shop owner in need of a pastry chef. Should be a perfect fit.
But the delicious pastries he bakes aren't the only thing about Frankie that makes Cap's mouth water, and as a newly single father, Cap can't afford to risk not only his heart, but his daughter's as well. Especially since they don't know if Frankie will stay in River Gorge.
With the help of a few meddling friends, one determined little girl, and a few snowflake kisses, the two men will discover a love that is worth the risk.
Review –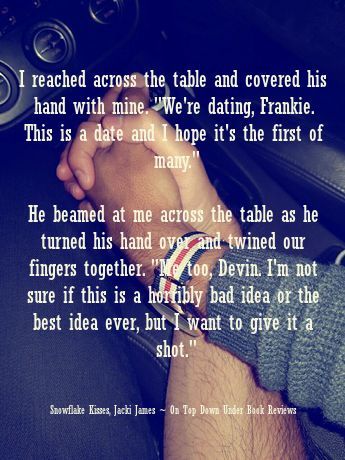 This may be my favorite Snowed In book. I've read Jacki James many times. She's become a new favorite. One thing I do have to say, though… I felt a little lost, like I was missing something when it came to secondary characters like Ripley and Reed. I know now that they have their own book, Finding Ripley, that I really wish I would've known about before I read this one. It wasn't critical that I knew their story, but it would have been nice. I've since read it. My review for that story will be coming soon.
With that being said…
Snowflake Kisses starts with a prologue. Frankie, a pastry chef, is stuck outside of a wedding venue with his new boss, a chef. He's just delivered a wedding cake and now his car won't start. The chef is a jerk, though calling him that is an insult to all jerks out there. The man has only recently started working with Frankie but he's made it clear that he needs to stop doing wedding and birthday cakes unless it's for a more wealthy clientele. Frankie finally has enough so he walks home – thankfully, it's only a few blocks – after telling the chef to shove his job.
Now Frankie's in River Gorge, where his best friend Ripley lives with his partner, Reed. He's not there long before he's helping the local coffee shop owner – that would be Devin, aka Cap – with a cupcake emergency for his niece. After Frankie works his magic, Devin offers him a chance to open his own bakery in the coffee shop. It's a win-win for both men because it'll bring in more customers for Devin and it'll help Frankie establish his business in his new town. Frankie's sold when he sees the amazing kitchen in the back of the coffee shop. Apparently, Devin's ex, a chef, had redecorated it before he was kicked to the curb. It's been sitting there empty waiting on Frankie to show up. 😉
Everything's going beautifully. The arrangement is working, customers are coming in droves, and Frankie and Devin are becoming close friends. Frankie can spend as much time with Ripley as he wants. He finally feels like he's home. There's also Annie, Devin's four-year-old niece, who he's aiming to get custody of. Annie was a little sweetheart and took to Frankie right off.
When it comes time to clean out Frankie's old place – a condo owned by Ripley – Devin offers to fly down to Dallas with him, meeting Ripley and Reed there. They'll pack up and then rent a moving truck to bring back to River Gorge, leaving Ripley and Reed to get the condo ready to be sold.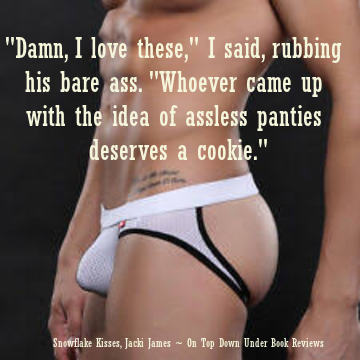 Devin and Frankie are on the road in the moving truck when they get caught in a bit of a snowstorm. Devin's never driven in it before – he's from Texas – so they stop for the night in a motel. This is where the story really gets good. 😉 You can guess what happened.
But then they come back home and their reasons for not going beyond that one night together fly out the window.
This story was just too cute. Frankie and Devin started out as friends but it was obvious they'd be much more than that, especially after Devin saw the inside of Frankie's lingerie drawer in Dallas. Who knew the thought of lacy panties on a man would be such a turn on?
There's a bit of drama when Devin's ex pays the coffee shop a visit but it doesn't last long. This is just a super sweet story. I'm a sucker for kids in books. I adored Annie's unicorn and goat loving self. I loved both Devin and Frankie and all the secondary characters (minus the chef from the prologue and Devin's ex).
An excellent story.