Dix (Elite 8 Studios, #1), Emmy Sanders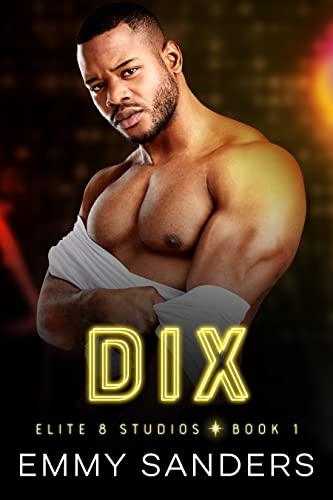 Rating: 4 Stars
Publisher: Emmy Sanders
Genre: Gay Erotic Romance
Tags: Contemporary, Biracial Couple, Bi Character, Enemies-to-Lovers, Grumpy/Sunshine, Porn Industry, Romance, Series
Length: 285 Pages
Reviewer: Cindi
Purchase At: Amazon
Blurb –
Do you believe in hate at first sight?
Dixon
If I had to choose one word to describe my new cocky costar, it'd be exasperating. Nikolas Adamos may look like a Greek god—and he certainly struts around like he knows it—but unlike everyone else, I refuse to fall prey to his charms.
Unfortunately for me, Niko and I get paired to do a series of lovey-dovey boyfriend videos for our employers at Elite 8 Studios. And when you film the sort of scenes we do, up close and personal takes on a whole new meaning.
I may have to play nice while the cameras are rolling, but off set, it's another matter entirely. So what if our chemistry is off the charts? That doesn't mean a thing. Nor does the tender look in Niko's eye when we're together under the lights.
Because I know the truth. Nikolas Adamos revels in riling me up. And even though my pesky friends think I need fireworks after a string of fizzled relationships, I have no doubt if I allow myself to get any closer to my new fake boyfriend, I'll only end up burned.
Dix is a grumpy/sunshine, one-sided enemies-to-lovers romance with hate at first sight, forced proximity for two costars who work between the sheets, banter and snark galore, plenty of industrial-sized lube, and one very HEA. It's book 1 in the Elite 8 Studios series, featuring characters that were introduced in Virgin Hearts (Plum Valley Cowboys Book 2), but can be read as a standalone.
Review –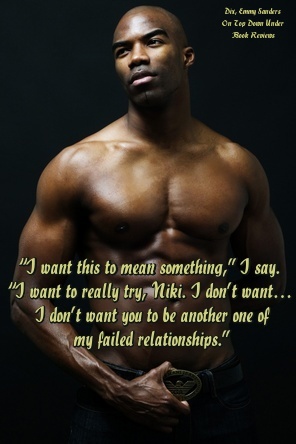 I picked this book because I wanted to read Malibu (#2 in the series).
On rare occasions (like with Colin recently) I'll read a book in a series out of order. I didn't want to this time so I started with Dix. I'm really glad I did because the beginning of Malibu's story starts in the first book. These characters were also in Virgin Hearts – #2 in the Plum Valley Cowboys series. I really wish I would've read that one first because Silver/Mateo is in Dix quite a bit, and the other Elite 8 guys were introduced. Reading Virgin Hearts has pushed me down a little rabbit hole with both series. I'm wanting to go back and read the first and third books in the cowboys series, but I'm eager to finish the Elite 8 one too.
Not a bad position to be in – wanting to read two series at the same time – especially since I don't always have good luck with authors I've never read before.
My first (and somewhat lasting until almost the very end) impression of Dix wasn't good. To be blunt, he was a total ass. A popular porn star, he's just met the new guy, Nikolas Adamos. Oh, he knows who Niko is, as do all the others who work for Elite 8 Studios. Niko's popular online doing amateur porn. The man's gorgeous with his long dark hair. Being Greek also adds to his appeal. He's given the name Adonis as his porn name. Cheesy, but whatever works, I suppose.
Dix despises him. He despises him even more when he's informed by the boss (Jerome) that they'll be working together over the next month doing a series of videos with a romance arc. In other words, they have to be pretend boyfriends on camera. Niko is all in. Dix? Not even close. This is made obvious when they attempt to film a scene the first time. Dix is so… stiff, and not just in a good way. 😉 After a quick break where Jerome demands they start liking each other, they get it right.
"If you can't kiss me like you like me, kiss me like you hate me."
The scene goes well, the sex is super hot for both of them, and (later) the subscribers love them together.
Each scene is sexier than the one before it. No, not just sexual, sensual. When doing scenes for the camera, they're fire. But Dix being Dix, when they're over, he cleans up and bolts. There's no conversation with Niko, though it's not from lack of trying on Niko's part.
Niko can't understand why Dix hates him so much. He's liked by pretty much everybody. He could tell Dix wasn't a fan before they were ever even introduced. That doesn't stop Niko from pushing to be his friend anyway. A few times he was a little annoying with it, but it wasn't too bad. Regardless of how they were away from the camera, their scenes felt real. Dix was always gentle and sweet when it was warranted. When a rough sex scene was in a script, he ensured Niko was okay, comfortable.
But then he'd go right back to being a jerk when the scene was over.
Dixon gives me a look. "I don't bottom."
"Right," I say slowly, nodding my head. "Makes sense. No room up there with that stick firmly lodged in place."
While I get where the author was going with Mr. Grump (aka Dix) and Niko (a total sweetheart), I did feel that Dix was too much sometimes. He was just so mean. Only when Niko stopped trying so hard did Dix start acting relatively decent to him.
Dix has had horrible luck with relationships, having been broken up with by his latest girlfriend right before he met Niko. Bisexual, Dix performs with men on camera, but he only dates women. The reason for that is explained in the book. He doesn't even hook up with men outside of the porn studio. When Mateo (his best friend) tells him some truths on the phone one night, Dix takes a step back and starts evaluating his life a little. He's not happy with what he sees. In his porn videos, he's hot, exciting. At home and in relationships, not so much. He's always been accused of being emotionally distant and maybe a little boring, both of which disturb him more than he'd admit to anybody.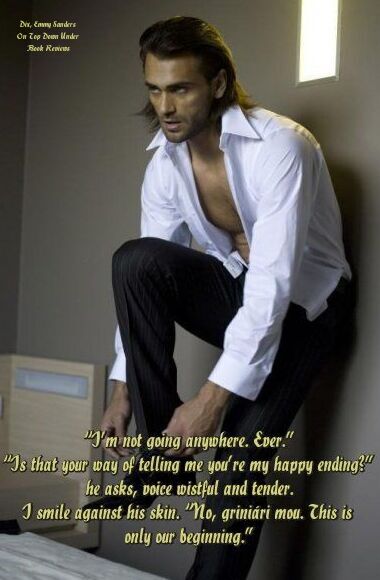 As for Niko, he's amazing. He comes from a large Greek family who all know what he does for a living and support him. Sure they pick on him about it, but they're not judgmental in any way. That was so refreshing. I'm so tired of reading books where friends and family members feel it's their right to tell somebody how to live their life.
There's also Kipp, Niko's best friend and occasional friend-with-benefits.
Then there are the others who work for Elite 8. Malibu's story is next, and then there's Alex, who's all over the place. His story is Tink, which is a MMM/poly story.
I can't not mention Jerome, the head guy at the studio. He was… entertaining.
"You're not in love within these walls! You're strangers fucking in the storage closet of a seedy club. One of you probably has herpes. Quit the cutesy shit. This isn't happily ever after!"
Once Dix got his head out of his ass started giving Niko a chance, I started liking him a little. He was still gruff and growly, but he was seeing that his new coworker wasn't the pain in the butt he thought he was. It helped that their sexual chemistry was off the charts.
The characters have sex with others, though the other scenes aren't really on page. Well, some are, but they're not that descriptive. If it was any other type of romance, I'd be out because that's not my thing. In this series, it didn't bother me at all. What happens at Elite 8 is their job. It's what happens outside of the studio that matters.
One thing I really loved about the book was how Niko – once their romance videos were over – barged into Dix's world whether he liked it or not. He knew Dix wanted him. He'd made it clear during each of their scenes together, especially one in particular. Niko plans a couple of dates that takes Dix out of his comfort zone. It was cute.
"Niki, why the hell are we spinning clay? Is there something about me… something about my person… that screams pottery to you? Because if so, please tell me so I can remove it."
Niko may have barged in, but Dix was loving every minute of it. When they were officially official I started seeing a nice side of Dix. He was welcomed into Niko's family as if he always belonged there. I absolutely loved that.
One thing that did show throughout the entire book was Dix's love for his friends. I mentioned Mateo, who I absolutely adored after reading his book, but when something happens with Malibu, Dix is amazing. He jumps in and takes care of things without hesitation.
There are a couple of reasons why I'm only rating this 4 stars and not more.
One, Dix wasn't just grumpy and growly early in the book. He was downright mean for no reason at all. He didn't know Niko from anybody outside of Niko's amateur videos yet he treated him horribly.
"I wanted to hate Niko because I knew he was different from the start. It scared me. I'd never had such an intense reaction to someone before, and it was easier to rationalize it away as animosity than admit to what it was."
Two, at one point in the book Dix ghosts Niko instead of having a conversation with him. It's not page after page, nor does it last long in the timeline of the story. Even so, it irked me. In my notes for this review I typed, "What a moron." Had the author dragged that out too much longer I'd have really been angry. Thankfully, she didn't.
Overall, I really enjoyed this. I've had it on my Kindle for a few weeks. I'm glad I finally read it.