Happy Faking Plus One (Faking It #1), Della Cain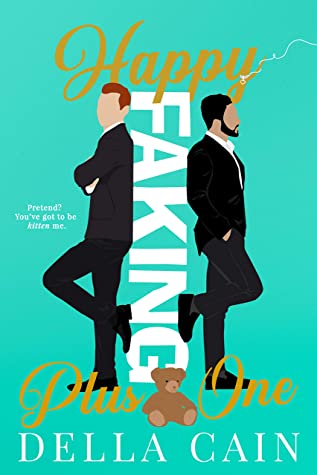 Rating: 4.5 Stars
Publisher: Decadent Publishing
Genre: Gay Erotic Romance
Tags: Contemporary, Age and Kitten Play, Daddy Kink, Second Chance Romance, Series
Length: 97 Pages
Reviewer: Cindi
Purchase At: Amazon
Blurb –
Pretend? You've got to be kitten me.
Grey is back in town after five years and is ready to take his career to the next level. When he goes out with some coworkers to celebrate his first day, he sees Jamison and all the feels from their time together come flooding back. Next thing he knows they are going to a destination wedding together as dates which would be a lot easier if he didn't long to still call him Daddy.
Jamison misses his boy. Even five years later he longs for their time together, but he wasn't the daddy Grey needed. When Grey ends up at the same bar as him, things quickly escalate into a date in Vegas. Jamison sets his eyes on showing Grey he has more to offer and soon discovers that Grey also has another side—his kitten side.
Can a pretend date rekindle what once was or better yet, can it become what they had both longed for all those years ago?
Happy Faking Plus One is a sweet with heat MM romance set in the world of Collared Ever After. It features a daddy who misses his boy, a kitten who has found himself and is ready for more than just a casual relationship, an ex who accidentally brought them back together, a destination wedding in Vegas, some minor ABDL, a set of furry cat ears, a whole lot of possessive rubbing, and a happily ever after. Happy Faking Plus One is the first book in the Faking It series of stand-alone romances that each have some crossover characters for fans of the Collared Ever After and Collared by Love series. If you enjoy your romance filled with true love, a sweet and caring Daddy, and an adorable boy who's ready to let his daddy know exactly what he needs, download today.
Review –
What a sweet second chance romance story.
Five years ago Jamison, a Daddy, had to let his boy go. God knows he didn't want to. He just couldn't be the Daddy Grey needed.
Grey, a little, didn't leave Jamison because he didn't love him. He left him because he knew if he didn't he'd never be able to take care of himself. He also wanted to move up in his career and find himself, I guess.
After not being able to come up with an excuse quick enough to get out of it, Jamison meets his coworkers at a bar. One of those coworkers is Knox, Jamison's supervisor and ex. Knox is getting a little too close for Jamison's comfort, even going so far as asking him to be his date for the upcoming destination wedding of their mutual friends in Vegas. Jamison has just lied and told Knox he already had a date for the wedding when Grey – who Jamison hasn't seen in five years – plops down next to him and thanks him for saving him a seat. Thankfully, Jamison gets with the program and plays along.
"I would, I'm just… there's someone else."
The lie slipped out. Great. Now I needed to find a date or agree to go with him.
This was exactly why I didn't go out with coworkers.
"Jamison! You saved me a seat."
My head snapped up to see Grey… my boy.
No, not my boy. But he once was.
Words evaded me as he took the seat.
Maybe I was dreaming.
Jamison had no clue Grey was even back in town.
They're forced to separate a little later, not having time for even five minutes alone to talk. They reconnect again by accident not long after at Collared when some old friends (and Knox) show up, with Jamison and Grey not knowing the other will be there. This is when Jamison sees a side of Grey he's never seen before – Grey's kitten side.
Grey's offer to go to the destination wedding is very real so this gives them time to reconnect not long later. Before they even make it to the hotel, they both agree to make what's happening between them real for the weekend, though it's obvious they want a lot more than just a couple of days. They fall into their old Daddy/little routine as if they never missed a day, with Grey able to show both his 'sides' to his Daddy, who makes it clear he loves his Grey no matter what.
I can't describe how much I loved Jamison. He was the perfect Daddy, partner, lover. He never stopped loving Grey and Grey never stopped loving him. I love how Grey wasn't shy about what he wanted. He went for it, something I could tell freaked him out a little. I mean, five years had passed. He was, however, shy about showing his kitten to Jamison the first time. What if Jamison only wants him as a little, as he'd been before when they were together? He needn't have worried. Jamison was the ultimate Daddy and loved his precious boy any way he could have him.
Of course, one weekend could never be enough. They'd found each other again and there would be no separating. Grey has taken a new job in town and has no desire to leave again unless it's for quick work trips. Jamison, knowing he's being given the second chance of a lifetime, shows Grey in every way he can that this time is forever.
They were just so damn cute together. I've read a lot of age play books, and even a few pup/kitten play stories. Some work. Some, not so much. The kitten play worked beautifully here for Grey, especially when he explains why he needs it to Jamison. And Jamison, being the perfect Daddy he is, fell into it without hesitation. You seriously can't not love Jamison.
There's also no 'should I?' or 'we're moving too fast' or any of that. They both still loved each other as much as they did before. They were together again and that was that.
Strangely, I didn't hate Knox. He came across as a jealous jerk at first, but he didn't push or try to get between Jamison and Grey.
Overall, this is one of the sweetest love stories ever. If there ever was a perfect fictional couple, it's Jamison and Grey.
As with all other age and pet play books, if it's not your thing, do the author a favor and don't read it. While the kinks aren't as 'out there' as in some books I've read, they're still there.