Colin (Unexpected, #6), Cora Rose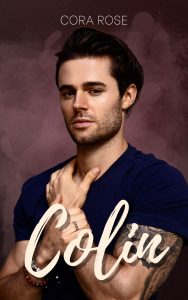 Rating: 5 Stars
Publisher: Cora Rose
Genre: Gay Romance
Tags: Contemporary, Enemies-To-Lovers, Fake Engagement (Kind of), Family, Humor, Romance, Series
Length: 246 Pages
Reviewer: Cindi
Purchase At: Amazon
Blurb –
Colin
I've devoted my life to my son, always putting his needs first, and honestly, I wouldn't have it any other way. Becoming a father was the best decision I've ever made, but hell, single parenting is difficult. I'm so tired of holding everything together. I need a partner, someone to share my life with. I miss intimacy and passion. I want someone who will take charge and help me let go of all this control I cling to. But an endless string of bad dates and rejection has me feeling like maybe love will never come for me. Maybe a father is all I'm meant to be in this life.
Ethan
My next-door neighbor is infuriating. He's intelligent and flirty and just so bloody gorgeous. Why are Americans so cheerful and loud? I hate him. I could not hate him more. But what began as a reckless feud between competitive neighbors, has somehow morphed into an attraction I can't ignore. I feel unhinged around him. I want Colin. I want him so badly it hurts. But he has a kid—an inquisitive, bright little boy who is just as charming as his dad. And the hard truth is, Colin can't afford to take a chance on me. I don't do commitment. Not anymore. Not since my ex. And a stubborn, set-in-his-ways prat like me isn't cut out to be a father, right?
Colin is a funny and steamy MM romance that features a single father, enemies-to-lovers, and a HEA. It is the sixth standalone in the Unexpected series.
Review –
This is my second Cora Rose book. It's also #6 in a series when I've not read the first five. Maybe I will someday. I picked up Colin because it was what I was looking for – enemies-to-lovers, humor, and Daniel, Colin's seven-year-old son. I wasn't disappointed.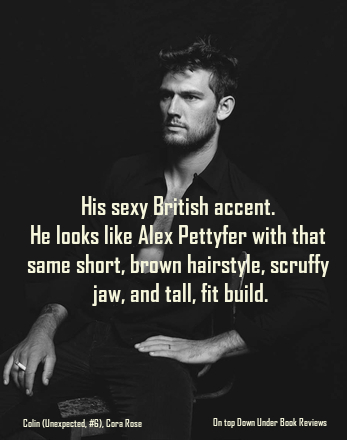 Colin and Ethan despise each other. They've been bickering since Ethan moved in next door a couple of months ago. The main thing they've bickered about is (strangely) a big weed that's been growing between their houses. All it would take is one quick yank and the weed would be history and the feud will be over. They even keep getting fined by the HOA, but neither will budge. Silly, sure, but funny. They've also bickered about other things, including Colin's Christmas decorations.
They may despise each other but one thing they love is how close their houses are to each other, especially after Daniel goes to bed and Colin locks himself in his office. Why, you ask? Well, Colin's office window looks straight into Ethan's bedroom, that conveniently has no curtains. What started with Ethan being surprised to see Colin so clearly turns into both of them getting naked and watching the other jerk-off on a regular basis, and at one point bringing out toys. In the light of day, they still bicker like children. At night, they may still hate each other, but they damn sure get off every chance they get.
Colin and Ethan have had bad luck with partners in the past. Ethan was literally left at the altar, and Colin's husband cheated. After being hurt so bad, Ethan doesn't do relationships. Colin was hurt by his ex, but he also has his son to think about. Unlike Ethan, Colin does want a man to fall in love with, somebody to be another father to his child. He knows Ethan isn't that man, but he can have a little fun, right? And it's not like they're actually doing anything together. They just watch each other through the window.
"Do not fall in love with him," I say as I stand up and wash my hands. "You will not fall for him. You dislike him. Mostly."
I meet my gaze in the mirror.
"He is just a man with a dick. A dick of a man."
Until suddenly it's not just through the window. Damn, that was hot. This starts a lot of sneaking around, with Ethan coming over every night after Daniel's in bed. They even start acting somewhat nice to each other outside of the sex, though it's entertaining watching Mr. Very British Ethan with Mr. Very American Colin at times.
At one point, Ethan takes Colin for a full English breakfast. I've seen it lots of times over the years and I'll just say this… the bacon and eggs fine, but the beans and black pudding, not so much. But then again, I live in the deep South of the U.S. and love grits when most people outside of my area think they're gross.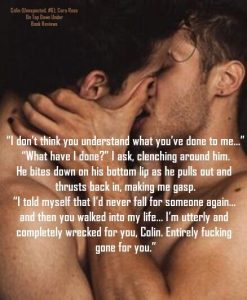 Then there's Daniel, Colin's adorable seven-year-old son. Could a kid get any cuter? His, "You got the stuff?" when he saw Ethan, who hands him a Rice Krispies treat in exchange for one of Daniel's drawings, and then again to Cat, Colin's sister, for a sucker before dinnertime. He acted like he was doing drug buys. It was hilarious. Daniel also brings out a soft side of Ethan that Colin's able to see later.
He had no idea Ethan and Daniel had been talking. Apparently they'd had conversations over the fence.
There are the other characters, Ethan's best friend, his brother, and his parents. I adored them all. As for Cat, Colin's sister, the jury's still out. I liked her in the beginning, but it seems like I'm reading about a lot of meddling family members these days. Oh, and I can't forget Dorito, the hamster that's more than outlived his life expectancy.
Watching Ethan and Colin come together as a couple was really sweet. There was also a fake engagement that had to happen first (SO funny), and Ethan had to get over his trust issues. There were a couple of times when I really felt sorry for Colin. He knew he was falling for Ethan, even told him he could easily fall for him, but Ethan made it clear it wasn't in the cards. That didn't stop him from still wanting to spend every minute he could with Colin, and later, Daniel. Watching Ethan take a paternal role with the little boy was so special, especially when he was forced to meet Kurt, Colin's ex and Daniel's other dad.
It took a little while for these guys to get it together, but when they did, everything leading up to it was totally worth it.
Overall, a very good book. It made me laugh a lot and had a few aww! moments. Ethan and Colin are absolutely perfect together and for each other. And I can say that this truly is a standalone. I didn't feel like I missed anything by not reading the books before it.