Saint, (Priest, #3), Sierra Simone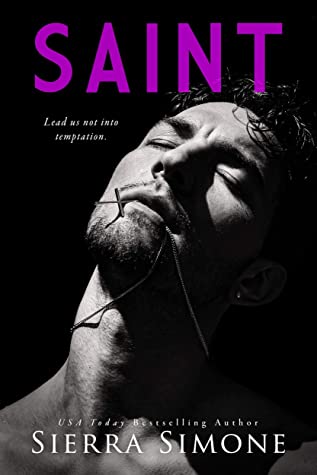 Rating: 4.5 Stars
Publisher: Self Published 
Genre:  Gay Romance
Tags: Religious Taboo
Length: 415 Pages 
Reviewer: Kazza
Purchase At: amazon
Blurb:
I can't have Elijah Iverson.
I can't have him because he's my older brother's best friend. I can't have him because I broke his heart five years ago; because he's now engaged to someone else—someone kind and dependable who deserves his whiskey eyes, his soft mouth, his fierce intellect.
I can't have Elijah because I've chosen God instead.
The Bell brothers, though . . . well, we don't exactly have the greatest track record with vows. But I'm determined to do this monk thing right—to pledge myself to a cloistered life and spend the rest of my years in chastity and prayer. But now Elijah's here. He's here and he's coming with me on my European monastery road trip, and between the whispered confessions and the stolen kisses and the moments bent over an ancient altar, my vows are feeling flimsier by the day.
And vows or not, I know in my heart that it would take more than a good and holy monk to resist Elijah Iverson right now. It would take a saint.
And we all know that I'm no saint.
This is the third full-length M/M standalone in the Priest Collection, featuring Father Bell's brother, Aiden Bell. You do not have to read Priest or Sinner to read Saint.
Review:
I bought this for the cover, that cover is gorgeous, and the blurb. Both so enticing. The author is new to me because she writes het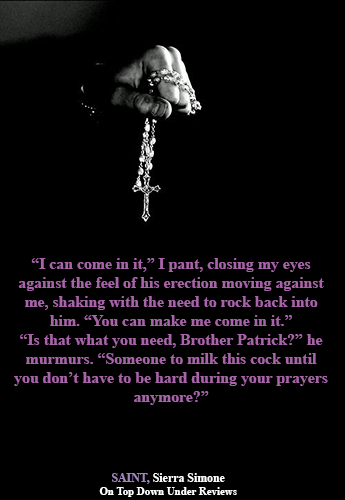 romance and I tend to read a lot of gay romance… but that blurb, taboo religious themes and explorations are like a siren song to me. I had to pick it up. Between Saint, Elijah, In Step, all currently on the "recommended" slide, it's looking awfully pretty on this blog right now. (March 2022) Lookee over there—->
I'm just going to jump out of the gate and say the reason Saint didn't get a full 5 stars was because the monastic tours and descriptions while beautiful and intelligent, fitting perfectly within the framework of the story, overshot the mark for a romance book. I feel like we went to one monastery too many. But I won't forget the scene when Father Patrick/Aiden was in the lavender. That was some beautiful imagery right there, and it was combined with some simmering lust. There was also a little too much introspection and a dragging of the reason behind Aiden having left Elijah 5 years ago for a cloistered monastic life. That's all I've got, though, the rest was multidimensional, compelling, and deeply sensual.
There are already a ton of reviews for Saint on Goodreads and Amazon so I'll add my general thoughts.

What I loved-
The lush prose. The writing is of the highest calibre – pretty, seductive, sensual, sexy, and it sets the tone, no matter whether in Kansas or Belgium, France or Ireland. Ms Simone can write a scene that's easily visualised and descriptively immersive. The writing was intelligent and engaging. I loved the name of and concept of Lectio Lexapro that Aiden created for the monks to offload with one another about their day as necessary. It's just little things like that that can value-add so much to a book. It's indicative of the overall.
The dedication of two men to one another. A monk and his ex boyfriend rekindling their love that has never died. Man, I'm a sucker for fictional love and connection so powerful that nothing can tear it asunder. That was on full, delicious display. I was not disappointed.
And anyway, I already love him like how forever feels. I already love him like eternity is in the rearview mirror. I love him like everything.
While there was rumination and understandable dilemma on both sides,  Saint never hits especially dramatic or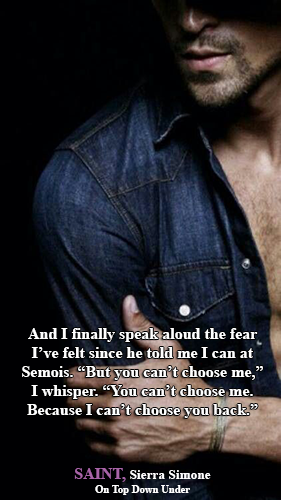 fraught dialogue or situations. The tension was there but it was never used as a battering ram.
The book is kind on religion. The monks were so understanding of what Father Patrick experienced as Aiden, is experiencing again, and were very accommodating, that's the best way I can describe it. I'd like to see religion actually behave like this.
The game(s) of what if meant something to me, something beautiful and primal. Being older I can look back fondly on such a game with the wonderful, forever love of my life, my husband. I thank the author for that reminder.
The author has done some extensive research into monastic life and the different catholic orders, like Benedictine, Trappist, etc, their prayers and scriptural readings, and that gave Saint authenticity, credibility. Yes, it may be fiction. Yes, it may be a taboo romance, but the best kind of storytelling, of any kind, the kind I like or love the most, is something that is rooted in reality. It has to have a solid grounding if it's to be more than a promise of substance. It has to deliver said substance. Saint did not disappoint.
I loved the love between Aiden/Father Patrick and Elijah, Aiden's older brother's best friend. That dynamic also adds a little spice. That's if a monk wearing a cock cage, making a deal that while he's looking for his forever monastery he can have and play with his ex doesn't float your boat enough.
These guys are approximately 37 and 42. I liked being with slightly older MCs. Aiden certainly has a Peter Pan quality to him but they're guys who have lived some life and for the most part have a maturity.
Aiden gets a standard POV. Elijah doesn't, and wasn't that clever. Elijah's POV is seen solely through an epistolary viewpoint – a personal journal or a piece toward an article for Mode Magazine. That was absolutely perfection. Bravo, Ms Simone.
The depression was written about quickly and in quite an abstract and nebulous telling… but people have key factors and those key factors can manifest in such personal ways. Glad it's there. Glad that it shows you can mask well in public but behind the scenes it's quite different. But, yes, I could have done with more because it's important.
The ending was gorgeous. I felt exceedingly satisfied by books end.
Overall: 
I'll be reading the first two books in this series, time permitting, because I feel Sierra Simone is someone I want to read more of, clever, passionate, articulate, she appeals. I like this world. If she wrote singularly in gay romance I'm certain she'd be on my high rotation author list. I read a lot of Lexi Blake and grab Kresley Cole when the mood takes me as well so I think I'll add Ms Simone.  Recommended reading.  4.5 Stars!