Blog Anniversary Author Post + Giveaway: David Pratt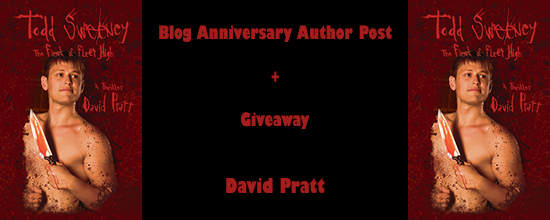 I'm honoured to have wonderful teller of tales David Pratt joining us today. David has won a Lambda Literary award for the charming and insightful Bob the Book. Nice reading coming up to Halloween, I hope you check out this post, David's books, and take part in the giveaway, or simply leave a comment.
Eight years! Congratulations to the extraordinary and indispensable On Top Down Under Reviews!
I don't know how many books Kazza and Cindi have reviewed, but they have been tireless. Enterprising, discerning and dedicated, every year stepping up the breadth and depth of their reading, always matching the devotion of their authors to the printed word. They love books, they love romance (of course!), they love wit, they love that special turn of phrase (some they turn into memes), and they unerringly support the LGBTQ+ community. I am pleased to be under the OTDU umbrella, especially as my books represent some of that breadth and depth to which I referred. Most of my writing is not, strictly speaking, romance, but it is queer and sometimes romantic, and so it was that the ever curious Kazza took a look at a queer comic novel I wrote in 2014, reviewed it magnanimously, and surprised me with a big mood boost on a cloudy day when I thought no one was ever going to read what I wrote, etc., etc. Kazza read and Kazza discerned and appreciated. (Kazza also laughed out loud—in a hospital emergency room, no less!)
That winter, I had the opportunity actually to meet Kazza. Like many a reviewer, she makes it a general policy not to befriend authors, but when my husband and I turned up in Sydney, she agreed to drinks—accompanied by her delightful son and his boyfriend—in the lobby of the 1888 Hotel in Pyrmont. Kazza, it turned out, was as powerful and opinionated and fun in person as she was in print. A riotous time was had by all, and she subsequently reviewed quite generously two more of my books, including my first try at YA and my first novel of all, from back in 2010. I had a cheerleader on top, down under. Alas, I have not (yet) met Cindi, the half of OTDU geographically closer to me (I started in New York City and live now in the U.S. Midwest.)
We need more OTDUs.
We need more out-there critics and fans who love literature as much as those who create it. Who go so far in their appreciation as to co-create. For when it is done right, reading is one with writing. There are things I did not know about my books until I read them in OTDU reviews. That is insight and that is commitment. Let us hope for another eight years and more from these powerful ladies!
**GIVEAWAY**
This giveaway is now over. congratulations to B Blake.
David Pratt is giving away an e-copy of his Todd Sweeney: The Fiend of Fleet High a queer YA rejig of a classic horror tale, Sweeney Todd: The Demon Barber of Fleet Street. To be in the running to win Todd Sweeney, enter via the Rafflecopter or leave a comment below.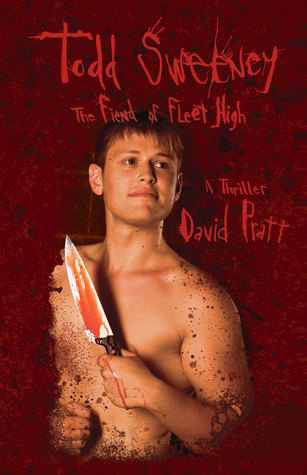 Every gay boy needs an ally who will kill for him. And no boy could have a better ally than Todd Sweeney. When Todd's best friend, Toby Ragg, is threatened by homophobic guidance counselor Ashford Squeers, Todd swings into action. But he swings just a bit too hard. Enter best pal Nellie Lovett, who has very creative ideas for making the mess disappear. But then Fleet High bad boy Ryan Plouf threatens Toby and Nellie. Suddenly, Ryan is missing, too, and local cop Tarron Littey is asking some very inconvenient questions. Meanwhile, Toby's parents threaten to put him in a gay conversion camp. Can Todd and Nellie save Toby before the cops discover just what happened to Fleet High's worst? To find out, dig in and devour Todd Sweeney. And yes, it's okay to use your hands. 
Author Bio: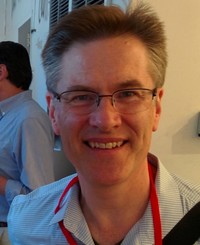 David Pratt is the author of the novel "Bob the Book" (2010, Lambda Literary Award winner,) and a collection of stories, "My Movie" (2012) one of which became the basis for his 2014 novel "Looking After Joey." His young adult novel, "Wallaçonia," followed in 2017. In 2018 David founded Hosta Press, which is brought out his contemporary new adult satire, "Todd Sweeney: The Fiend of Fleet High." Going forward, Hosta intends to pursue prose, poetry and art, with a queer focus. David has performed his work for the theater at many venues in New York City, including Dixon Place, HERE, the Duplex, the Cornelia Street Cafe and the NY International Fringe Festival. In 2018 collaborated with Michigan artist Nicholas Williams on a performance piece, "TIME," at the Forge in Detroit.
Say hi to David: