Blog Anniversary Author Post + Giveaway: Cari Z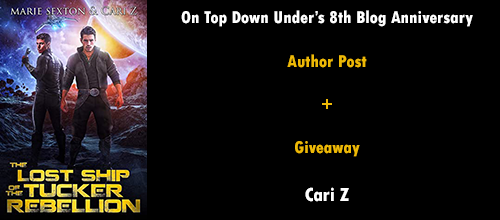 Hey darlins! Thanks to Kazza for letting me stop by on the blog-versary, I'm thrilled to be here chatting about my upcoming release, a sci-fi (with an m/m romance subplot) book co-authored with Marie Sexton titled "The Lost Ship of the Tucker Rebellion."
The Last Ship of the Tucker Rebellion is a fun story, and I'm really pleased that it's coming into the world at last. Part of me wasn't sure it ever would, because as Marie and I got about halfway through writing it, I got pregnant. Turns out I'm just about the least graceful pregnant person ever, and just figuring out how to not be sick all the time and work my day job felt overwhelming, much less finishing this book. We eventually banged out a rough draft and I called it good, thinking that maybe we'd come back to it someday, maybe not.
Fast forward two and a half years—I've got a toddler and there's a pandemic on, but at least I'm not sick as a dog every day. Win! We picked the story back up, reworked it to within an inch of its literary life, and finally finished getting ready for publication. I'm so pleased with the results—The Last Ship of the Tucker Rebellion has got all the Firefly feels you're looking for, simmering romance, epic world-building, and a finale that's literally out of this galaxy. Marie and I hope you love it ?
**GIVEAWAY**
For our 8th blog anniversary, Cari Z is giving away a $10 Amazon gift card to one lucky winner. For your chance to win, you can enter via Rafflecopter but Cari Z would love an answer to the question – "What's the longest time you've ever gone between starting a book and finally finishing it? One random commenter will get a $10 Amazon gift card!"
This giveaway runs for 10 days from post date. Good Luck!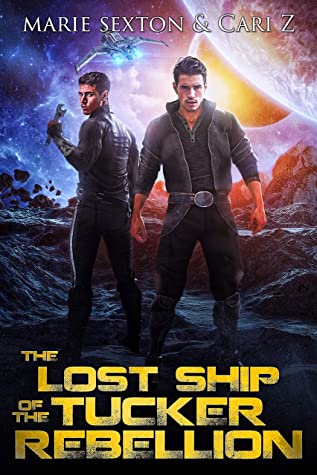 Alien invasion has rendered Earth uninhabitable. Now, humanity survives in settlements on Mars, the moon, and distant space stations around Jupiter and Saturn. It's all people can do to eke out a living from mining, salvage, and scrap.
Twin brothers Denver and Laramie Clayborne's salvage operation is a small one—just them, their friend Marit, and their quirky 'bot, OPAL. Their lives are simple and they like it that way, even though they barely earn enough to pay for Laramie's expensive, life-saving medications. They make do, just like everyone else. It's all they can do.
Until the day they find something big floating in the wreckage of a battleship graveyard. Something so rare, so precious, it could change their lives forever. Trading it would make them loved. Selling it would make them rich. But keeping it might make them heroes. They have a chance at a whole new world, if they're brave enough to grasp it.
And if Mars doesn't catch them first.
Say hi to Cari Z: