Blog-Versary Author Post: My Characters and Me + Giveaway, H L Day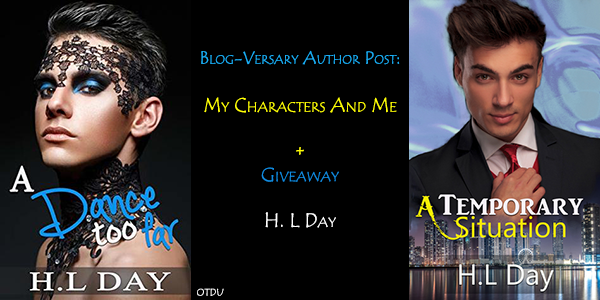 I've always been honest and admitted that the majority of my writing comes from the characters. Yes, it might be triggered by something else, like a place. Edge of Living came from a visit to Eastbourne, and my upcoming Christmas book (release date November 15th) sparked into life after taking a self-guided walk around Richmond in London and falling in love with the (very expensive) place. Or it can sometimes be something completely random. Taking Love's Lead bizarrely came from a personal shopping task featured on the UK version of The Apprentice, which is not something I ever expected to get a story idea from. But then its always becomes about what characters would fit into that scenario, and the rest of the story stems from that. I also have stories that I don't have a clue where they came from—A Temporary Situation and Refuge to name two.
Anyway, back to the characters. A lot of them get called quirky, which is not something I ever set out to make them. So I've come to the conclusion that I'm probably pretty quirky myself. Oh well, there's worse things to be. I do love my opposites attract characters though so I often have one poor character who has to suffer because he needs to be a foil for the other 'sunshine' character. I should probably take this opportunity to apologize to Dominic from A Temporary Situation, Paul from Temporary Insanity, and Michael from my first ever book, Time for a Change who sometimes got it in the neck from reviewers for this reason, while their cheery other halves get all the love. I'm not apologizing to Valentin from A Dance too Far though because he seems to get away with all of his diva-like behavior and bluntness without criticism, simply because he's Valentin.
There are two questions I'm often asked by readers about characters. Which one is most like you? And which is your favorite? The first question is easy to answer. Dominic and Tristan from A Temporary Situation are the most like me, but split into two parts. Tristan is the part of me which finds it difficult to take things too seriously and loves a good joke. Whereas Dominic is my more cynical, sarcastic side who escapes rather too often. The favorite character question is harder and one I usually manage to skirt around, which is what I'm going to do here. What I will say though, is that there are definitely characters who are easier to write and I'll definitely always return to, even if it's just bonus stories for my FB group. Dom and Tristan are two of them for the reasons mentioned above. And I can't imagine ever getting bored of writing Valentin because he's just such a delight to write and I don't need to be well-behaved about anything he says because he doesn't hold back.
And who knows what characters might pop up in the future. I'm looking forward to finding out. There's already a knife-wielding one lurking in the back of my mind who keeps insisting on having his story told. I doubt I'll be able to hold him back for too long.
**GIVEAWAY**
Simply leave a comment below for a chance to win an e-book back catalogue H L Day book. Giveaway closes Midnight, Sunday October 27th (US EST). Winner will be contacted within 24 hours of being drawn and will need to contact us within 48 or we will redraw. Cheers for popping by and good luck!
Author Bio: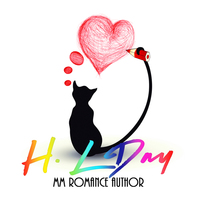 H.L Day grew up in the North of England. As a child she was an avid reader, spending lots of time at the local library or escaping into the imaginary worlds created by the books she read. Her grandmother first introduced her to the genre of romance novels, as a teenager, and all the steamy sex they entailed. Naughty Grandma! Romance novels were forgotten for a while when real life got in the way: university, clubbing, work, moving to London, and more work.
When life settled down (slightly) H.L Day stumbled upon the world of m/m romance. She remained content to read other people's books for a while, before deciding to give it a go herself.
Now, she's a teacher by day and a writer by night. Actually, that's not quite true—she's a teacher by day, procrastinates about writing at night and writes in the school holidays, when she's not continuing to procrastinate. After all, there's books to read, places to go, people to see, the gym to visit, films to watch. So many things to do—so few hours to do it in. Every now and again, she musters enough self-discipline to actually get some words onto paper—sometimes they even make sense and are in the right order.
Want to sign up for my newsletter? You can sign up here: http://eepurl.com/dw-7nH