Furbitten Neighbor (Furbitten Falls Alphas, #3), Preston Walker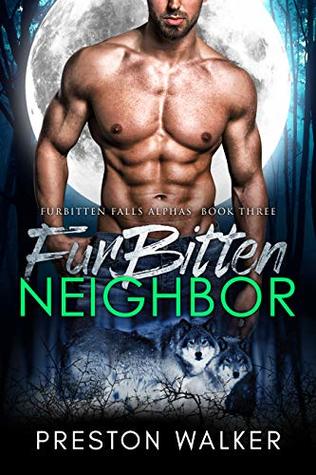 Rating: 3 Stars
Publisher: Equal Love Publishing
Genre: Gay Romance
Tags: Age Gap (17 years), Fated Mates, Mpreg, Romance, Series, Wolf Shifters
Reviewer: Cindi
Purchase At: Amazon.com
Blurb –
Unmated. 
Unloved.
Until he moved into town. 
Slater has watched his brothers find love and he's losing hope for himself. As the eldest of the three alphas, he feels like his dating pool is waning, like he's being left behind. 
How long will he have to wait? 
Niko is a brilliant, young omega with a passion for music. Moving to Furbitten Falls was his last choice, but he's there to stay! Now, he's stuck beside a disgruntled old alpha who grumbles about his talents being too loud for comfort. 
Will these two learn to make beautiful music together? 
Join Slater and Niko as they fuss, fight, and fu-…fiddle around with each other's hearts. This mpreg wolf shifter rounds out the Furbitten Falls saga, though these books can be read in any order. Beware, younger readers. This book is too hot for anyone under 18 to handle! 
Review –
After reading Furbitten Teacher and Furbitten Brother I was looking forward to Slater's story. At 39 he's the oldest of the brothers and the one who's had to wait the longest to find his fated mate. An artist, he spends more time with his paints and canvas than he does people so the chances of finding his mate are pretty slim.
Then his young neighbor moves in. That would be 22-year-old Niko.
I couldn't stand Niko right off. A DJ at his brother's club, he's constantly playing music in his new place. Think music so loud it shakes the walls. He does this knowing it bothers Slater – who he calls Grandpa – and not caring much if it bothers other people in the building. This doesn't just happen during the day. This goes on all hours of the day and night. When he sees he's getting a reaction from Slater he pumps it up even louder in hopes of Slater showing up at his door to tell him to knock it off. Of course he does.
Hmm… there are more mature ways of getting a man to notice you. Just sayin'.
Fishstick, Slater's cat, jumps from Slater's place to Niko's with wet paint on his paws. This has Slater rushing over to rescue his crazy cat. When Niko opens the door the mate thing slams hard into both of them. Slater grabs Fishstick, rushes back to his place to get cleaned up, and goes back to Niko's. You can guess what happens next. 😉
Of course, as with the other two brothers and their mates, the first time for Slater and Niko results in a pregnancy. Slater is thrilled. This is what he's always wanted – his mate and a family. Niko is happy too but Niko is young and immature.
He's so immature.
Slater immediately insists on Niko moving in with him because he's unable to work at the club or risk harming the baby. Slater depends on his art to support them and the paintings just aren't bringing in that much money. It was enough when it was just Slater but now he has Niko and their unborn child to think about. Niko had mentioned having connections in the art world so when Slater asks about them Niko makes some calls and gets a meeting set up.
Then Niko turns into a brat and makes everything all about him. You know, after he offered to help Slater early on.
Slater is stressing about being able to provide for Niko and the baby. Niko turns into a bratty diva and instead of supporting Slater, he runs away and hides like the little boy he is. He wants this big house for future kids and friends and/or relatives to stay in, yet he doesn't think this costs money? How is Slater supposed to be able to afford it?
I tried to like Niko. I swear I did. But every time I thought he might be acting okay he started doing his whiny 'woe is me, nobody loves me' internal monologue.
I adored Slater but I felt that he was much too forgiving and he apologized for something that was not his fault in any way.
One plus for me was Slater's love for eighties music. I graduated from high school in the eighties so the songs mentioned are some of my faves, though back then the video to Tainted Love didn't seem quite so odd. 😉 The song's been stuck in my head since I read the book so of course I had to add it to my review. You're welcome. *snort*
Overall, I liked the story okay. It was nice seeing the characters from the other books, though they weren't in this one very much. I'm somewhat curious to see Niko's brother's story.